Mass. Aid Teams Offer Assistance During Tropical Storm Harvey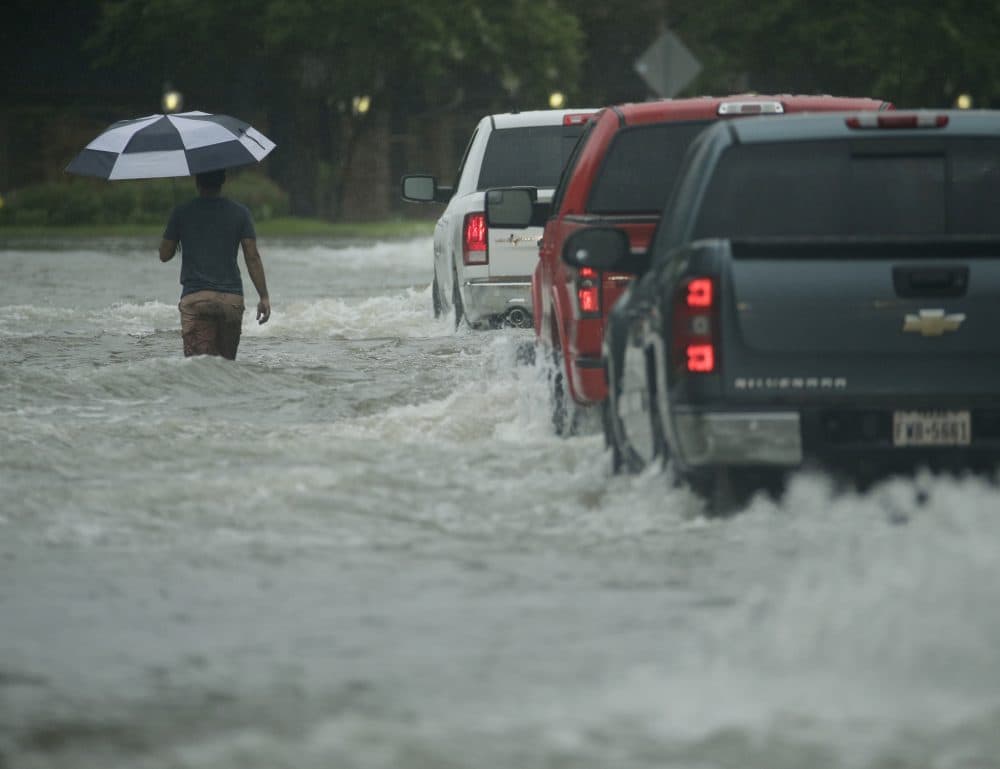 This article is more than 3 years old.
Fourteen volunteers with the Federal Emergency Management Agency based in Beverly prepared to leave Sunday afternoon to help with rescue efforts on the Gulf Coast as residents were hit with torrential rain and catastrophic flooding from Tropical Storm Harvey.
The Urban Search and Rescue Task Force from New England are volunteers made up of firefighters, policemen, EMTs and civilians, and they come from roughly 200 different companies and agencies.
"They will be spending their time searching for people and rescuing them either out of structures or out of areas that are inundated with floodwaters," said Thomas Gatzunis, an engineer and structural specialist for Massachusetts Task Force 1, of FEMA's National Urban Search and Rescue Response System.
The task force is one of 26 federal teams located across the country, and the Massachusetts task force is made up of members from across New England. Its last mobilization was for Hurricane Matthew last year.
Before the task force's assignment arrived, Gatzunis explained how many personnel could be requested.
"We're on standby, waiting for activation orders for either a full task force, which is what we call a type one task force, which is 80 members, a type III task force which would be 40 members, or we have mission-ready packages, and in this situation the MRP would be boats and rescue operators that are water certified," he said.
The boats, Gatzunis added, "are on trailers, [and] they are ready to go literally as we speak because when we get an activation order, our team — whether it's the 80-member team, a 40-member team, or a 14-member team — has to be rolling within six hours."
Gatzunis said the group's mission has developed over time.
"The teams started with heavy rescue, heavy ... structural collapse. … But it's changed as the situations have changed, and we're now doing swift water and still water rescues," Gatzunis said.
After his team's assignment, Gatzunis said additional search and rescue volunteers in New England continued to be on standby for further requests to aid flood victims in Texas.
Coast Guard Efforts
Two Coast Guard helicopters based on Cape Cod were already helping with rescues in Texas Sunday, while one Coast Guard plane from Massachusetts was also deployed.
Petty Officer Andrew Barresi said the 19 crew members were part of the national response.
"It's not unusual," said Barresi. "This is kind of the standard procedure we have in place to respond to something of this scale."
Barresi said it's possible an additional crew could also be sent from the Cape. The crews are based out of Coast Guard Air Station Cape Cod, which is located on Joint Base Cape Cod in Sandwich.
With reporting by WBUR's Simon Rios. 
This article was originally published on August 27, 2017.