What's Playing This Fall On Boston's Stages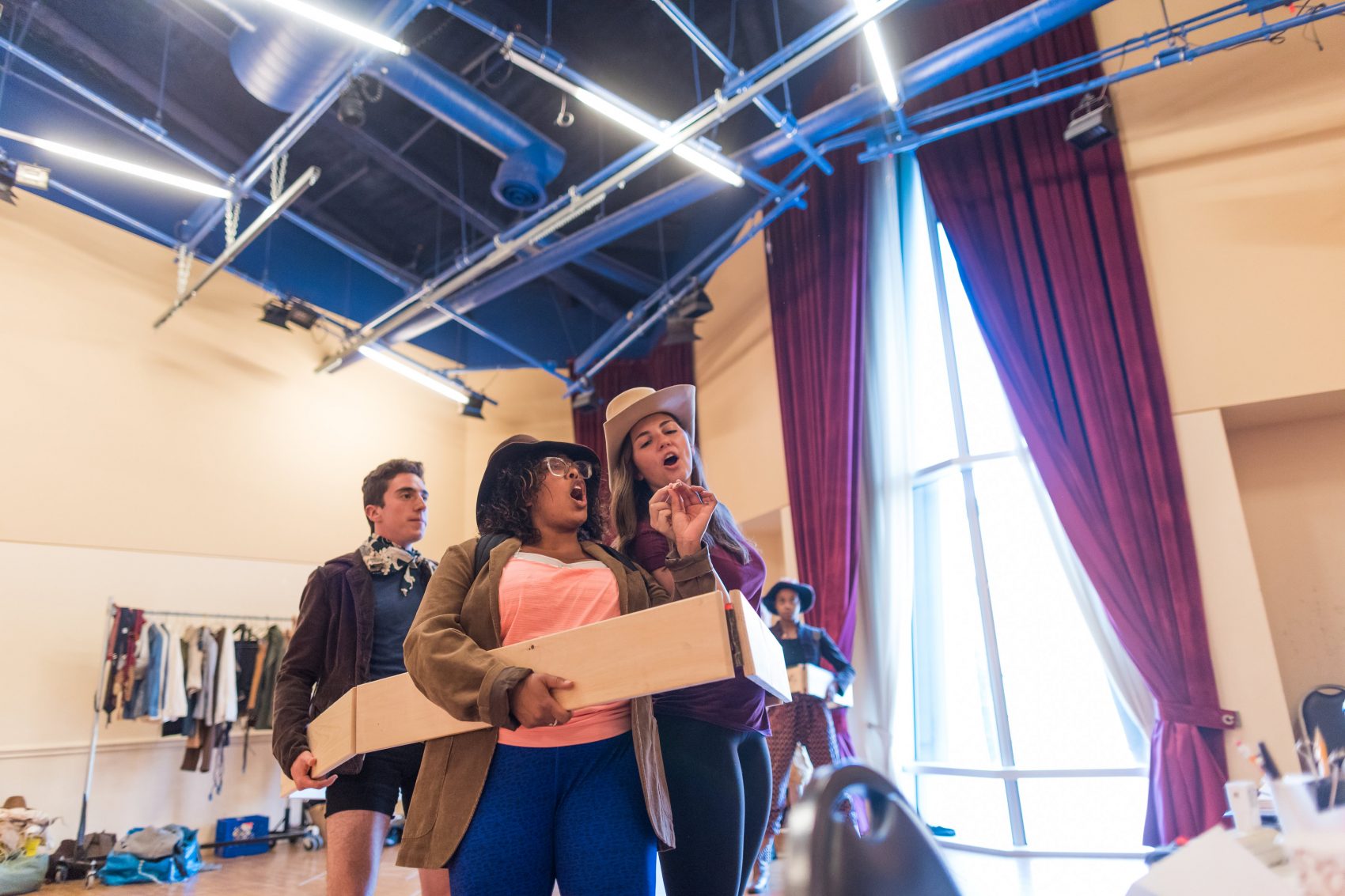 This article is more than 5 years old.
Local boards are groaning this fall with theater presenters heaping on fare ranging from Broadway and Off Broadway hits, past and present, to early works by incipient icons.
ArtsEmerson hosts work from Chile, Lebanon and Paris. American Repertory Theater does a riff on "The Odd Couple" featuring Andy Warhol and Truman Capote. The Huntington Theatre Company offers not only a glam-looking future redo of their space but also a world premiere by Ken Urban. And the Gold Dust Orphans riff on the 1980 film "9 to 5" with a Ryan Landry-penned parody that finds Donald Trump's secretarial pool kicking up a tsunami of revolt.
There are in fact so many intriguing prospects between now and Turkey Day that turkeys will be hard-pressed to find a place on the Rialto.
---
"The Weird" | Off the Grid Theatre Company | Sept. 1 - 16

Off the Grid Theatre Company visits the Calderwood Pavilion with this "devised play" written by Kirsten Greenidge, Obehi Janice, Lila Rose Kaplan and John Kuntz and directed by Steven Bogart. Hatched from an idea supplied by Off the Grid artistic director Alexis Scheer in response to the last presidential election and the Harry Potter books, the play, located at "the intersection of politics and magic," promises young witches at war and a Puritan orgy in Salem circa 1692. Sounds like it will live up to its name.
---
"Gypsy" | Lyric Stage Company of Boston | Sept. 1 - Oct. 8 
It's about time local favorite Leigh Barrett got another turn at "Rose's Turn." (She previously played the role for Stoneham Theatre.) Rachel Bertone directs this Lyric revival of the 1959 musical (based on the memoirs of Gypsy Rose Lee) about the mother of all stage mothers, with music by Jule Styne, lyrics by Stephen Sondheim and book by Arthur Laurents. And if "Gypsy" isn't enough Leigh Barrett for you, the Lyric follows it with a reprise of artistic director Spiro Veloudos' 2007 staging of Stephen Temperley's sidesplitting "Souvenir," in which Barrett will once again hit all the right wrong notes as famously tone-deaf diva Florence Foster Jenkins. Will McGarrahan co-stars as appalled accompanist Cosmé McMoon in the reboot, which runs Oct. 20 - Nov. 19.
---
"Ideation" | New Repertory Theatre | Sept. 2 - 24
Watertown's New Repertory Theatre presents Aaron Loeb's "darkly comic psychological thriller" about a team tasked with a mysterious project as top-secret as it is "morally ambiguous." Artistic director Jim Petosa helms the area premiere of this collision of Kafka and the Cloud; Ed Hoopman and Lewis D. Wheeler are in the cast.
---
"Reversible" | Presented by ArtsEmerson | Sept. 6 - 24

The Montreal-based contemporary circus artists formerly known as Les 7 Doigts de la Main, now rechristened The 7 Fingers, come to Emerson's Cutler Majestic Theatre to present the U.S. premiere of this virtuosic mix of theater, illusion, dance and acrobatics in which a troupe of eight "travel through space and time to honor their elders." Gypsy Snider, who brought the circus to American Repertory Theater's "Pippin," is at the helm.
---
"Constellations" | Underground Railway Theater | Sept. 7 - Oct. 8
Multiple Elliot Norton Award-winner Scott Edmiston helms the area premiere of this 2012 Evening Standard Award-winning two-hander by British writer Nick Payne. The excellent Marianna Bassham and Nael Nacer comprise the cast of a contemplation of "love, possibility, bees … and quantum physics" that caused the New York Times to inquire, "Who knew higher physics could be so sexy?" The show's at the Central Square Theater.
---
"Dames at Sea" | Greater Boston Stage Company | Sept. 7 - 24
Newly minted GBSC associate artistic director Ilyse Robbins, who has proved an ace director of musicals for the formerly called Stoneham Theatre, takes on the frothy 1966 homage/parody of 1930s Busby Berkeley movie musicals with book and lyrics by George Haimsohn and Robin Miller and music by Jim Wise. In the show, a chorine named Ruby is barely off the bus from the Midwest when she becomes a Broadway star. Much tap dancing ensues. Ephie Aardema, who starred in Robbins' productions of "Thoroughly Modern Millie" and "42nd Street," takes on the role created by then-newcomer Bernadette Peters.
---
"Men on Boats" | SpeakEasy Stage Company | Sept. 8 - Oct. 7

"A gender-bending cast of diverse performers" populates this carefully exaggerated, testosterone-fueled adventure tale based on one-armed general John Wesley Powell's 1869 expedition to chart the Colorado River. Dawn M. Simmons is at the helm of — if not the actual boats — the antic if pointed comedy by Jaclyn Backhaus, which Variety describes as "off-the-canyon-walls funny."
---
"Flight of the Monarch" | Gloucester Stage Company | Sept. 8 - 30
Managing director Jeff Zinn directs the world premiere of Jim Frangione's "darkly comic play" about middle-aged siblings "born, raised and still living in a small fishing town on the New England coast." Elliot Norton Award-winner Nancy E. Carroll and J. Tucker Smith play the sibs.
---
"Merrily We Roll Along" | Huntington Theatre Company | Sept. 8 - Oct. 15
Olivier Award-winning British performer turned director Maria Friedman is at the helm of this revival of the 1981 Stephen Sondheim musical (with book by George Furth), based on a 1934 play by George S. Kaufman and Moss Hart. The show, which moves in reverse, centers on a talented Broadway composer who sells out to become a Hollywood producer. Friedman restages her 2012 London production, which won the Olivier Award for Best Musical, for the company's Huntington Avenue Theatre (formerly the BU Theatre), with a large cast that includes area favorites Christopher Chew, Aimee Doherty, Jennifer Ellis and Maurice Emmanuel Parent.
---
"WARHOLCAPOTE" | American Repertory Theater | Sept. 9 - Oct. 13

American Repertory Theater opens its Loeb Drama Center season with this new work adapted from the words of artist Andy Warhol and writer Truman Capote, who apparently set out to write a Broadway play together in the 1970s. The script, adapted from tape recordings of their conversations, is by Rob Roth. Michael Mayer, who won a 2007 Tony Award for directing the musical "Spring Awakening," is at the helm.
---
"Exit the King" | Actors' Shakespeare Project | Sept. 13 - Oct. 8
The itinerant Actors' Shakespeare Project, having recently welcomed new artistic director Christopher V. Edwards, kicks off a season entitled "The Downfall of Despots" with French scribe Eugène Ionesco's 1962 absurdist drama about a belligerent monarch who refuses to accept the imminence of his death — until he has to. This show will be staged in the Jackie Liebergott Black Box at Emerson's Paramount Center. Dmitry Troyanovsky directs; Richard Snee plays the dyspeptic dictator in denial.
---
"Faceless" | Zeitgeist Stage Company | Sept. 15 - Oct. 7
Zeitgeist Stage Company returns to the BCA Plaza with the New England premiere of a new play by Selina Fillinger. In the work, an 18-year-old girl is on trial for conspiring to commit acts of terrorism, and a recent Harvard Law School grad and practicing Muslim has been brought on to the prosecutorial team. Though on opposite sides in the courtroom, "the two young women are fighting a similar battle to defend their morals, motives and religious freedom" in Fillinger's examination of identity politics. Artistic director David J. Miller is at the helm; Ashley Risteen, Aina Adler and Victor Shopov head up the cast.
---
"5 to 9" | Gold Dust Orphans | Sept. 21 - 24
The Gold Dust Orphans return to Machine nightclub with this Ryan Landry-penned-and-directed parody of the 1980 film comedy "9 to 5." In Landry's raunchier and more raucous version, three harassed members of Donald Trump's secretarial pool vow to get even. Landry takes Lily Tomlin's role while Varla Jean Merman (aka Jeffery Roberson) channels Dolly Parton.
---
"Home" | Presented by ArtsEmerson | Sept. 27 - Oct. 1

ArtsEmerson presents "a magical house party of the greatest proportion," direct from its world premiere in Philadelphia. The large-scale spectacle, the brainchild of Geoff Sobelle, begins with the empty Robert J. Orchard Stage in Emerson's Paramount Center, then conjures a house from thin air, combining dance, illusion, live music, "homespun engineering" and inventive use of audience interaction to explore the relationship between house and home.
---
"A Bright Room Called Day" | Flat Earth Theatre | Sept. 30 - Oct. 14
Flat Earth Theatre comes to the Mosesian Center for the Arts with this early drama by Pulitzer and Tony Award-winner Tony Kushner ("Angels in America"). Set in Berlin in the early 1930s and centered on a group of artists, activists and idealists struggling to respond to the rise of the Nazis, the play includes a contemporary American character who draws comparisons between Ronald Reagan and Adolf Hitler. Clearly, the little sung 1987 work screams for a revival.
---
"Lost Tempo" | Boston Playwrights' Theatre | Oct. 5 - 22
Boston Playwrights' Theatre gives us a look at a new play by UMass Boston theater arts lecturer Cliff Odle. Centered on a gifted jazz saxophonist lured home from a life in Paris by a past love, part ownership of a jazz venue and his inner demons. Diego Arciniegas is at the helm of this "jazz riff on the addictions from which we all suffer, musical and otherwise."
---
"A Guide for the Homesick" | Huntington Theatre Company | Oct. 6 - Nov. 4
Colman Domingo directs the world  premiere of a new drama by Huntington Playwriting Fellow and newly minted MIT senior lecturer in theater arts Ken Urban. Inspired by interviews with Doctors Without Borders volunteers, the play, which will be presented at the Calderwood Pavilion, focuses on a young aid worker on his way home from a year in East Africa. A chance encounter with a fellow American in Amsterdam leads to a strange intimacy in which both parties confess their fears that they have betrayed the people who needed them most.
---
"Fun Home" | Broadway in Boston | Oct. 17 - 29

Broadway in Boston presents the national-touring production of the Obie- and Tony-winning 2015 musical, based on Alison Bechdel's best-selling 2006 graphic memoir, at the Boston Opera House. Both a coming-out and a coming-of-age story, the show portrays Bechdel as a child, a college student and an adult artist sorting through memories. The highly praised musical, with Tony-winning book by Lisa Kron and Tony-winning score by Kron and Jeanine Tesori, focuses in particular on Bechdel's complicated relationship with her closeted mortician dad.
---
"In the Heights" | Wheelock Family Theatre | Oct. 27 - Nov. 19
Wheelock Family Theatre takes us back to the world of Lin-Manuel Miranda before "Hamilton" with this revival of the Tony-winning megahit-maker's multi-generational musical set in the heat of the summer in the Hispanic-American New York neighborhood of Washington Heights. Rachel Bertone directs the show, with book by Quiara Alegría Hudes, which won 2008 Tony Awards for Best Musical and Best Original Score, an infectious amalgam of rap, salsa and hip-hop.
---
"The Revolutionists" | Nora Theatre Company | Oct. 19 - Nov. 12
The Nora takes on the Reign of Terror in Lauren ("Emilie: La Marquise Du Châtelet Defends Her Life Tonight") Gunderson's 2016 "fantastical comedy." Courtney O'Connor directs the Central Square Theater show, which brings together four historical figures — playwright Olympe de Gouges, assassin Charlotte Corday, Haitian activist Marianne Angelle and cake-eating advocate Marie Antoinette — and lets them hang out discussing how best to change the world. Artistic director Lee Mikeska Gardner and Celeste Oliva are in the cast.
---
"Kiss" | Presented by ArtsEmerson | Oct. 26 - Nov. 19
Executive director David Dower is at the helm of this ArtsEmerson staging, in the Paramount Center's Jackie Liebergott Black Box, of acclaimed Chilean dramatist Guillermo Calderón's 2014 play, a meta-theatrical treatment of the crisis in war-torn Syria. Calderón's first play written in English, it centers on a troupe of Western actors performing what they believe to be a Syrian soap opera and discovering "how misunderstanding cultural cues can reveal blind spots you never knew you had."
---
"The State of Siege" | Presented by ArtsEmerson | Nov. 9 - 11

Paris' fabled Théâtre de la Ville pays its first visit to the U.S. with this revival of Nobel Prize winner Albert Camus' 1948 play, helmed by avant-garde French director Emmanuel Demarcy-Mota. A "dizzying modern metaphor," the work is set in a nightmarish Cadiz, where a character named for the Plague creates a totalitarian regime through fear. At the heart of the work, which will be performed in French with English surtitles at Emerson's Cutler Majestic Theatre, are questions about how art can help process — and resist — human atrocities.
---
"The 39 Steps" | Moonbox Productions | Nov. 17 - Dec. 9
Allison Olivia Choat helms this BCA Plaza Theatre staging of the Olivier Award-winning 2005 comedy by Patrick Barlow. The mix of spy thriller and quick-change spoof repurposes the 1935 Alfred Hitchcock film of the same name (based on a 1915 novel by John Buchan) so that the entire dramatis personae is enacted by four actors, sometimes playing several roles at once. The American premiere of the piece was by the Huntington Theatre Company in 2007.