The Berkshires Are Serious Fun This Weekend, From MASS MoCA To Sondheim And Shakespeare
The BSO has packed up all its chairs and bows, the Williamstown Theatre Festival has given the '62 Center back to the college till next summer, the Berkshire Theatre Group's official season is on hiatus until the fall.
But don't let any of that deter you from Labor Day weekend in the Berkshires. In addition to Tanglewood's popular artists series, there are any number of arts organizations going full-tilt Berkshires boogie, including Barrington Stage Company, Shakespeare & Company and, in the northern Berkshires, MASS MoCA. Each of them is producing work that's worth the drive in and on themselves. Taken together, I don't know why you'd want to go anywhere else.
---
"Company" | Barrington Stage Company | Through Sept. 10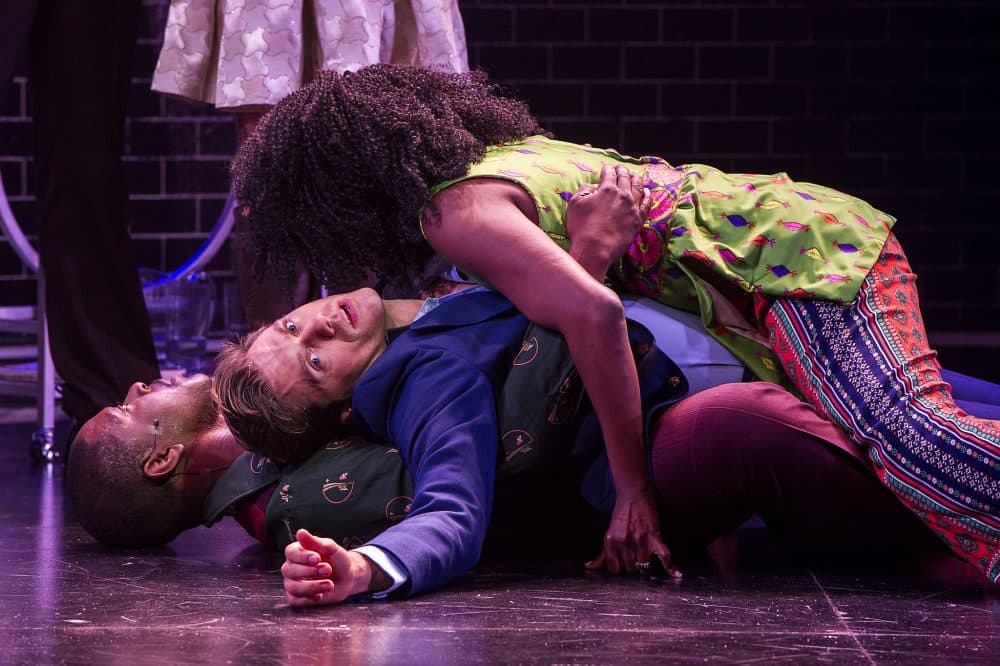 Julianne Boyd, founder and artistic director of the Pittsfield company, has thrown open the musical doors to other directors who've responded with phenomenal productions — most recently "On the Town," "Ragtime" and, by all accounts, "Pirates of Penzance."
Boyd, herself, is one of the country's great musical directors — the Broadway revival of "Cabaret" had nothing on hers. So why let others have all the fun? This year she's bookended the Mainstage season with Joe Calarco's timely, rigorous "Ragtime" and now her own utterly gorgeous production of Stephen Sondheim and George Furth's "Company."
Much has been written about the problems with how dated Furth's book has become —  35-year-old, commitment-phobe Bobby is feeling the clock ticking as his friends have escaped loneliness in their marriages — though marital bliss is all but nonexistent.
But in the hands of Boyd's on- and off-stage collaborators these characters are no more stuck in time than the "South Pacific" characters are stuck in World War II. Times change, attitudes change, but a production this artful stops time and makes something universal of Bobby's quest for connection.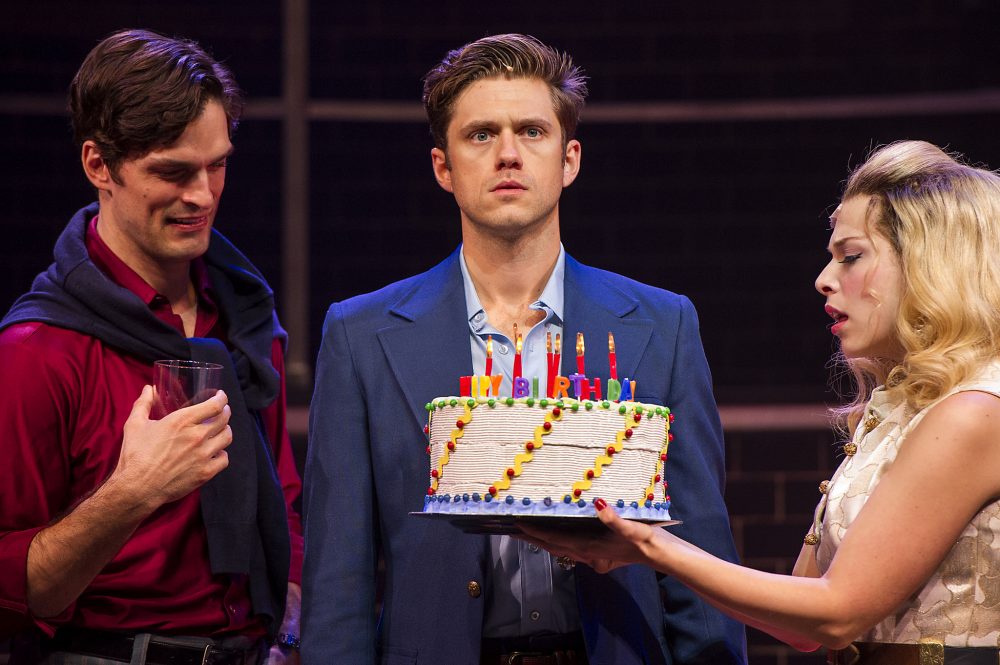 Each of the actors brings such fierce, and often funny, determination to find his or her emotional center that the parade of couples' concerns — often tiresome in other productions — never wears out its welcome here. Lawrence Street and the other members of the trio get beyond the ambivalence of "Sorry/Grateful" to find something redemptive; has there ever been a more hilarious performance of "Getting Married Today" than that delivered by Lauren Marcus, who's in fine Gilbert and Sullivan-like fashion? Aaron Tveit oozes charisma as Bobby, and he has a voice to match.
We could go on about Sara Jean Tosetti's near-neon costumes, Dan Pardo's pitch-perfect orchestra, Jeffrey Page's witty choreography — but you get the picture. Like "Ragtime," this is the kind of production that reminds us why we go to musicals in the first place.
(A different kind of musical — Richard Strauss' "Ariadne auf Naxos" by the Berkshire Opera Festival — has one more performance Friday night at the Colonial Theatre, also in Pittsfield. And Ed Dixon brings his one-man show, "Georgie: My Adventures with George Rose," to Barrington Stage Company's St. Germain Stage through Sept. 3.)
---
"The Tempest" and "The Wharton Comedies" | Shakespeare & Company | "Tempest" Through Sept. 3; "Wharton" Through Sept. 10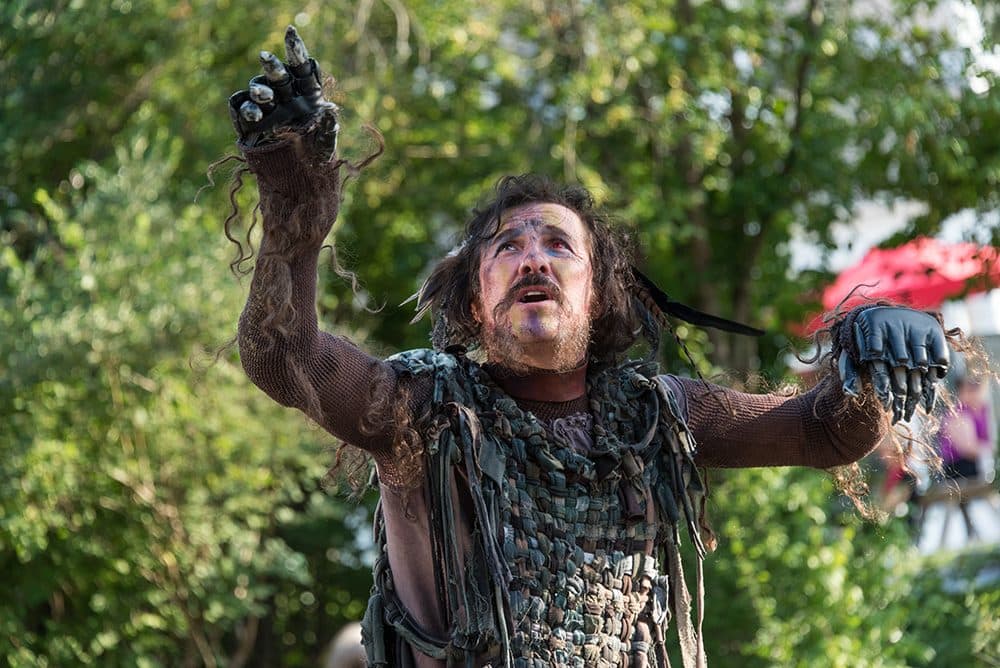 In his first summer as artistic director at Shakespeare & Company in Lenox, Allyn Burrows has neatly tied the company's present and future to its past. He had founder Tina Packer complete her traversal of The Bard with a rousing "Cymbeline." He's gotten the professional company back outdoors after many glorious years at The Mount in an excellent production of "The Tempest" featuring many of the company's top talents, including Nigel Gore as Prospero, along with some fresh faces such as Ellen Loudon as Miranda.
The new Rose Garden Theatre isn't as magical as the theater at The Mount, but that doesn't detract from the wonderment of the production. Perhaps the magic will come with more financial stability. As we know from Teller's "Tempest" at the American Repertory Theater, magic costs money.
I couldn't agree more with Carolyn Clay's review:
"The outdoor production, which borrows from both Bread and Puppet Theater and Mummenschanz for its low-tech special effects, is charming. But it is the acting, as much as the simple surround-sound staging that sees Ariel [Tamara Hickey] flitting from tree to tree that carries this "Tempest." To begin with, as is always the case with S&C, the actors understand what they are saying, thus so do we. Even the grandest poetry — whether barked by Gore's authoritarian Prospero or puled by Jason Asprey's frustrated Caliban — sounds both magisterial and natural."
Back when the troupe plied its trade at The Mount, there were delightful afternoon productions of "Wharton One-Acts." Now they've moved to the company's second stage — the Elayne P. Bernstein Theatre. Again, there's a certain nostalgia for having watched the adaptations of Wharton's short stories unfold in the author's drawing room, but as director Normi Noel says in her program notes, the Bernstein proscenium allows for other more theatrical touches.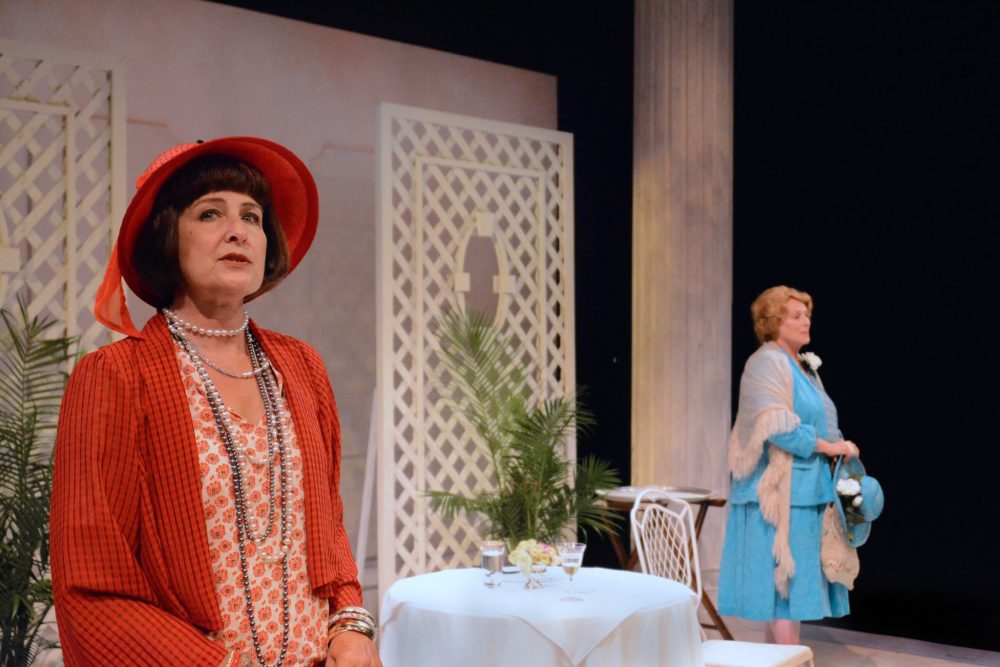 Calling them "comedies" is a bit off as Wharton's ruminative "Roman Fever" can be a rather grim dissection of what life holds after prime time. Two widowers look back at their lives, one (Corinna May) lording it over the other (Diane Prusha), reveling in her wilder and crazier days. It isn't until Wharton's great punchline that there's anything at all comical or ironic about the situation.
Prusha overdoes the mousiness of her character a bit, but that mousiness is spot-on for "The Fullness of Life," which I had never thought of as a comedy, either reading it or hearing it on tape. But Noel and the cast take this early story about a woman arriving in heaven — or a reasonable facsimile thereof — where because of her loveless marriage she's given a hunk-and-a-half soulmate to wither away eternity reading Dante and, one might imagine, maybe even a little erotica when the mood hits.
Noel, Prusha and David Joseph deliciously milk every bit of humor from Dennis Krausnick's adaptation of the Wharton story — an adaptation that manages to do full justice to the seriousness of what the young Wharton was experiencing in her own marriage while having a laugh at all the comedic possibilities that the great hereafter provides.
---
Building 6 | MASS MoCA
Lincoln Center used to call its summer festival the Serious Fun Festival. MASS MoCA just calls it Building 6. Anyone who thinks that art and fun are antithetical concepts needs to head out to North Adams for attitude adjustment.
Building 6 represents the latest expansion of this anti-museum museum, which has really been in the serious-fun business since setting up shop at the former Sprague Electric Company at the turn of the millennium.
But the new space is even a step further down the yellow brick road, given the greater connection between the art and the experience of seeing it, hearing it and interacting with it in general. It almost feels like walking through a production of "Sleep No More" or becoming the astronaut in "2001: A Space Odyssey" as you wander from room to room, playing with Gunnar Schonbeck's musical instruments in one room, walking along an alien landscape of shifting colors in James Turrell's "Into the Light" in another or donning the virtue reality headset for a trip into Laurie Anderson's eerily delightful world.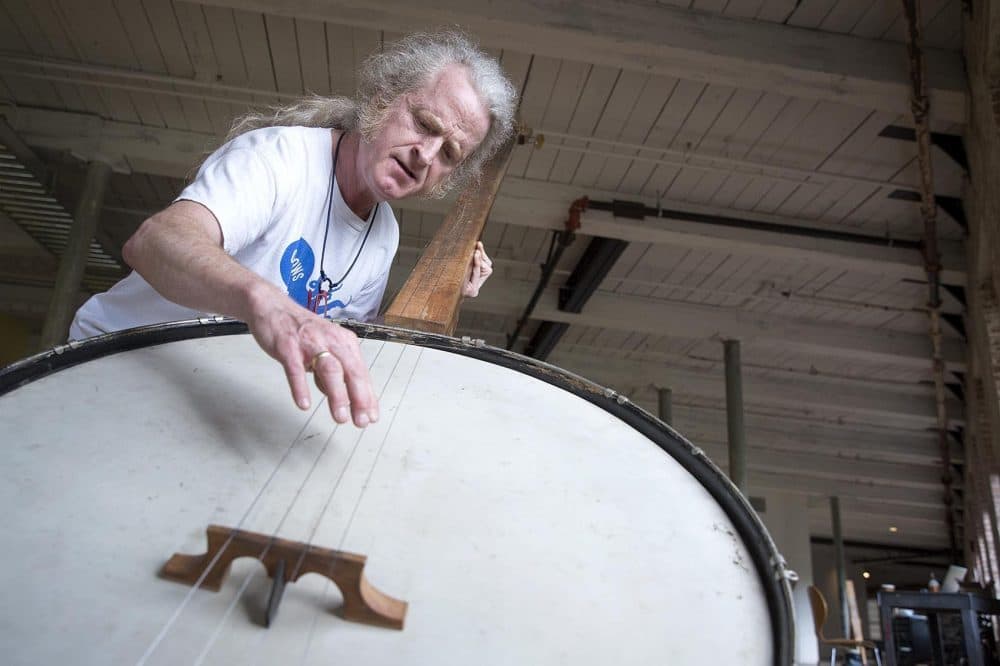 Even the more "traditional" art, like Robert Rauschenberg's "A Quake in Paradise (Labyrinth)" or Louise Bourgeois' gender-bending sculptures (made before gender bending became fashionable) feel different in a space that gives them so much room to breathe. And that gives you so much room to move around them and appreciate the art as much for what free-association imagination you bring to the experience as what you might get from a tour guide. Which I'm by no means putting down — the more you know, the more you appreciate. Here's Greg Cook's guide to the art in Building 6.
As a long-time devotee of Laurie Anderson's I particularly enjoyed the three major exhibit-installations from her — large charcoal-on-paper drawings of "Lolabelle in the Bardo" — imagining her dog in the Tibetan world between life and rebirth; "Aloft," which seats you in a virtual-reality airplane until it dissolves and you're floating through space able to grasp objects while listening to Anderson's other-worldly stories; and "The Chalkroom," another VR flotation device that takes you, at whatever speed you choose, from room to room and story to story watching black and white visuals on the wall.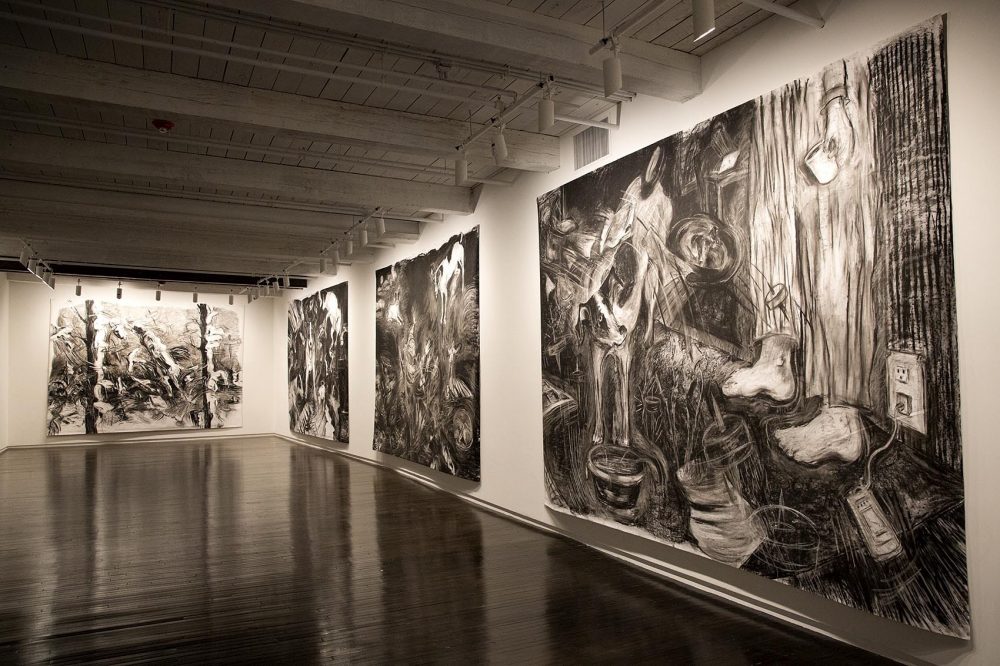 A couple of tips. Give yourself hours or — no kidding, days — to visit MASS MoCA. There's plenty to keep a family happy as well as an individual. And reserve Anderson's Virtual Reality and Turrell's exhibits ahead of time or you might get shut out for the entire day.
Also, you can camp out in North Adams or neighboring Williamstown for more than the exhibits. MASS MoCA has excellent year-round series of music, film and theater. There's a great-looking music and poetry performance Friday night by Louisiana artists in association with the closing of Nick Cave's "Until" and a dance party outdoors on Saturday night with Brooklyn's Underground System, "a collective of Fela Kuti-worshipping rabble-rousers and rhythm-makers."
Most of all, plan to have fun. MASS MoCA not only changes how you look at art, it changes how you look at the world. And that is what art, at its best, is all about.