16 TV Shows You Should Watch This Fall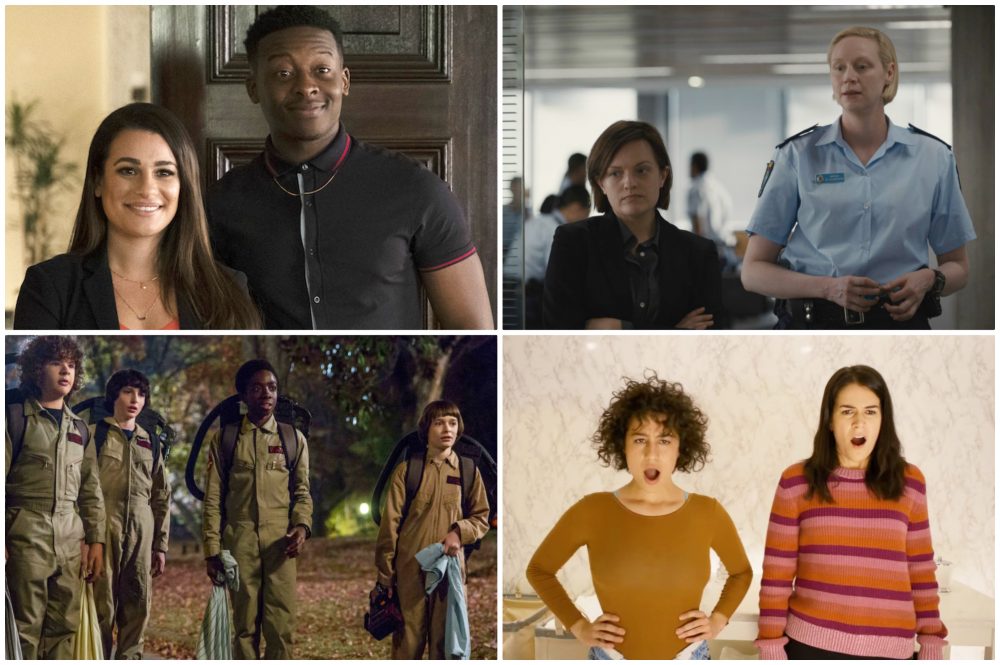 This article is more than 5 years old.
Fall's coming, and that means shutting windows, changing out your summer wardrobe and finding ways of keeping yourself entertained indoors. So it's time to start thinking about what to watch on television as shows new and old make their way to air. But there's so much TV to watch and only so much time in which to watch it.
That's where our fall preview comes in. Our choices run the gamut, from sitcoms to high-minded premium cable offerings, but there's something for everyone to warm up to as we hunker down for chilly New England days.
---
"Narcos" (Season 3) | Sept. 1 | Netflix
If "Narcos" showrunners Chris Brancato, Carlo Bernard and Doug Miro were less ambitious types, then the last season of their cartel drama-cum-biography series might well have been its last season, having ended with the death of their protagonist-villain, Pablo Escobar. But the history of the Colombian drug trade is rich and broad. Even after bumping off a considerable percentage of their primary cast, invalidating the need for surviving cast members to remain on board, "Narcos" still has plenty of story left to tell. Season 3 will focus on the trade in the aftermath of Escobar's demise, as rival drug outfits (à la the Cali Cartel) vie for postmortem market control. The show's second season was an improvement on the first by leaps and bounds, thanks to a palpable self-assurance both behind and in front of the camera. Expectations are high for the third season, but maybe the creative ceiling will be, too.
---
"The Deuce" (Season 1) | Sept. 10 | HBO
If David Simon wants to make a series about New York City's porn industry boom around the 1970s, then let him make a series about New York City's porn industry boom around the 1970s. Simon is one of our greatest chroniclers of urban deterioration, the storied annals of American crime and jaded authority. He's also an advocate for truth, honesty and compassion, and this is why, from "The Wire" to "Show Me a Hero" and everything in between, his work resonates with us. Simon is a doggedly humanist writer who shirks easy stereotypes and cheap characterization. It stands to reason that as exploitive and tawdry as "The Deuce" reads on paper, it'll be thorough and empathetic in practice. (And if Simon's name alone isn't enough to sell you, let's also throw George Pelecanos, his collaborator on both "The Wire" and "Treme," in the mix as well, next to a cast comprised of veterans of both — Anwan Glover, Chris Bauer, Chris Coy, Lawrence Gilliard Jr. — as well as James Franco and Maggie Gyllenhaal.)
---
"Top of the Lake: China Girl" (Season 2) | Sept. 10 | SundanceTV
It's a loss for cinema that Jane Campion hasn't directed a feature film since 2009's "Bright Star," but that loss is television's gain: Campion's "Top of the Lake" premiered on SundanceTV back in 2013, teaming her with lead actress Elisabeth Moss in a mystery tale about a Sydney detective who returns to her far-flung New Zealand hometown, Laketop, to investigate the pregnancy and eventual disappearance of Tui, the 12-year-old daughter of the town's volatile de facto patriarch (played by the great Peter Mullan). Four years later, "Top of the Lake" returns for its second season, subtitled "China Girl," following Moss again as she investigates the death of a child, this time an unidentified Asian girl. Removed from New Zealand and resettled in Sydney, "Top of the Lake: China Girl" promises to remain as cryptic and haunting as its predecessor, and if that does change, you can still expect Campion to keep her focus on the tough lives and traumatic pasts of its leading women as much as she did in season one.
---
"Broad City" (Season 4) | Sept. 13 | Comedy Central
How do you top a season of television that features a Hillary Clinton cameo and ends with a bomb scare wrought by menstruation miscommunication? Maybe the better question is how, after working together for years and being friends for even longer, the leads of "Broad City" maintain the rhythm of their friendship in Donald Trump's America. The series tends to put the personal over the political, and while there's no reason to expect that to change, there is reason to expect Abbi and Ilana to be newly preoccupied by new post-election priorities (which likely explains why Ilana's bedroom wall is a collage of Planned Parenthood posters). "Broad City" is a show about friendship and the hustle needed to make it in New York City, but it's staunchly feminist, too. Could Abbi Jacobson and Ilana Glazer justify ignoring Trumpian politics on TV when those politics are central to their comedy? (At least they are for Glazer.) There's as much chance of that as there is of "Broad City" neglecting the dynamics of Abbi and Ilana's narrative-defining relationship.
---
"Star Trek: Discovery" (Season 1) | Sept. 24 | CBS
Space is the final frontier, and television is the golden frontier, so now that Gene Roddenberry's beloved science fiction franchise has stumbled in theaters for close to a decade, it's time for the property to return to the small screen. "Star Trek: Discovery" carries an oversized burden on its shoulders made up mostly of expectation: It's the first "Star Trek" series since Rick Berman's "Star Trek: Enterprise" went off the air in 2005, it's arriving a year after the last movie, "Star Trek Beyond," ran through theaters, and until October of last year, it was one of Bryan Fuller's last gigs before he left the show (likely over the old "creative differences" bromide). How does a series endure that amount of pressure and hype without buckling? The Fuller mythology and storylines remain intact under the guidance of Gretchen J. Berg and Aaron Harberts (with help from, of all people, Akiva Goldsman), but even without Fuller's name, "Star Trek: Discovery" has the enduring legacy of Roddenberry to live up to. That's a lot. But a stacked deck shouldn't stop the show from being an event worth tuning in for.
---
"Curb Your Enthusiasm" (Season 9) | Oct. 1 | HBO
Speaking of legacies and expectations, here's Larry David bringing his trademarked grouchiness back to premium cable with a new installment of "Curb Your Enthusiasm." The trick to David, of course, is that he doesn't give more than half a damn about either, and if the show's ninth season doesn't play to the tastes of critics and audiences in 2017, odds are that David won't care (or that he'll care too much and chafe everyone around him with his bellyaching). So what's there to be enthusiastic about? At present, guest spots from Lauren Graham, Judge Judy, Bryan Cranston and a slew of other actors and personalities — and not much else. "Curb Your Enthusiasm" being an HBO joint, details about the season's arc are scarce, but really, do you need to know anything more than the basics? This isn't the type of show to inspire spoiler talk and speculation; the only thing we really need to know is that it's coming back, and after five years, it's about time.
---
"The Last Man on Earth" (Season 4) | Oct. 1 | Fox
TV plays host to any number of gut-punching melodramas and tragedies, but pound for pound, there may not be a show on television as singularly, abidingly depressing as Fox's "The Last Man on Earth." Sure, it's ostensibly a comedy. Sure, it's the product of career class clowns Phil Lord and Christopher Miller, the geniuses responsible for such madcap satirical fare as the "21 Jump Street" reboot and "The Lego Movie" (to say nothing of the great animated series "Clone High"). Each of the details that make up Lord and Miller's style and philosophy pervades "The Last Man on Earth," but they come coupled with a spectrum of grief that oscillates between "melancholic" and "soul-crushing." From apocalypse to post-apocalypse, this is a show about enduring anguish and ennui found at the end of the world, where suicide by self-isolation is less of a bummer than the threat of getting stuck in an elevator where no one can find you. (Expect to see more Kristen Wiig after her character's collision with the main cast at the end of Season 3, but don't expect the story to get any cheerier.)
---
"The Gifted" (Season 1) | Oct. 2 | Fox
The success of Marvel's shared universe brand hasn't translated quite so well on television as at the multiplex; "Agents of S.H.I.E.L.D." has improved over seasons, and on the Netflix front, the standalone series "Jessica Jones" and "Luke Cage" are both superb, but the more Marvel tries to cloister these series, the more that affectation works against them. Maybe the best way to avoid that happening is to disavow any in-series connections to the greater Marvel world: That seems to have worked for FX's "Legion," after all, so maybe it'll work for Fox's upcoming "The Gifted," too. "The Gifted" links to the "X-Men" series, like "Legion," and will feature zero appearances by the X-Men themselves (though maybe showrunner Matt Nix will spare a mention or two for the X-crew). Instead, it's fixed on the Strucker family (Stephen Moyer, Amy Acker, Natalie Alyn Lind, Percy Hynes White), who go on the lam from the government when their children develop mutant superpowers. It's a typical superhero blueprint, but at least it won't be weighed down by the yolk of brand maintenance.
---
"The Mayor" (Season 1) | Oct. 3 | ABC
It's always refreshing to watch a show obviously meant as a charming crowd-pleaser make no attempt to hide its naked, crowd-pleasing charms. For the 2017 fall television slate, that show is Jeremy Bronson's "The Mayor," a sitcom about a young, struggling rapper (played by Brandon Micheal Hall) who gets the genius-level idea to run for mayor of his California hometown for the purpose of generating publicity for his mixtape, wins the race without meaning to, and suddenly finds himself balancing the responsibilities of elected office. Lea Michele plays his chief of staff; Yvette Nicole Brown plays his mother; Bernard David Jones and Marcel Spears play his two best buds. This is product built to run on chemistry between its cast members, which makes the overt critiques of America's political process and social failures feel practically gutsy (seen in mayoral debates where Hall schools his opponent on the realities of urban American living).
---
"Dynasty" (Season 1) | Oct. 11 | The CW
You can take the 1980s soap opera out of Colorado, and you can probably take the Colorado out of the 1980s soap opera, but can you take out the 1980s, too? Most likely yes. The CW's reboot of ABC's decades bygone epic of wealth, oil industry wheeling and dealing and high familial drama updates the mores of its original era and replaces them with our own, jettisoning homophobia in favor of acceptance while pushing its female characters to its narrative's forefront. Did the world really need a new take on "Dynasty" in 2017? Maybe not, but considering our sustained nostalgia for '80s culture, it's not especially surprising that someone got it in their head to bring the series back from the dead for a contemporary audience. (Hey, at least there's thematic cohesion to the concept. We have a family dynasty running our country right now, don't we?)
---
"Crazy Ex-Girlfriend" (Season 3) | Oct. 13 | The CW
A quick refresher for "Crazy Ex-Girlfriend" following its second season finale: Don't screw with the Friendtopia. Rachel Bloom's musical rom-sitcom ends on a figurative cliffhanger illustrated by a somewhat more literal cliffhanger as Rebecca Bunch, left at the altar by the man she chased across the country to woo and eventually marry, shoots down traditional revenge plots suggested by her squad and gives a sinister smile: Vandalizing her ex-suitor's home isn't enough. But what is? Should we fear for the life of poor, airheaded Josh Chan? Rebecca is, by her own admission, a little bit crazy, after all. We'll get a better sense of whatever dark paths "Crazy Ex-Girlfriend" will tread once we see the season's opening credits sequence; it's directed by Joseph Kahn, a mad scientist known for making music videos and occasional features (see: "Detention"). That seems like an obvious enough indicator as to how the series might go as Rebecca embraces her crazy in pursuit of revenge.
---
"Stranger Things" (Season 2) | Oct. 27 | Netflix
Where does "Stranger Things" go after its first season wound up being such a smash hit? Wherever the Duffer Brothers take it. Obviously, that means going back to the Upside Down, the grimy, decaying mirror universe of our world. Here, there be monsters, as we found out last time we visited, and in the show's second outing, those monsters appear to be much, much bigger, on a Godzilla level of scale; if Season 1 hints at the sanity-shattering horror of H.P. Lovecraft lore, Season 2 appears to have all of its cards out on the table, with towering eldritch monstrosities taking the place of the more humanoid (but no less dangerous) aberration that menaced its cast of teen characters last year. "Stranger Things" has a tighter lid on its plot mechanics than any of the other shows mentioned here, but what little Netflix has deigned to reveal looks appropriately creepy. Perfect programming for Halloween.
---
"Alias Grace" (Miniseries) | Nov. 2 | Netflix
What happens when one video on demand/streaming service scores big by adapting a Margaret Atwood novel into television? Another video on demand/streaming service will try precisely the same thing. Maybe "Alias Grace" isn't an instance of clever counterprogramming. Maybe it's just kismet. Hopefully, it'll do better justice to its source material than "The Handmaid's Tale." The talent is there: Sarah Polley is one of our most underappreciated directors (see her astonishing, intimate 2013 documentary, "Stories We Tell"), and Sarah Gadon, playing the title character, Grace Marks, has been stealth-great in movies like "Enemy" and "Belle." If nothing else, it's just good to see Polley working again, but she has a lot to live up to: Her own reputation, as well as Atwood's pedigree and the hype surrounding "The Handmaid's Tale."
---
"The Girlfriend Experience" (Season 2) | Nov. 5 | Starz
Bad news for the folks who fell under the hypnotic spell of "The Girlfriend Experience" during its stellar first season run: Season 2 will orbit around a new cast of characters, played by Louisa Krause, Anna Friel and Carmen Ejogo, and will architect a new storyline for them, too. As far as bad news go, of course, that news isn't particularly bad. Far more important is Amy Seimetz and Lodge Kerrigan's return as showrunners. Look, nobody's going to say that Riley Keough isn't an incredibly talented actress, but "The Girlfriend Experience" is a show driven not by performance but by, well, experience. That's to do with Seimetz and Kerrigan, the puppeteers orchestrating all of what we see before us in Starz' methodical, sensual, effortlessly cool (but never aloof) story of identity couched in the world of high-end escorts. Expect that aesthetic to remain intact even as "The Girlfriend Experience" pivots to tell a narrative spun from whole cloth.
---
"She's Gotta Have It" (Miniseries) | Nov. 23 | Netflix
What possesses a filmmaker to not only return to one of their best efforts, but their very first? Spike Lee doesn't have to prove anything to anyone, and he doesn't have to explain himself to anyone, either; if the guy wants to go back to "She's Gotta Have It" and tell that story all over again, he's entitled to. But "She's Gotta Have It" is a landmark of cinema, shot on practically no budget in a scant two weeks; the tales of its production remain the stuff of filmmaking legend in 2017. Maybe that's impetus enough for Lee to try his hand at remaking his own work. Maybe Lee wishes he'd had more resources at his disposal when he shot "She's Gotta Have It" in 1986. If so, then think of Netflix as his fairy godmother, swooping in to marry their funds to his clout 31 years later. How Lee's series will compare to his movie will probably boil down to the eye of the beholder, but as creative experiments go, this is pretty exciting.
---
"The Crown" (Season 2) | Dec. 8 | Netflix
Another series for history buffs, this one pointed not at Colombia (as in "Narcos") but at the life and times of Queen Elizabeth II from the late 1940s onward; Season 1 stops in the mid-1950s, and Season 2 picks up in time to cover the Suez Crisis of 1956 and, eventually, the retirement of Harold Macmillan, who stepped down from his post as prime minister at the urging of Nigel Birch in the wake of the Profumo affair. (Basically, an affair between the Secretary of War John Profumo and Christine Keeler, a woman more than 20 years his junior, that incurred serious damage to Britain's Conservative Party government in the 1960s.) Whether you're as enraptured by "The Crown" as its admirers, or whether you consider the show an empty but gorgeously made period piece, its second season is not to be missed; prestige though it may be, it's nonetheless ambitious and possessed of a scale that belies its more intimate trappings.