'I Was Afraid Of Him And Of Immigration': Domestic Violence Survivors Take Chance Applying For Special Visa
Play
This article is more than 5 years old.
Este reporte tambien está disponible en español.
Immigrants living in the country illegally have reason to be on edge.
An increase in immigration enforcement under President Trump has led to more arrests of immigrants with no criminal record. And reports of federal immigration agents showing up at schools and courts are heightening fear among people in the country without authorization.
But what happens when that fear is used as a weapon?
'If I Called The Police, They're Going To Deport Me'
Antonia, who lives north of Boston, is nervous about being deported back to the Dominican Republic. She traveled here on a tourist visa and stayed in the country longer than she was authorized.
But the mother of three has an even bigger fear: her ex-boyfriend.
"He hit me in the mouth, he yelled at me, he broke my phone. Until one day, I couldn't take it anymore because he grabbed a knife and threatened me and my children," she said, speaking in Spanish.
Antonia says her ex-boyfriend grabbed a knife from her kitchen and ran around checking under the beds for another man who didn't exist. In his jealousy-fueled rage, Antonia says he waved the knife around threatening to kill her and her children. Her 8-year-old daughter hid behind the couch.
Because Antonia fears for her safety, we're only using part of her first name.
She says when she first met her abuser through mutual friends, he was kind and helpful. As a naturalized U.S. citizen, he speaks English fluently. He drove her to English classes and helped her with her homework. But all of that changed.
"I didn't want to be with him anymore and I separated from him and I tried distancing myself but he kept looking for me and calling me," Antonia said. "And one day he called me and asked me to go to his house, and that's when it started all over again and he started hitting me. He bit me on this hand. I told him, 'This is not OK, you're hurting me. I'm going to have to call the police.' But I don't know how to speak English, so I grabbed my children and left."
And it wasn't just the bloody lip, the bite marks or the bruises; Antonia says her ex-boyfriend abused her psychologically as well. He knew she'd overstayed her visa and he knew she was terrified of being separated from her children. Antonia says he used her status against her over and over again.
"I was afraid every time he did something to me, because I couldn't call the police because he'd say to me that if I called the police, they're going to deport me," Antonia said. "And I regret this now, because this is how he got away with the abuse, he just kept doing the same thing."
Choosing Between Safety And Deportation
According to Julie Dahlstrom, director of Boston University's Immigrants' Rights & Human Trafficking Program, weighing the certainty of an abusive household versus the uncertainty of deportation can be a difficult choice for survivors like Antonia.
"Essentially, they're having to choose between safety and deportation and often it's not so clear cut," Dahlstrom said. "You know, when a survivor picks up the phone and they're undocumented, they don't know who's going to be on the other end of the line. It is law enforcement, but they don't know how closely they're connected with immigration, which is really challenging."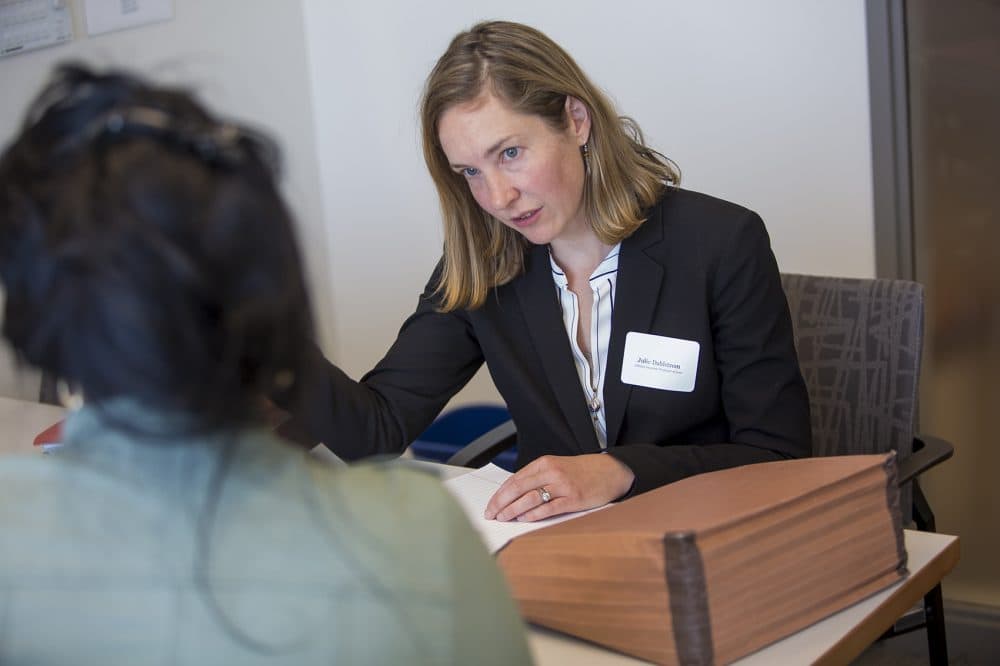 That uncertainty wielded its power over 41-year-old Quirci Rodriguez as well. We've agreed to use only part of her name out of safety concerns she has for herself and her family.
Rodriguez is also from the Dominican Republic and is also the survivor of an abusive relationship here in Massachusetts. She and her children entered the country on what's known as a fiance visa. But the man she loved never intended to marry her. Instead, she says, he assaulted her verbally and physically. And she says her partner threatened to have her deported if she called the police.
"I was afraid of both of them — of him and of immigration," she said in Spanish, her voice trembling slightly. "Because any time I'd confront him, he'd tell me he was calling immigration and I was afraid they'd deport me."
Taking A Chance In Uncertain Times
There is an avenue to protection that a growing number of immigrants are considering to be a viable option.
Some immigrants living here without authorization who've been victims of crime in the U.S. may be eligible for what's known as a U visa.
Hema Sarang-Sieminski, a senior attorney at Boston's Victim Rights Law Center, says the lengthy wait for a U visa used to be a deterrent for clients. But that appears to be changing under the Trump administration.
"It does feel like survivors are more willing to take that chance and wait for the U visa in the current climate," she said. "I think largely because of a concern of not having anything else to fall back on."
And they are taking a chance.
Filing an application requires submitting personal information to the government without gaining any legal status or work authorization while waiting to hear back on the visa. The office of U.S. Citizenship and Immigration Services issues 10,000 U visas across the country each year. There are currently close to 170,000 pending applications.
One of the first steps in the application process is filing with a law enforcement agency to certify a crime took place and the victim was helpful in an investigation. That could mean applying with a police department or a district attorney's office.
Jake Wark, spokesman for the Suffolk County District Attorneys's Office, says they've seen nearly a tripling of U visa applications coming through their office.
"There's really no question that we've seen a sharp rise in the number of applications since this time last year," Wark said.
According to Wark, the office received 19 applications between January 1 and August 1 of 2016. That number jumped to 52 during the same time period this year. The Essex, Norfolk and Worcester county offices have seen slight increases in U visa applications as well. Two other offices, Middlesex and Berkshire, had slight decreases. (The five other DA's offices in the state either did not immediately respond to requests for their U visa data or said they do not track such applications.)
Nationwide, there have been concerns that unauthorized immigrants will be less likely to report crimes to local authorities, given President Trump's broadened enforcement priorities. A recent survey of advocates and lawyers finds there has been a drop in reports of crime by undocumented immigrants in some parts of the country.
But for others who may have been victims of crime in the past, desperation may be winning over, and some hope is better than none.
Sarang-Sieminski, the attorney at the Victim Rights Law Center, says survivors are considering any possible avenues to safety they may have at their disposal.
"There's just so much uncertainty that having some kind of application for relief in the works feels like it could result in some additional protection or safety form removal right now," she said.
Antonia, who just recently filed her U visa application, says she's grateful for at least the possibility of protection.
"I really think there are people who are treating women badly and abusing women just because they know they're not here legally," she said. "But we have rights too — we have rights that we don't know about, it's true."
Immigration attorneys say the current wait for a U visa is anywhere between two and six years.
This segment aired on September 12, 2017.