In 'Constellations' At Central Square Theater, A Map To The Heart Is Found In The Stars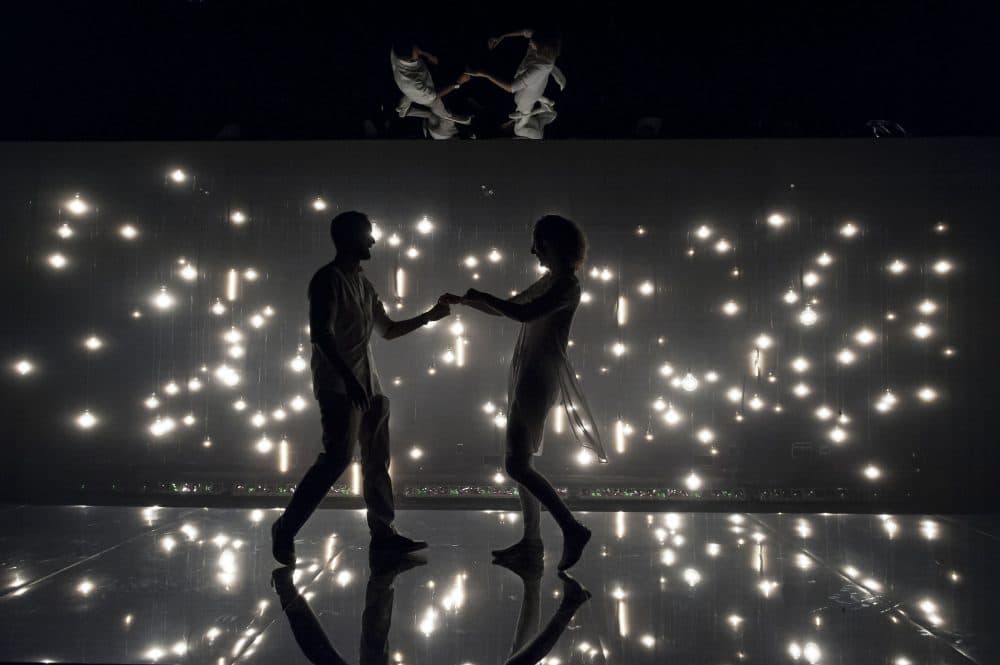 This article is more than 5 years old.
"Constellations" begins with a very awkward come-on from one barbecue attendee to another — the old "Can you lick your own elbows?" proposition. It doesn't go so well for Marianne, a successful academic posted at Cambridge University, when she introduces herself to Roland, a self-employed beekeeper, with some banter about the perils of oral elbow moisturizing. It doesn't go so well the second time, either. Or the third.
But if she had the chance to make a fourth or fifth first impression, maybe then things would click into place: flirty banter followed by a date followed by a relationship, perhaps followed by a painful breakup, perhaps followed by reconciliation, perhaps followed by a terminal illness. Or maybe just most of the above. Or maybe all of it but in a slightly different order.
That's the premise of Nick Payne's two-hander, rendered potently in a production by Underground Railway Theater at Central Square Theater through Oct. 8. Payne's conceit is to show the variations of a pretty basic girl-meets-boy story, if each moment happened within different levels of a multiverse where different outcomes are playing out simultaneously.

If that setup makes this otherwise grounded drama sound like a flight of science-fiction fancy, keep in mind that the possibility of the play's scenario is suggested by quantum physics. Marianne, who describes her research focus as theoretical early-universe cosmology, sketches out these basics of quantum theory during an early date with Roland. It's just enough for the audience to intuit that the repetitive events onstage, played out with sometimes slight variations, are explained by this concept.
Director Scott Edmiston weaves together a production that is gorgeous to look at and enthralling to hear. Marianna Bassham and Nael Nacer are given a real actors' showpiece, putting some of the mechanics of their craft on view by offering different line readings of the same (or similar) material and trying out various emotional shadings and approaches to each moment.
Perhaps there was a master whiteboard in the rehearsal room keeping track of the different timelines and assigning each iteration of every scene to one of them. But as an audience member, I think it's best to just take it all in as it comes. This is not like the musical "If/Then," which follows the development of two very different outcomes from one crucial moment. If anything, it builds on a reference in the text to the value-neutral nature of time; this isn't about how things could go better or worse, but just differently. Even with variance, the assorted paths bend toward a similar outcome. Free will, it seems, is in short supply.

From the opening scene we get the idea that Roland's potential circumstances have the most variety; he may be married, have a girlfriend or be single. And so Nacer seems more committed than Bassham to fashioning different iterations of his character. One Roland is witty and self-assured, other Rolands less so. And so a speech about how different types of bees have different roles in the beehive comes off as an awkward non sequitur, a charming seduction and also something in between. Bassham puts a steadier through-line at the center of Marianne, while reaching for bigger emotional moments. The Cambridge intellectual can be more or less tart, as a cover for her vulnerability.
These actors' work together is lovely, and it's the very ordinariness of the story — a tentative romance, an infidelity, a chance post-breakup meeting — that allows it to cut deeply. Payne invites the audience to relate to these commonplace markers of a life.

Susan Zeeman Rogers' elegant set design proposes a series of suspended glass bulbs of different sizes upstage, which in concert with Jeff Adelberg's painterly lighting suggest the cosmos, firing neurons or perhaps an infinite set of possibilities. The spare set's reflective surfaces wittily suggest duality and, along with Charles Schoonmaker's all-white costumes, help communicate the uncanny nature of the play's action. The staging does, though, perhaps cue us to expect something more dystopian or, at least, futuristic.
The painful everyday realities conjured by Bassham and Nacer keep the proceedings from flying off too far into high-concept. Still, the playwright's gambit here feels a little less ambitious than it might be. We don't really get the chance to see characters mature in different ways that lead them to different behaviors and endpoints.
"Constellations" doesn't invite us to ponder just how far afield two roads may diverge in a yellow wood. Instead it suggests that both paths are forever twisting back upon each other, as we trek forward toward a certain destination. The fault, it seems, may indeed be in our stars.
---
"Constellations" runs at the Central Square Theater through Oct. 8.