Red Sox Game Attendees Denounce Racism With Banner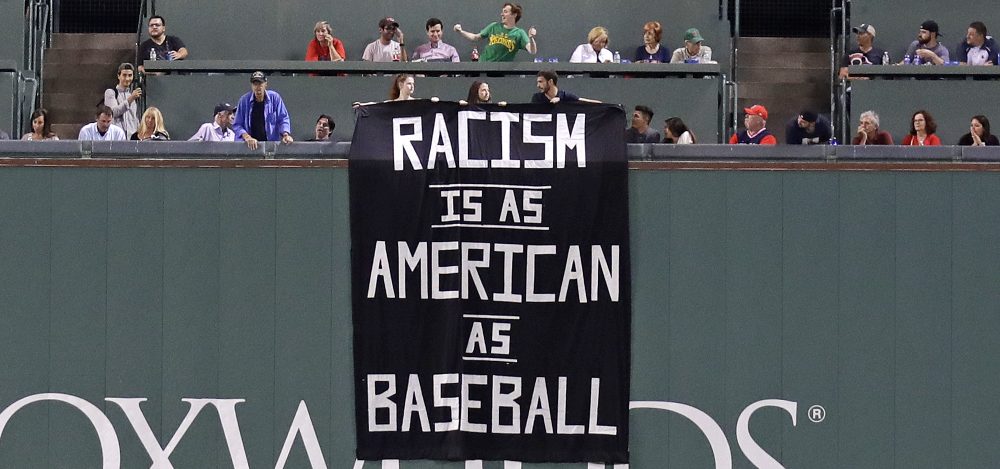 This article is more than 3 years old.
The Red Sox say attendees who hung a sign about racism over the Green Monster during a game were escorted from Fenway Park because of club policy "prohibiting signs of any kind to be hung or affixed to the ballpark."
Some attendees unfurled a sign that read: "Racism is as American as Baseball" during the fourth inning of Wednesday night's 7-3 loss to Oakland.
Four individuals were escorted out. There were no arrests and no one was banned from returning, club spokesman Kevin Gregg said Thursday.
The banner was up on the wall for about one batter until umpires asked it be removed because it was in fair territory on the left field wall.
There was a spattering of boos from the crowd as Red Sox security forced the people to remove the sign and escorted them from their seats. Some people holding the banner were white. The Red Sox said one fan said they were inspired by the Black Lives Matter movement.
One of the founders of Boston's Black Lives Matter group told WBUR Thursday she's celebrating the display of the banner at Fenway.
Daunasia Yancey said she's not sure who displayed the banner, but that their actions are in line with tactics used by Black Lives Matter.
"For me it was a reminder of this is a part of the national fabric and we need to acknowledge that and deal with it and end it," Yancey said.
"Saw it was draped over the Monster," Red Sox manager John Farrell said after the game. "From the dugout, you see someone expressing their opinion and it looked like it was withdrawn relatively quick."
Boston right fielder Mookie Betts also saw it.
"There's no place for that," Betts said. "That's for another day, though."
Mayor Marty Walsh said Thursday the banner brings attention to the issue of racism and he hopes Boston will turn it into a positive.
"Of course we know there is racism out there and there is an issue of race in this country," Walsh said. "But in Boston we're going to continue to work towards making sure that we deal and address those issues and not run away from it."
It's not the first time that the Red Sox have responded to the topic of racism at the ballpark.
Earlier this season, Orioles center fielder Adam Jones said after a game that he was the victim of racial slurs and had peanuts thrown at him during the game.
The next day, Jones received a personal apology from Boston team president Sam Kennedy on behalf of the club. When he stepped up for his first at-bat of the game, he was given extended applause from the Fenway crowd.
"Just appreciative that action was taken and not everybody feels the same way as selected people," Jones said after the game.
In August, owner John Henry said his team will lead the effort to change the name of Yawkey Way. The street is named after Tom Yawkey, who owned the team from 1933 to 76 but refused to integrate the team from 1947 to 59.
With additional reporting from the WBUR Newsroom
This article was originally published on September 14, 2017.