Mass. Household Income Jumped Nearly 6 Percent In 2016
The median household income in Massachusetts jumped nearly 6 percent in 2016, and the state's poverty rate fell a percentage point, according to U.S. Census survey data released Thursday.
The median household income in Massachusetts rose 5.8 percent over the year, from $71,146 to $75,297. The U.S. median household income was $57,617 in 2016.
Only Idaho and the U.S. territory of Puerto Rico had stronger income growth in 2016 than Massachusetts, and just a few states have higher-earning households.
The state's poverty rate also trended in the right direction last year, falling from 11.5 percent in 2015 to 10.4 percent in 2016. That means more than 65,000 Massachusetts residents left poverty over the year.
The state-level data out Thursday comes from the 2016 American Community Survey. A related but separate national-level survey — which also found income gains and poverty falling — was released Tuesday.
The census data are based on surveys, so they have margins of errors. There are also plenty of critics of the bureau's methodology and of the poverty rate itself.
And two reminders: Household income is not the same as wage growth, and the surveys are just a one-year snapshot.
On Thursday afternoon, for instance, the Massachusetts Budget and Policy Center reported that last year's "surge" in income growth means the state's median household income is just now above the pre-recession peak of 2008.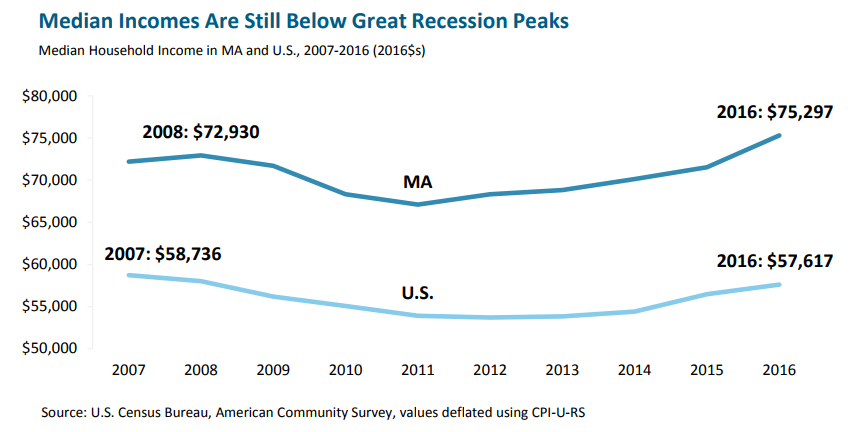 And, as I've noted in the past, a median household income obscures substantial demographic differences. In Massachusetts, the median for Asian households was $89,425 in 2016, compared with $82,029 for non-Hispanic whites, $46,381 for African-American or blacks, and $39,742 for Hispanics or Latinos of any race.
The census data also details income inequality, and Massachusetts was only one of three states and territories -- along with Alaska and Puerto Rico -- to see its inequality decrease last year in a statistically significant way.
The report also examined income and poverty for the country's 25 most populous metropolitan areas.
The Boston area -- a region that includes parts of southern New Hampshire — saw its median household income rise 3.3 percent last year, from $79,783 to $82,380. That's third overall, behind the San Francisco and Washington, D.C., metros: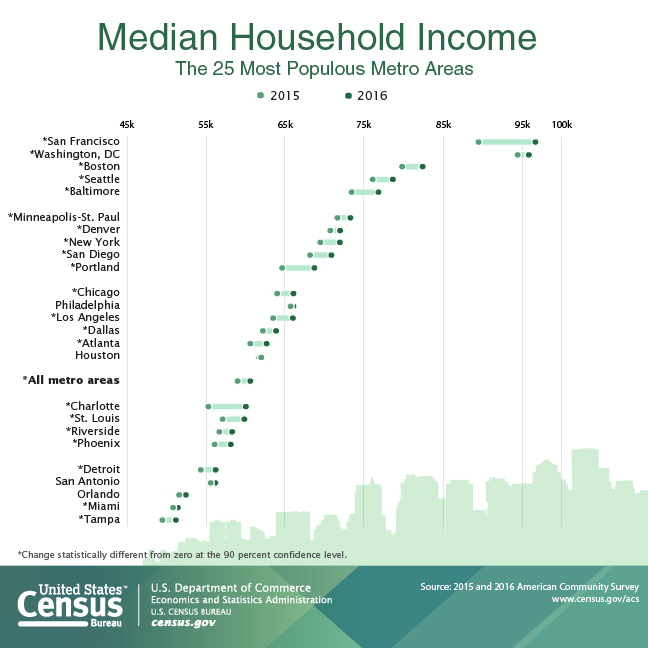 The Boston metro area's percentage of people in poverty fell from 10.2 percent to 9.6 percent.
The earlier survey, out Tuesday, also included details on states' health insurance coverage. It found that Massachusetts' uninsured rate dropped in 2016, from 2.8 percent in 2015 to 2.5 percent last year.
That's compared with the national uninsured rate, which is now 8.8 percent.
And it continues the trend of Massachusetts having, among states, the largest percentage of its residents covered: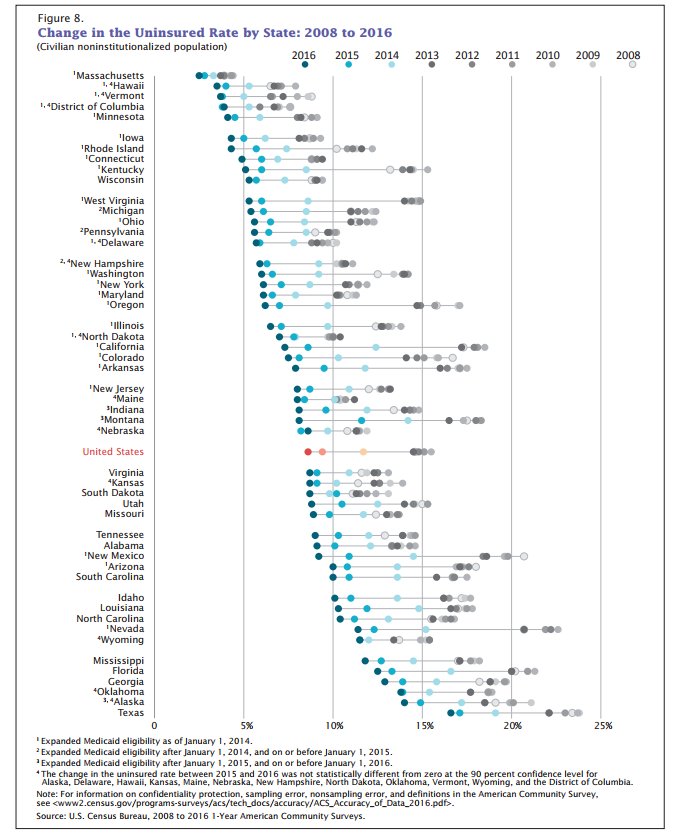 This article was originally published on September 14, 2017.