Speaking In Boston, AG Sessions Promises Gangs: 'We Will Hunt You Down'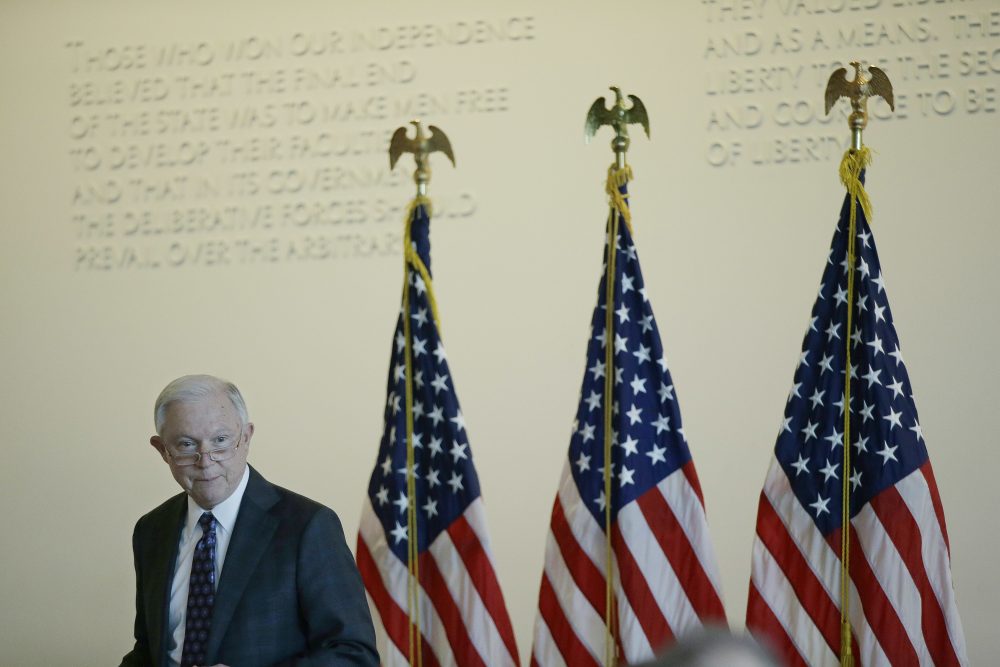 This article is more than 5 years old.
Attorney General Jeff Sessions addressed law enforcement and court employees at Boston's federal courthouse Thursday, saying continued cooperation at all levels is crucial to dismantling international criminal organizations like the violent MS-13 gang.
Sessions cited the success of a multi-agency sweep of local members of MS-13 last year, which led to federal racketeering charges for murder, drug trafficking and weapons violations, and put more than 60 alleged gang members behind bars.
"This is precisely how we will dismantle and defeat MS-13: charge them with whatever crime they commit and stay nimble and flexible to ensure we get them off of the street, in jail and out of the country," Sessions said.
The operation involved officers from the U.S. Department of Homeland Security, FBI, state police, and Boston and Chelsea police departments.
"As this community knows firsthand," Sessions said, "MS-13 is probably the most violent and ruthless gangs on the streets today. It has made inflicting gruesome violence their primary feature."
Sessions' visit to Boston comes amid a fierce national debate over enhanced immigration enforcement on behalf of the Trump administration. The attorney general, the highest ranking law enforcement agent in the country, was greeted by a few dozen protesters outside of the Moakley federal courthouse, holding signs reading "Jeff: Go Home" and "Abolish ICE."
The protest was organized by the ACLU of Massachusetts and dubbed an "unwelcoming party" for the attorney general.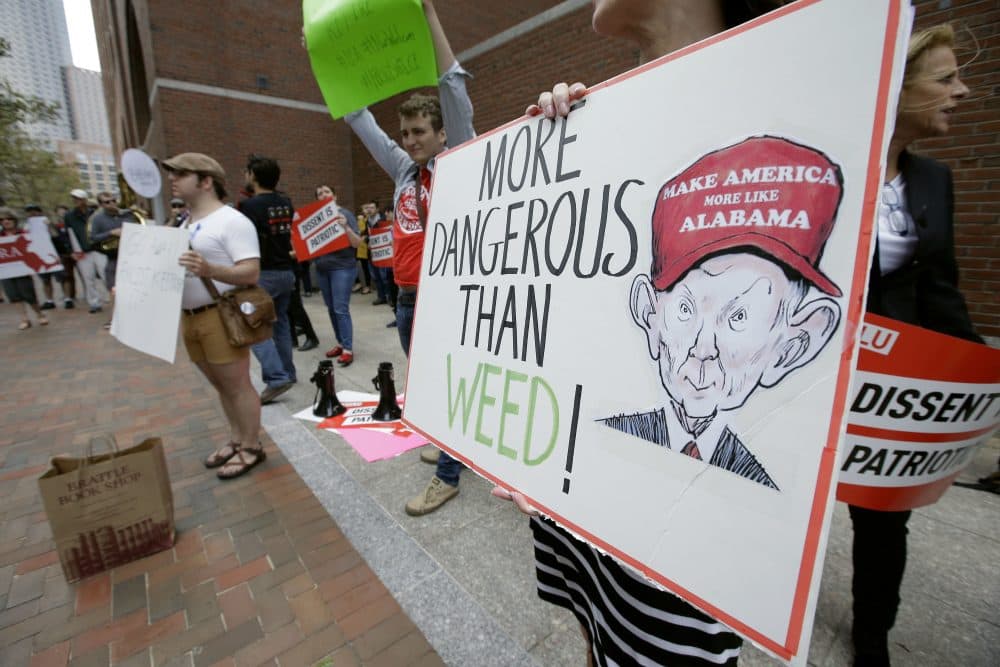 Sessions' comments focused primarily on combating organized gangs like MS-13, taking a tough-on-crime tone and telling gang members directly that "we are coming for you. We will hunt you down, we will find you, and we will bring you to justice."
"We will not allow the likes of MS-13 or any other gang to prey upon our communities, to decapitate individuals with machetes, baseball bats and chains — or to turn places like Boston, Washington, D.C., and Long Island, New York, into war zones," he said.
One topic that was noticeably absent from attorney general's remarks was his recent announcement that the Deferred Action for Childhood Arrivals program would be rescinded. The program, established in 2012 by then-President Obama, allowed some young people brought to the country illegally by their parents to live and work in the United States. The announcement was met with stiff pushback from local leaders, calling for a continuation of the program for the nearly 9,000 DACA recipients in Massachusetts.
Sessions touching down in Boston, a self-described "sanctuary city," also highlighted the particularly contentious legal battle over an executive order signed by President Trump on January 25, which in part seeks to strip certain federal funding from cities where local law enforcement do not fully cooperate with federal immigration officials.
A federal judge in Chicago recently issued a temporary nationwide injunction on the executive order, preventing the Department of Justice from withholding any funds for the time being.