Case Asks If It's Constitutional To Require Someone On Probation To Remain Drug-Free
Play
This article is more than 5 years old.
Massachusetts' highest court soon takes up a controversial case that raises provocative questions about the criminal justice system and addiction.
The case asks if it's constitutional to require someone on probation to remain drug-free. Some say it could be one of the most important cases before the state Supreme Judicial Court in the past decade.
The case involves 29-year-old Julie Eldred, who was put on probation for a year in 2016 for a larceny charge. Her probation conditions stipulated that she remain drug-free and submit to random drug tests. One of those tests — taken 12 days after Eldred was placed on probation -- came up positive for the opioid fentanyl. Because that was a violation of her probation, she was sent to jail.
"I was in the midst of active addiction, so I was actively using," Eldred said. "But you're forced to go into this saying, 'I'll be drug-free,' or you go to jail."
Eldred says she complied with all other probation conditions — she got into an outpatient addiction treatment program, found a therapist, and started medication-assisted treatment with the drug Suboxone.
"I had one relapse," Elred said. "I told my Suboxone doctor, so he upped my Suboxone. And my PO [probation officer] had happened to call me in the next day. She didn't look at that picture, she didn't look that I had just gotten started getting everything in order. She just saw that I had a dirty urine and sent me in front of the judge to go to jail."
Eldred was sent to MCI-Framingham, where she received no treatment.
"I had a cellmate that was in there for murder but she wasn't sentenced yet," Eldred said. "You're with people who know they're going to be sentenced and they know they're going to be in there a long time so they don't care. There is a lot of violence, girls will jump you. It's scary."
Ten days later, Eldred was released after her lawyer found a treatment bed. Eldred's lawyer, Lisa Newman-Polk, says punishing people for drug use is not a deterrent.
"This idea that a court can order a person to stop using with the threat of punishment is not grounded in reality," Newman-Polk said. "If it worked to punish people for their addiction and for relapse we would have a cured nation."
"If it worked to punish people for their addiction and for relapse we would have a cured nation."

attorney Lisa Newman-Polk
Newman-Polk is taking Eldred's case to the SJC, arguing that state officials have repeatedly said that addiction is a disease so it's unconstitutional for the courts to punish someone for a medical condition.
"An order to be drug-free is an order that a person who suffers from substance use disorder needs to be in remission or cured of their addiction," Newman-Polk said. "It's not practical or reasonable in view of what we know about the brain science and what we know about addiction."
The science of addiction is mentioned in all of the briefs filed in this case -- much of it focusing on how much control a patient like Eldred has over her drug use, and how much consequences might motivate people to stop using. Ironically, both sides cite a report on addiction that was issued by the U.S. surgeon general last year.
The Massachusetts Medical Society brief says there is broad consensus that relapse is a symptom of opioid use disorder and should not be the basis of incarceration.
"Even [Charles] Lindbergh bounced down the runway a couple of times before he became airborne," said MMS President Dr. Henry Dorkin, "and some of these people simply are going to have some relapses on the way to full rehabilitation, and we would not want to incarcerate people at the first sign of a relapse if we're treating this as a chronic disease."
But a brief from state Attorney General Maura Healey's office argues the "brain disease" model for addiction is not uniformly accepted.
That brief also says drug testing probationers promotes public safety, and it points out that Eldred was on probation for committing a crime, not just for drug use. It says probation violations are "not a punishment for the offending conduct. Instead, they constitute punishment for the underlying crime that led to a sentence of probation in the first place."
Former state Attorney General Martha Coakley filed a brief on behalf of the National Association of Drug Court Professionals that says supervision and drug testing are effective and help keep people in recovery. It says the court should not "allow any particular theory of addiction to influence its decision."
The justices may not wade too deeply into the addiction science debate, according to some legal observers, but they do expect this case to set a precedent that could affect the more than 58,000 people on probation in Massachusetts.
"It is probably going to be one of the most important cases that our court will bring down over the last decade," said Martin Healy, chief operating officer and chief legal counsel of the Massachusetts Bar Association. "And I think it will result in some dramatic changes to the way that society treats addiction."
And Healy says it's likely that the high court will push lawmakers to act.
"They will speak out loudly for the need for the state to step up and fund, adequately, treatment for addicted individuals, just as they had to come in and clean up Boston Harbor, just as the judiciary has to come in and clean up a number of different societal failures," Healy said.
The high court ruling is expected by the spring.
As for Eldred, she is no longer on probation and says she's committed to working on her recovery.
"Hopefully this is it," she said. "But I can't say that I won't ever have a relapse again. Right now I feel strong that I won't, but ... some people think 'Oh, OK, they get clean the first time, that should be it.' But it's not."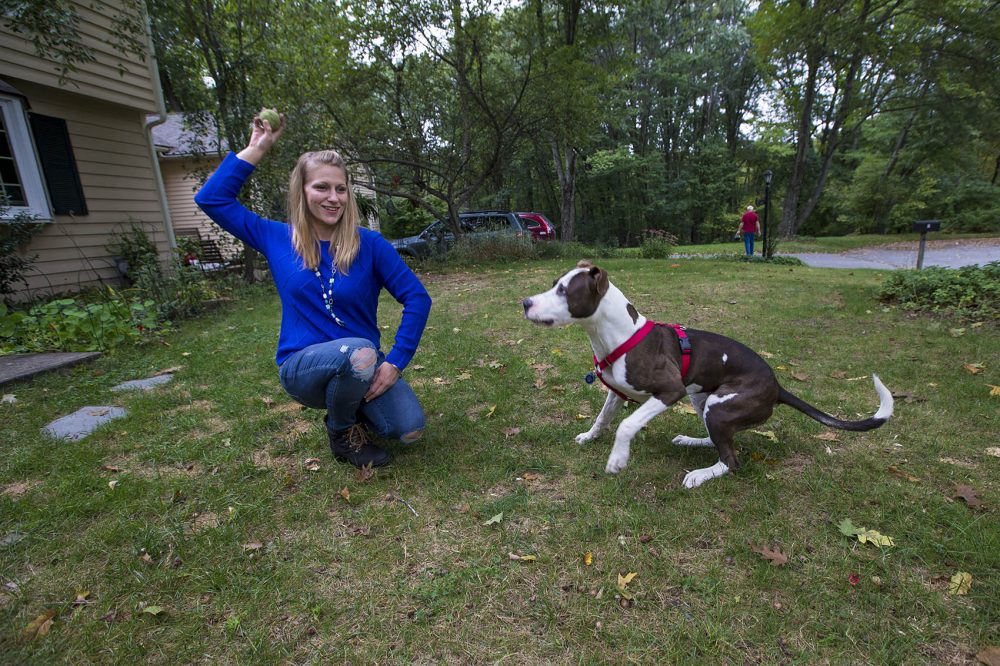 Share your experiences, and follow along with our reporters as they cover opioid use and treatment, by joining our Facebook group, "Living The Opioid Epidemic."
This article was originally published on September 24, 2017.
This segment aired on September 25, 2017.