Brady Calls Trump's Comments On Firing Protesting Football Players 'Divisive'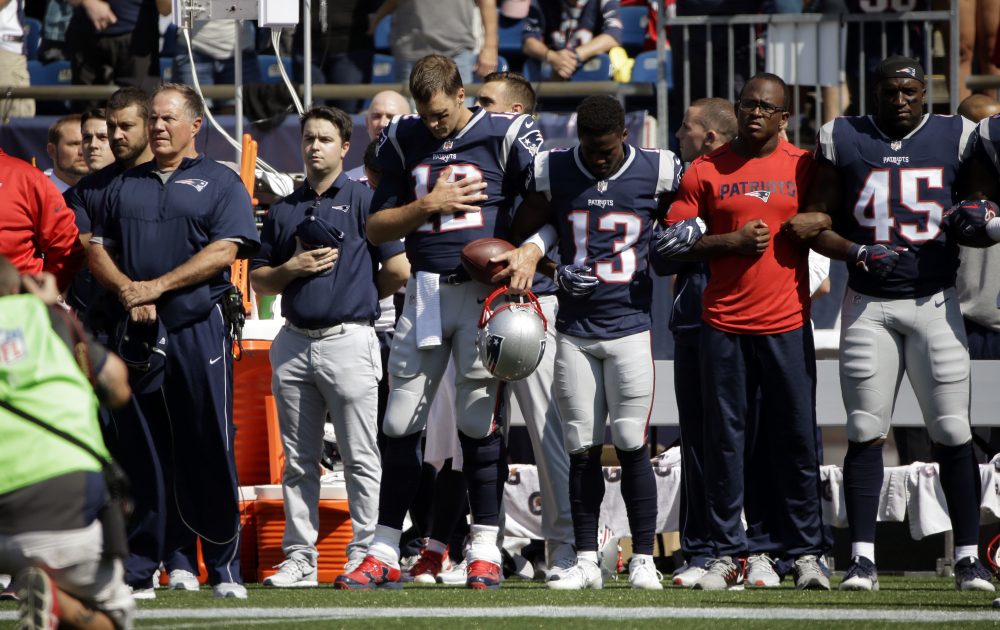 This article is more than 3 years old.
New England Patriots quarterback Tom Brady on Monday criticized President Trump's remarks from Friday, in which Trump said team owners should fire players who don't stand during the pregame playing of the national anthem.
"I certainly disagree with what he said. I thought it was just divisive," Brady said Monday morning, in his regularly scheduled appearance on WEEI-FM.
Brady has often steered clear of talking politics, but he has called Trump a "good friend."
The anthem protest began a year ago when then-San Francisco 49ers quarterback Colin Kaepernick refused to stand as a protest of police treatment of minorities.
Trump's controversial comments Friday, and several subsequent tweets on the issue, led to additional protests during Sunday's slate of games.
Most players locked arms with one another. NPR reports that "roughly 200 players sat, knelt or raised their fists in defiance during the anthem." Some teams stayed off the field until the anthem was finished.
Brady linked an arm with a teammate before Sunday's game, while many other Patriots players knelt down. Some fans could be heard shouting "stand up!" during the protest, The Associated Press reported.
Another Trump friend, Patriots owner Robert Kraft, also criticized the president's remarks. In a statement Sunday morning, Kraft said he was "deeply disappointed by the tone of the comments made by the President on Friday."
After Sunday's game, Patriots defensive back Devin McCourty said the players "wanted to send a message of unity."
Brady echoed that point Monday on the radio. "I am never one to say, 'Oh, that is wrong. That is right.' I do believe in what I believe in," he said. "I believe in bringing people together and respect and love and trust."