Could You Imagine Living At The Gardner? This Artist Did
Play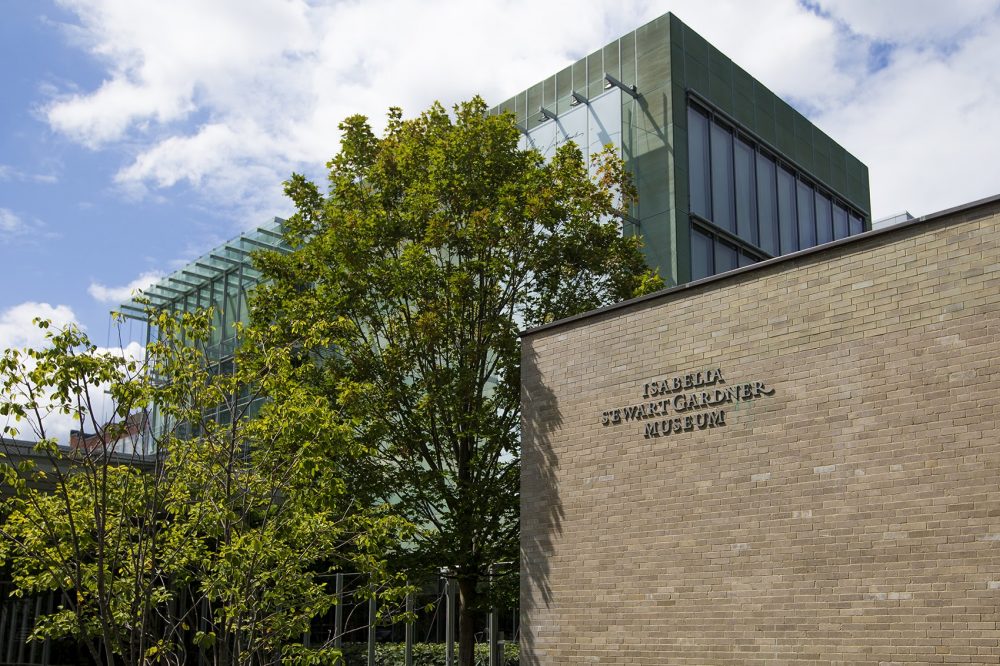 This article is more than 5 years old.
On a recent morning, I sat with prominent artist Bharti Kher in the perfectly manicured courtyard of the Isabella Stewart Gardner Museum. She told me all about the month that she lived there — yes, inside the museum — in 2013.
"I think it really was the first time in maybe 12, 15 years that I had just taken time out for myself," she said.

Kher spent a month living at the Gardner for the museum's Artists-in-Residence program. Started in 1992, museum officials say the residency is meant to give artists "the gift of time" with no expectations.
Now, the Gardner is exhibiting her sketches and journal from the time she spent wandering one of the most storied arts institutions in the country. Kher's work from her time at the Gardner is a window into how we absorb art and create from it.
Sotheby's has called Kher "the leading female artist of her generation." She lives a pretty hectic life in New Delhi, where she paints and creates sculptures, one which sold for more than a million dollars, breaking records for women artists in India. At the Gardner, she lived in a quiet, one bedroom apartment in the museum's new wing. Her days and evenings were filled with discovering and pondering art.
"You know, you're thinking, you're reading, you're writing, because you suddenly have time only for yourself," she said.
Every day at 4 o'clock, just at the perfect moment when the sun's evening rays would drape over the museum's second floor, Kher would sit and stare at Diego Velázquez' nearly 400-year-old painting, "King Philip IV of Spain." She sought to do nothing but simply look at the way Velázquez created depth through paint.
"I think I was an open book. I really was," she said. "I just thought, 'What's here and what is it that I'm looking at.' I felt strangely like an old classicist when I stayed at the Gardner."

I asked a few museum visitors what they'd do if they could stay at the Gardner for a few weeks. Five-year-old Thomas O'Connor said he'd do nothing but sketch knights in armor.
"I would think it would be wonderful and you would get to see stuff that you haven't seen," he said, with a wide smile.
Most visitors said they'd be inspired to create something.
"I'd find a little cloistered corner and sit down and begin writing or painting," said Eve Jones, who was visiting the museum from England.
Boston resident Mimi Southichak said living in a museum would ignite her intellectual curiosity. "Just the vibe, I think would definitely help me to create something beautiful. I think if I lived here, I'd probably be a better me for sure."
Would we all be better version of ourselves if we slowed down for art? Or as Kher put it: "really gifting yourself a space."
A 2014 study by German researchers found that evaluating art doesn't do much to your brain, but creating art can build resilience to stress and trigger the part of your brain that controls self reflection and empathy.
"What you go away with is not immediately apparent. Things emerge over time because as artists, we collect and build on our own libraries [in our head] over time," said Kher.

She didn't realize how deeply her Gardner stay had touched her until years later. Her sketches from that time — drawings of her hands, Madonnas with child, abstract renderings of the work inside the Gardner — reveal how her residency influenced her future work, like her sculpture called "Six Women."
"A testament to my time here is the fact that I was drawing and writing and thinking and I wanted to mark the sketchbook," she said. "The strange thing is like a year later when I made the sculpture of the 'Six Women,' the six women are sitting in exactly the same position that my hands were in when I made the drawing."
The effects of art on us may not be immediately apparent. But they're there — marinating, cultivating, perhaps even inspiring us to create.
---
Bharti Kher's sketches and diaries will be at the Gardner Museum until Sept. 10, 2018.
This segment aired on September 28, 2017.