8 Months After His Visa Was Suspended, Iranian Researcher Makes It To Boston
Play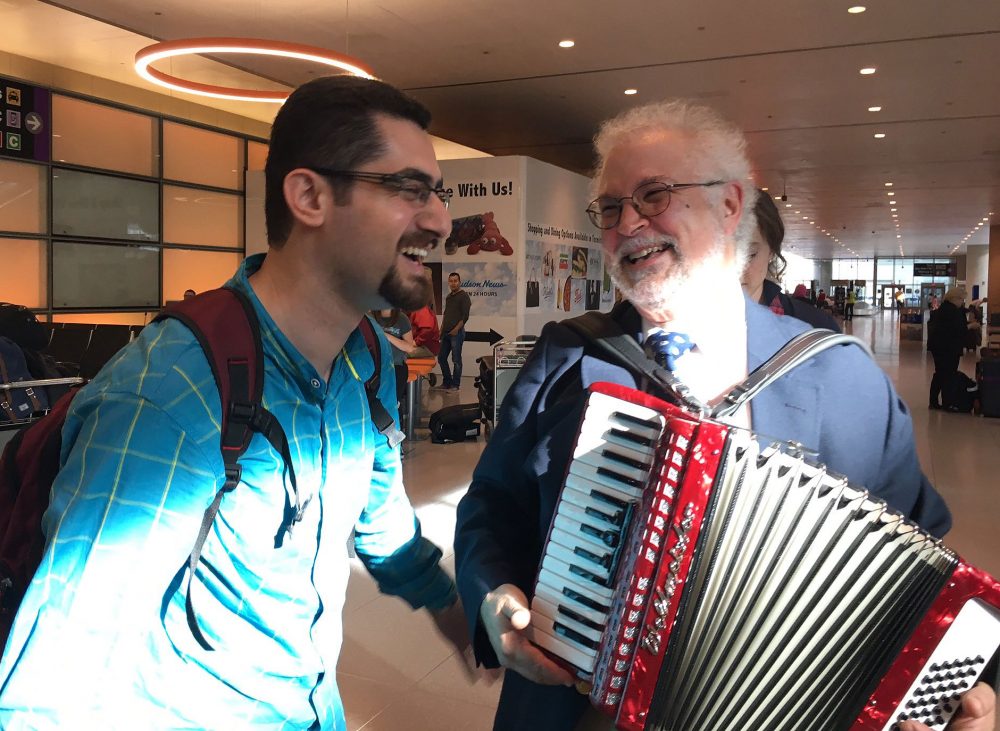 This article is more than 5 years old.
Dr. Thomas Michel unzips a black roller bag and pulls out a bright red accordion. It's Rosie, his "protest accordion."
Michel, who heads up a cardiovascualar lab through Brigham and Women's Hospital and Harvard Medical School, is at Logan Airport with a few colleagues from the lab. Michel leads them in a sampling of patriotic folk songs.
This is a welcome party that was supposed to happen in February, when an Iranian doctor was scheduled to arrive at Logan to begin his Harvard Med School post-doc position.
Those plans changed when President Trump's first travel ban was issued and the visa of the doctor, Seyed Saravi, was suspended.
Michel says international researchers, like Saravi, play an important role in American science.
"This has traditionally been the place where people come to study, do research, train, learn and share, and I think that's under direct attack," Michel says. "And I think that Dr. Saravi's arrival puts a human face on the impact of these misguided policies."
Michel and his colleagues pace back and forth, breaking into random songs while they wait. And then, Saravi arrives, they call to him, and they start into a bit of the national anthem.
"Welcome to Boston, welcome to America," Michel says.
Thirty-one-year-old Saravi and Michel hug for the first time after exchanging hundreds of emails and Skype calls.
Because several court decisions have put Trump's travel ban on hold, Saravi's visa was reissued. He's dreamed of working and studying at Harvard, and he says arriving in Boston and meeting his new mentor, Michel, feels like a homecoming.
"His behavior is like a dad," Saravi says, laughing, "and when I heard that the other lab members are coming here, I really felt, I want to go to my home and now, we felt this."
Saravi says he's ready to get to work investigating the effects of diabetes on the heart.
This segment aired on September 28, 2017.