New England Politicos Call For Action On Gun Control After 'Senseless' Mass Shooting In Las Vegas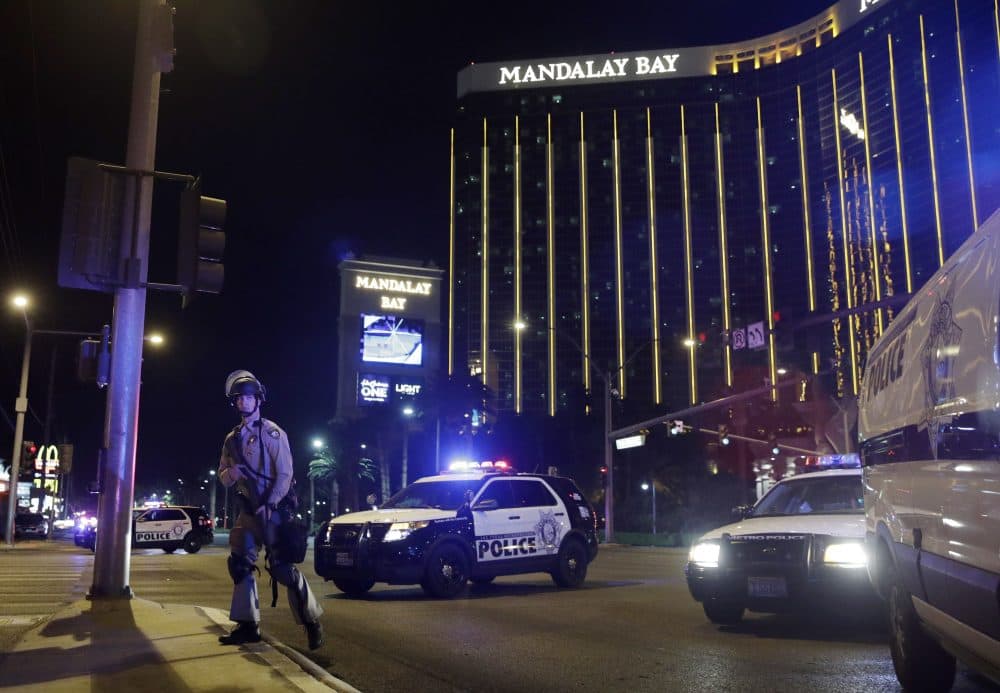 This article is more than 3 years old.
Politicians around New England are offering their condolences and calling for action on gun control after a suspect killed at least 59 people and injured more than 500 in Las Vegas Sunday night. It is the deadliest mass shooting in modern U.S. history.
Massachusetts State Police said in a statement that the suspect has no known connections to Massachusetts. State police said they do not yet know if any of the victims have connections to Massachusetts.
Rep. Seth Moulton, a Democrat, tweeted several times Monday morning and appeared to call for Congressional action on gun control.
He added, "I will NOT be joining my colleagues in a moment of silence on the House Floor that just becomes an excuse for inaction."
After the Pulse nightclub shooting in Orlando in June 2016, a number of Congressional Democrats refused to observe a moment of silence on Capitol Hill. Democrats including Massachusetts Reps. Katherine Clark and Moulton staged a sit-in on the House floor to try to force a vote on gun control measures.
On Monday, Clark also shared her thoughts on the Las Vegas shooting:
Massachusetts Sen. Elizabeth Warren, a Democrat, tweeted Monday morning that she was "heartsick" for the victims of the Las Vegas shooting. She too called for legislative action on gun control.
Sen. Ed Markey, a Democrat from Massachusetts, echoed sentiments from his Congressional colleagues, tweeting, "Let's ... close the gun show loophole."
Sen. Chris Murphy, the Democrat from Connecticut who filibustered for 15 hours last summer following the Pulse nightclub shooting and has been an outspoken critic of unchanging gun laws in the wake of the mass shooting at a Newtown elementary school, offered his prayers.
Republican Gov. Charlie Baker reached out to Nevada Gov. Brian Sandoval, also a Republican, after the shooting. He said Massachusetts is available to help in any way necessary, the State House News Service reported.
Here are additional statements from local leaders in the Bay State:
This article was originally published on October 02, 2017.