'That Should Be Outlawed': Gov. Baker Would Sign Ban On Bump Stocks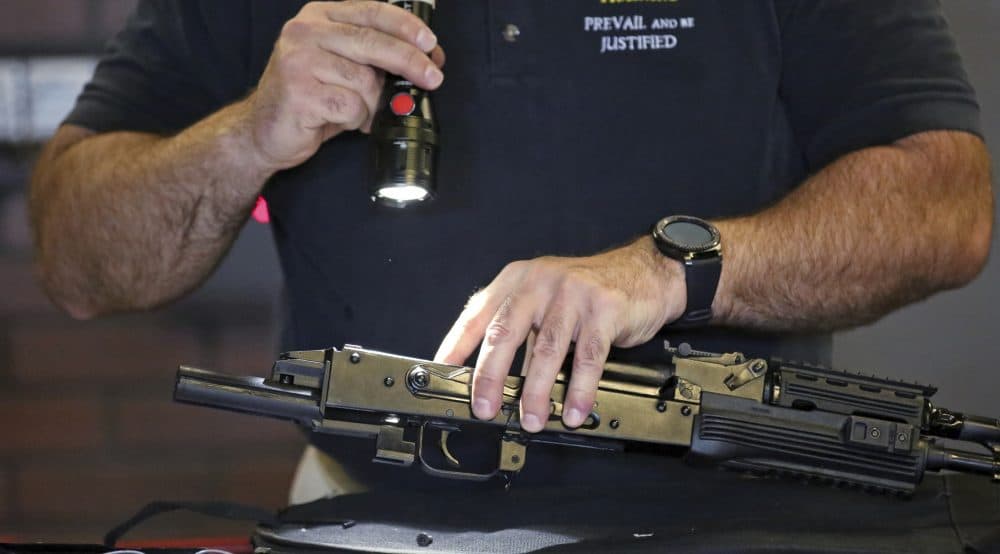 This article is more than 5 years old.
Legislation banning devices that a Las Vegas mass murderer may have used to modify his weapons, enabling him to pepper a concert crowd with hundreds of bullets per minute, would win Gov. Charlie Baker's signature if it reached his desk.
Baker, after a State House ceremony honoring the bravery of law enforcement officers, said that banning bump fire stocks would be one way Massachusetts could improve on its already strict gun laws.
"That should be outlawed, and if that were to pass tomorrow we would sign it," Baker, who often deflects questions about whether he favors or opposes bills, told reporters.
Rep. David Linsky, a Natick Democrat who played a role in crafting the state's 2014 gun violence prevention bill, filed legislation on Wednesday that would ban bump stocks in Massachusetts, as well as all high capacity magazines that hold more than 10 rounds of ammunition.
Federal authorities have said 12 bump stocks were found in the Mandalay Bay hotel room from which the shooter took aim at a crowd attending a country music festival over the weekend, killing 58 people and injuring nearly 500 more.
Bump stocks are devices that can be used to modify semi-automatic weapons to get them to act as automatic weapons. The stock uses the recoil action of the firearm to slide the weapon back and forth allowing it to fire rapidly, but escapes the state's ban on automatic weapons because the user's finger technically remains on the trigger, pulling to initiate each shot.
"I've yet to find any legitimate reason for someone to own a bump stock or any other device that turns semi-automatic rifles into automatic rifles. Frankly, I can't come up with a legitimate reason," Linsky said.
Baker also said that he was aware of media reports that the Las Vegas gunman researched possible attack locations in Boston, but said there is "no evidence of an imminent threat that has anything to do with Massachusetts."