Why This Boston Startup Wanted An Initial Coin Offering And Then Delayed It 3 Times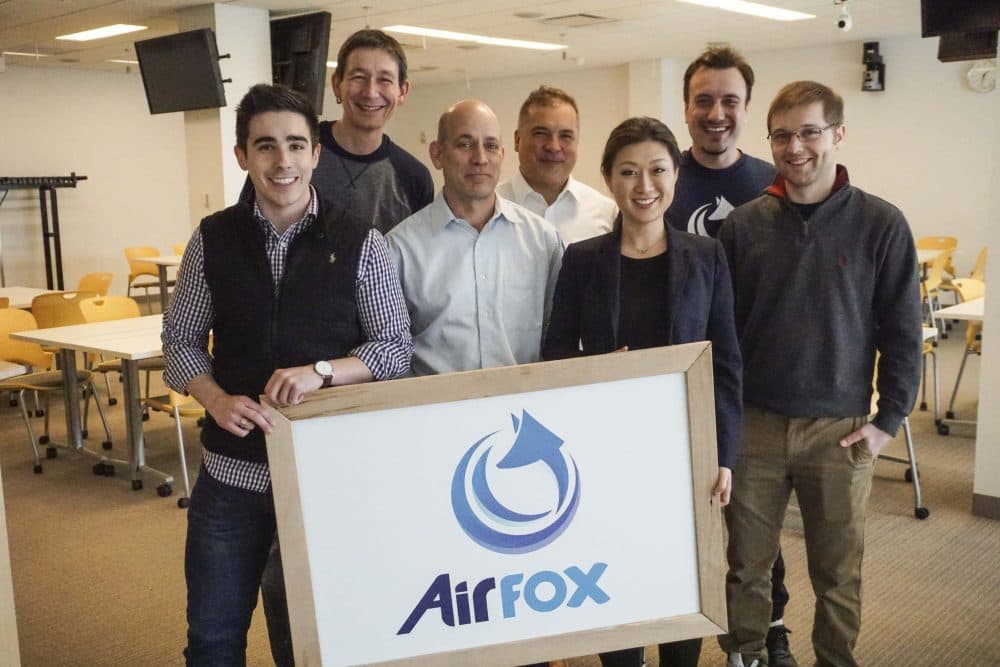 This article is more than 4 years old.
Anonymity: It's one of the draws of cryptocurrency, and it's also one of the dangers.
That's one lesson that AirFox, the latest company in Boston to raise money through an initial coin offering, has learned over the past month. In the past year, startups have increasingly turned to initial coin offerings (ICO) to raise money fast.
ICOs are essentially a form of crowdfunding in which a company distributes virtual tokens that users can buy and sell anonymously using blockchain, a digital ledger stored on a decentralized network of computers.
This past summer, ICOs brought in $1.2 billion, surpassing the amount of money early-stage venture capital raised in the same timeframe, according to an analysis by Goldman Sachs and CB Insights.
But ICOs are complicated. AirFox delayed the release of its AirToken three times and removed nearly 5,000 contributors from its platform due to anti-money laundering guidance. Its cryptocurrency release is now slated for Oct. 10.
"The days of randomly taking cryptocurrencies from anyone for an ICO are over," the company said in a recent Medium post. "In order to comply with the law in a more regulated crypto and token sale landscape, ICOs will now have to register and regulate token buyers."
It's a sobering statement from a company that first planned to launch its initial coin offering on Aug. 29. And it suggests a possible shift in the crypto industry as reality sinks in: Initial coin offerings, largely unregulated now, might not stay that way forever.
'We Had A Lot Of Demand'
AirFox, founded last year by two ex-Googlers, is an adtech venture based out of the Harvard Launch Lab. It has created an internet browser that pays users a new cryptocurrency—AirTokens—for surfing the web, watching ads or filling out surveys. These Ethereum-based tokens can be redeemed for mobile data, transferred between users or used to apply for a microloan. (The company is targeting emerging markets such as Brazil and Mexico.)
To fundraise, AirFox took a nontraditional route — after a seed round, it bypassed the idea of asking venture capitalists for more money and went straight for an ICO, with a goal of $15 million. Two presales collectively brought in $35 million from about 7,000 contributors ahead of the ICO.
"On the fundraising side, we feel very confident," Victor Santos, AirFox's CEO and co-founder, said at the time. "We had a lot of demand."
But then the bad news came. Nearly 5,000 contributors failed to pass AirFox's compliance process. When the company removed these contributors, including those in countries such as China and Afghanistan, its total dropped below the $15 million mark. It was $1.2 million short.
Now, the company seems to have recovered. It raised a total of $15 million after extending its sale period and delaying the release of its tokens until Oct. 10, according to a recent Medium post. But AirFox's rocky start points to a larger issue in the crypto industry: a lack of clear regulations.

A Gray Area For Regulators
Blockchain technology is known for the anonymity it gives users, who are identified only by the number assigned to them. This anonymity makes cryptocurrency a valuable tool for criminals. And regulators are taking note.
FinCEN, a bureau within the U.S. Treasury Department, enforces a set of rules to prevent money laundering. These rules require financial institutions to record transactions, know who their customers are, and report suspicious activity to law enforcement.
It's not exactly clear how these rules apply to companies selling their own virtual currency, especially since FinCEN seemed to carve out an exemption for these companies in 2014.
Nonetheless, the agency has come after a couple of companies for violating anti-money laundering rules. Most recently, in July, it fined BTC-e, a major virtual currency exchange, $110 million for facilitating transactions linked to ransomware, identity theft, and drug trafficking, among other crimes.
In the wake of BTC-e's shutdown, companies have been voluntarily taking steps to comply with anti-money laundering rules. That's why AirFox screened contributors before allowing them to participate. "Right now, everything is 'gray' in the U.S.," said Brigid Gorham, a spokesperson for AirFox, in an email. "AirFox is trying to comply and self-regulate as much as possible."
'There's No Cut And Dry Test' For Cryptocurrencies
FinCEN isn't the only regulator keeping an eye on cryptocurrency. The Securities and Exchange Commission (SEC) has also scrutinized the fast-growing industry. But it, too, lacks clear guidelines.
"We're just tying some loose ends on the legal and compliance side just to be extra compliant," AirFox's Santos said last month. "This is such a crazy regulatory landscape right now."
What makes a token a security isn't all that clear.
"There's no cut and dry test that says this thing definitively is or is not a security," said Patrick Murck, a fintech attorney at Cooley LLP's Boston office who has worked in the digital currency space for eight years.
That hasn't stopped the SEC, which reviews tokens on a case-by-case basis. In July, the agency issued a warning that some tokens could be considered securities and subject to securities laws. In August, it suspended the trading activities of four companies that held ICOs.
The SEC declined to comment specifically on the AirFox case and its delays, but previously put out this statement: "Whether a particular investment transaction involves the offer or sale of a security – regardless of the terminology or technology used – will depend on the facts and circumstances, including the economic realities of the transaction."
In Santos's mind, the AirToken is not a security because it's a "utility token" used to buy airtime and therefore should not be regulated as a security. But he acknowledged that the cryptocurrency space lacks clear guidelines. "We're doing everything we can to make sure we're compliant," he said. "We are fairly secure that we're a utility token, but no one knows for certain."
The ICO Trend Continues
Despite the lack of clear regulations, there's still a frenzy of startups turning to initial coin offerings in place of venture funding. Last month, 67 companies completed their ICOs, according to ICO database Tokendata.io.
And Boston is no exception to this funding fad. Engima, a company founded by MIT alums, recently raised $45 million in an initial coin offering. And Santos said he is advising two Boston-based companies planning to ICO "fairly soon," though he declined to give names.
AirFox points to a larger trend--cryptocurrency is changing the way startups raise money. It's a phenomenon that venture capitalist Jeff Bussgang discussed in a recent Medium post: "Once the regulatory and systems infrastructure for ICOs is in place and the friction is reduced, it will become a more common means of raising growth financing."
And Santos agrees. "You're going to start seeing a lot more of these companies in Boston that have some traction, have a product and are looking to do this as a fundraising mechanism," he said.
Read AirFox's white paper and SEC filing (Form D).