Mass. Officials Blast Trump's Decision To End Health Subsidies
Play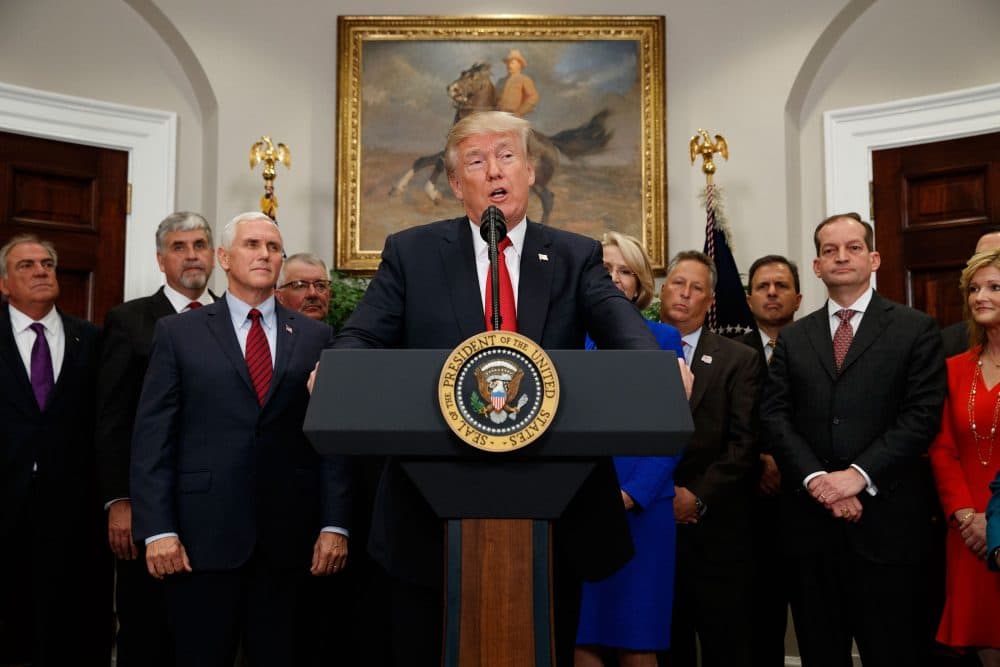 This article is more than 5 years old.
It's not clear if Massachusetts health insurers will receive more than $10 million that's due next week -- their monthly federal reimbursement for subsidies that help make insurance affordable for tens of thousands of residents in the state.
The White House said Thursday night that the payments are unlawful and must end.
Up to 80,000 residents could see their insurance premiums increase very little — or by as much as 29 percent, if what are called the cost-sharing reduction payments end.
That's if, because Massachusetts Attorney General Maura Healey and at least four other Democratic state attorneys general are filing suit to block what Healey says is a "cruel and irresponsible" move.
"What Donald Trump is doing is not only throwing the insurance market into chaos, he is directly undermining and sabotaging state budgets," she said.
The AGs are asking a federal court in California to tell the Trump administration it must continue payments while their case is heard.
If the payments end, insurers say many of their members won't be able to afford coverage.
"So that then leads to the next step," said Eric Shultz, CEO of Harvard Pilgrim Health Care, "where we have a greater number of uninsured, they won't get the care they need, especially for prevention."
Which, Schultz said, would increase costs for doctors and hospitals.
The Massachusetts Health & Hospital Association called the president's decision "reckless and destructive."
"By ending federal insurance subsidies for poor patients and weakening insurance protections through [a separate] executive order, the Trump administration has made Friday the 13th a very unlucky day for the entire nation's healthcare community and anyone who may need care — which is every single American," MHA CEO Lynn Nicholas said in a statement.
David Seltz, director of the state's Health Policy Commission, said losing the subsidies would distract from efforts to control health care spending.
"The broader impact of this announcement by the president is it creates incredible instability and uncertainty across all health insurance markets, and that will lead to higher premiums for everyone," Seltz said.
Republican Gov. Charlie Baker and a group of bipartisan governors have argued in letters and before Congress to maintain the payments.
"The Governor believes that the Trump Administration is making the wrong decision to eliminate cost-sharing reductions for all fifty states, as it will destabilize insurance markets and jeopardize coverage for thousands of Massachusetts residents," said spokeswoman Lizzy Guyton in a statement.
And make life difficult for many health insurers.
Susan Coakley, president of the BMC HealthNet Plan, woke up to the news that her organization, which focuses on coverage for low- and moderate-income members, could be several million dollars short this month alone.
"The risk is real today," Coakley said. "We'll be talking to the state about, what are our Plan B options? How do we make this a good program for the commonwealth? How do we deal with the defunding if that occurs?"
Henry L. Dorkin, president of the Massachusetts Medical Society, said in a statement that Trump's decision would put "tens of millions" of Americans at risk and disproportionately affect working-class families.
"This is an attack on the very foundation of access to health care for everyone in this country," Dorkin said. "Without question, it is the vulnerable among us who will suffer the most."
The Massachusetts Health Connector is reviewing and may revise a decision made just Thursday to sell insurance with the assumption that the cost-sharing payments would continue.
Massachusetts Association of Health Plans President Lora Pellegrini said she expects the Connector will now post premiums — in some cases much higher — that do not factor in the federal money.
"At the end of the day, premiums need to reflect the cost of care and need to be actuarially sound," Pellegrini said.
If you're confused, you're not alone.
Suzanne Curry, with the consumer advocacy group Health Care for All, is among those scrambling to turn a chaotic situation into understandable options.
Curry has this message for members who will start shopping for health insurance next month: "Sit tight. Open enrollment starts Nov. 1, and we should have more decisions within the next few days, so as soon as we have information, we're hoping that the Health Connector will get this out to everyone, and that people will have an understanding of what options are available to them, and what choices they have that fit their budget."
It's a scenario that may become increasingly difficult in this fight over repealing and replacing the Affordable Care Act.
This article was originally published on October 13, 2017.
This segment aired on October 13, 2017.