A Masterful 'Fun Home' Builds Off Memory And Melody
Cartoonist Alison Bechdel, wielding pen, ink and elusive squiggles of recollection, literally draws you into her 2006 graphic memoir "Fun Home." The 2015 Tony- and New York Drama Critics' Circle Award-winning musical sprung from the book wisely doesn't try, delivering just one blue-sepia-toned Bechdel image at the end. Instead, this richly harmonic, emotionally affecting show — the sharply performed national-touring version of which is at the Boston Opera House through Oct. 29 — sings you into a deftly time-mingling orbit centered on the award-winning cartoonist's complex relationship with her distant, explosive, closeted dad, Bruce.
Jeanine Tesori's plaintive score, effectively dotted with leitmotifs and jazzy licks, proves the heart of the matter, with Lisa Kron's piercingly clear-eyed book and snappy lyrics supplying brainy support. Both composer and librettist won Tony Awards, the first all-female creative duo to do so. Not surprisingly, they form the perfect team to transform Bechdel's surprisingly literary comic-strip memoir for the musical stage. Tesori is best known for the quirkily compelling "Violet" and the Tony Kushner-penned autobiographical musical "Caroline, or Change." (Indeed, there is in "Fun Home" a furiously lovely rant for an unsung heroine that's as devastating as Caroline's iron-slamming "Lot's Wife.") And Kron earned her stripes as a family memoirist with the funny and piquant "2.5 Minute Ride."
"Fun Home's" effort to pin down memory is so precise yet flickering that "The Glass Menagerie" is bound to be evoked. Just substitute Tesori's lush melodies, always edged by a vague dissonance, for Tennessee Williams' lyricism — and throw in a couple of hilarious musical allusions to the 1970s. And for Tom, chafing at the shoe factory while trying to shed the steel magnolia that made him, swap in the aching, allusive Bechdel, haunted by and trying to make sense of a particular childhood. It's something we all do, sorting through the puzzle pieces of the past in search of the truth about ourselves. Which is what makes this painful, exhilarating poke into one veiled, eccentric history so universal.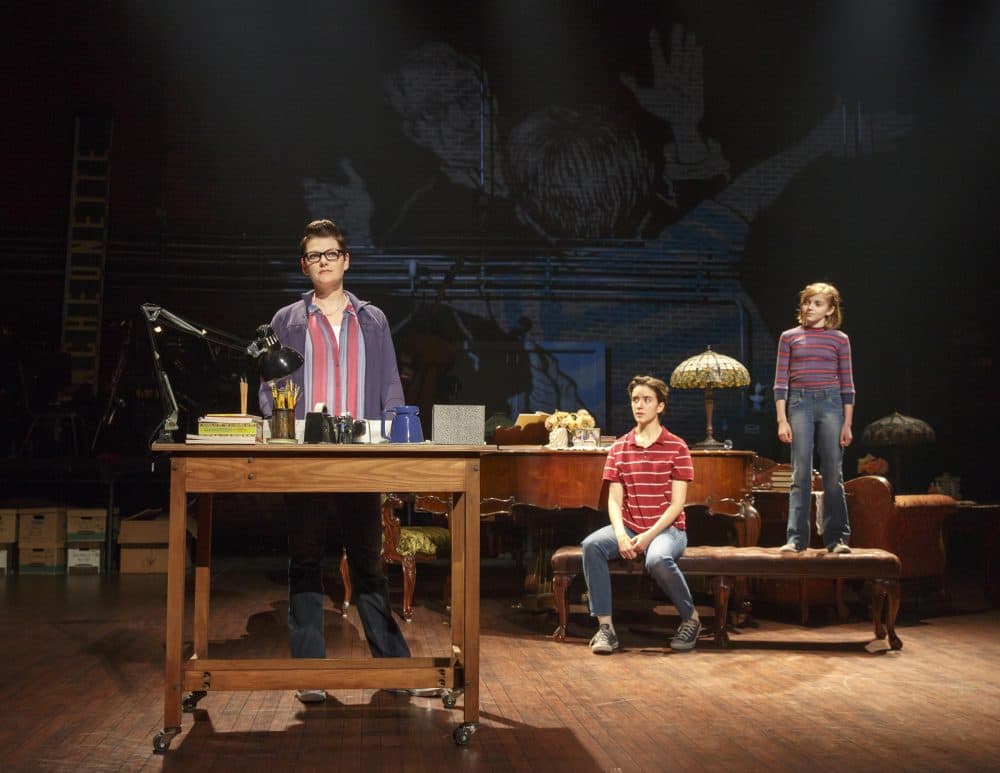 Librettist Kron divides the authorial voice among three characters: the middle-aged Alison, peeping over the shoulders of, and sometimes wincing at, her former selves; Medium Alison, a somewhat inchoate college freshman who trips over her sexual orientation in a bookstore, then leaps from the closet like an ebullient hare; and Small Alison, a tomboyish kid both enslaved and enthralled by her mercurial, troubled dad.
In director Sam Gold's fluid, hodge-podge staging, the boundaries among time periods dissolve as naturally as sodium bicarbonate in water. (The musical numbers are so seamlessly integrated that they are not even named in the program.) And in one coup de theater, the casually stacked and strewn building blocks of set designer David Zinn's rough-hewn stage picture dissolve and cohere to form the lavish drawing room of the small-town manse Bruce Bechdel threw his creative energy — not to mention his children's sweat equity — into restoring. Awash in fussy furnishings, period paintings and William Morris wallpaper, it's like a mausoleum on steroids -- more splendidly stiff than anything in that nuts-and-bolts dwelling of death, the Fun House.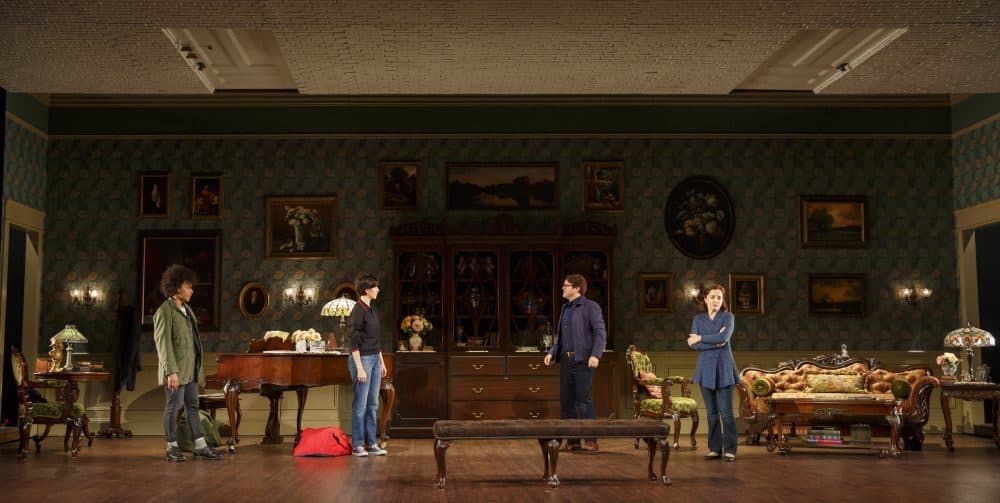 That mannered parlor aside, "Fun Home" is as true and unpretentious as its trifurcated heroine, the eldest version of whom is like an intense if reflective sleuth combing through the ambiguous clues of her childhood, hoping to somehow resolve and understand the father who walked in front of a truck just four months after she came out as a lesbian. Or, as Alison sums up the known facts early on: "Dad and I both grew up in the same small Pennsylvania town. And he was gay. And I was gay. And he killed himself. And I became a lesbian cartoonist."
Of course, there's more to it than that as Alison (who in the close-cropped, bespectacled person of onetime Miss America Kate Shindle looks uncannily like Bechdel) homes in on what she knew and what she could only intuit. "I don't trust memory," she says. As if in agreement, Tesori's plangent melodies are underlain by an instrumental anxiousness that mirrors the elusiveness of certainty when contemplating the past. In that sense, the musical is like Michael Frayn's "Copenhagen" with sexual awakening standing in for quantum physics. But the stirrings and then the burst of that awakening are so exuberantly embodied — in Small Alison's catchy, triumphant recognition of an "old-style butch" lesbian in "Keys" and in Middle Alison's "Changing My Major" (to new love Joan) — that you could just spring to your feet, clap and cry.
The character of Bruce, though played by one actor, is more divided than Alison. A complicated man who fell in love with literature and escaped abroad while in the Army, he spent the remainder of his life in the small town where he was born, chained to bored high school students and the family mortuary. As Alison asserts in the telling "Maps," she could draw a small circle encompassing all the traps of his life.
As one ditty opines: "Sometimes my father appeared to enjoy having children," though he seldom touched them. His hands-on love was his exquisitely performed DIY project: the creation of a stately if scavenged manse, a "polished and serene" carapace for his roiling nature. It is only after Medium Alison leaves the nest and comes out as a lesbian that she learns from mom Helen that he has also been a serial seducer of young men.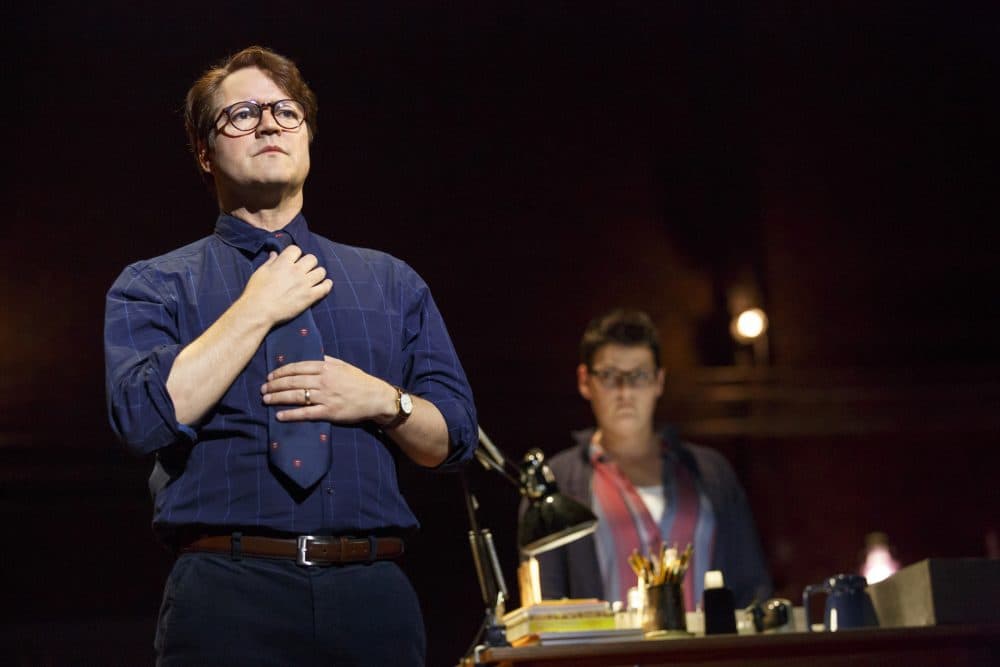 Broadway vet Robert Petkoff gets to the dual nature of the troubled, tyrannical paterfamilias without turning him into a Jekyll-and-Hyde. Ricocheting between aestheticism and desire, he both treasures and takes his frustrations out on his family. Alternately angry and avuncular, Petkoff sings with clear, graceful ease — until, faced by his questioning daughter and that oncoming truck, he lets loose with a frenzied, fragmenting aria worthy of Sweeney Todd.
As overlooked Helen, her husband's familial field marshal, Susan Moniz pluckily organizes the troops gussying up (and being props in) Bruce's handiwork in "Welcome to Our House on Maple Avenue" and powerfully channels a lifetime of resentment into the ravishingly mournful "Days and Days." Abby Corrigan's emerging Middle Alison imbues her character with a goofy wonder and sings beautifully. And Carly Gold's wiry Small Alison, whether trying to harness her difficult father's love or wish her complicated clan into a sequined and sanitized, tambourine-banging Partridge Family fantasy of togetherness, holds her pint-sized own with the adults.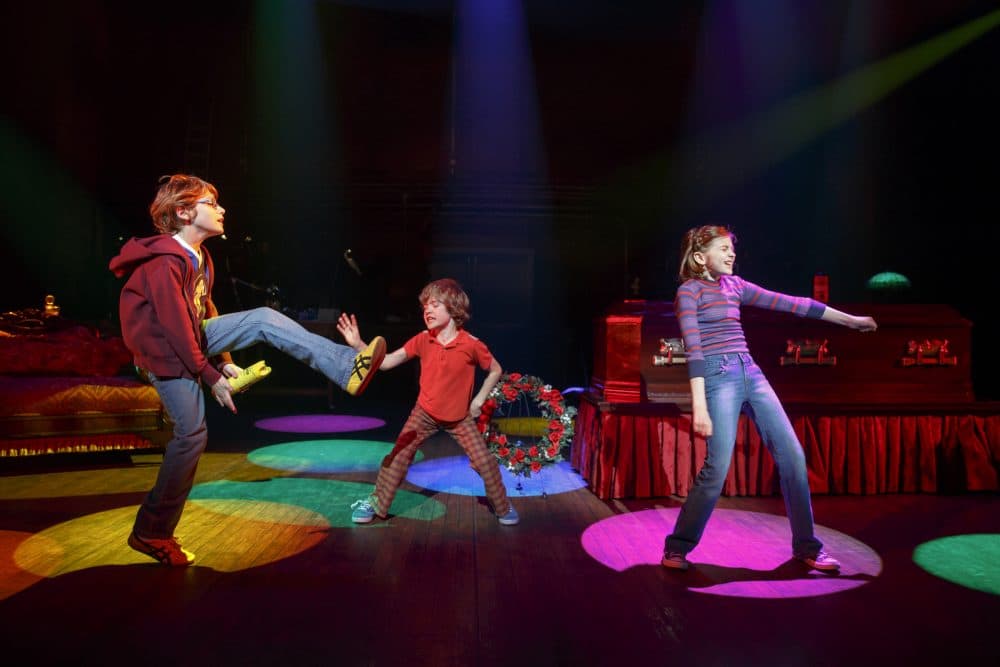 Gold is abetted by Henry Boshart and Luké Barbato Smith, as Alison's impish siblings, on "Come to the Fun Home," the jaunty TV commercial the trio dreams up for the mortuary. I'd have liked the lyrics to be clearer, but the cartwheels and jack-in-the-box-like popping out of satin-lined coffins were cute. Robert Hager provides several slices of quizzical beefcake as the young men Bruce befriends. And Victoria Janicki is warmly, worldly sexy as the college pal who rings Medium Alison's latent bell.
I am not a lesbian. I can't draw my way out of a paper bag. And my father was an open book — one co-written by William F. Buckley and Cotton Mather. Yet this smart, unobtrusive, gorgeously blended show struck me, in both story and song, like Proust's madeleine. You can't go home again, proffered Thomas Wolfe. But the truth "Fun Home" so pungently catches is that neither can you leave it behind.
---
"Fun Home" is at the Boston Opera House through Oct. 29.