The Soprano Who Couldn't Sing — A Hilarious 'Souvenir' Is Reprised By The Lyric Stage Company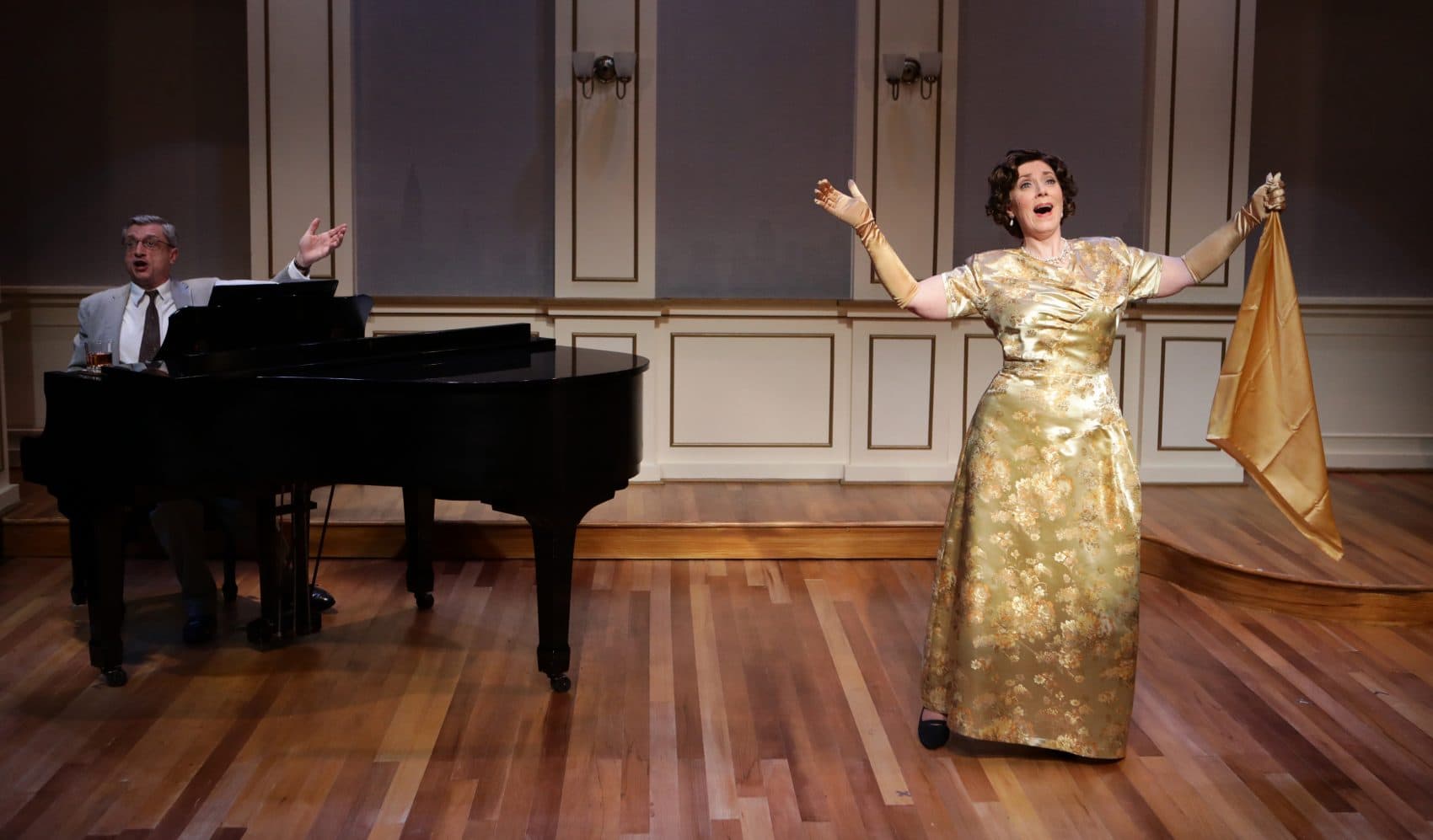 This article is more than 3 years old.
If music be the food of love, then soprano Florence Foster Jenkins served her adoring fans the most execrable slop. But, hankies stuffed in mouths to stifle the laughter, her devoted if derisive audience loved it. Indeed Madame Flo, who concertized from 1912 until 1944, may be the only diva ever to have become famous for murdering her muse — one inaccurately stabbed note after another.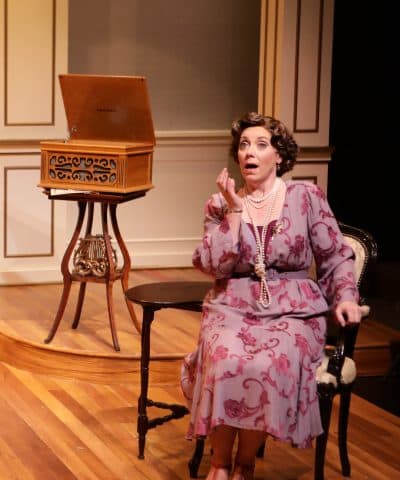 Paradoxically, it takes an accomplished singer to perform the madcap massacre of the classical repertoire depicted in Stephen Temperley's 2004 "Souvenir," a hilarious yet touching two-hander subtitled a "fantasia" on the life of Foster Jenkins. And Boston diva Leigh Barrett, reprising the role she first embraced 10 years ago at the Lyric Stage Company of Boston (through Nov. 19), squawks, tumbles and slides around a cacophony of wrong notes with a determined, oblivious grace that makes it clear Foster Jenkins — like the song says — always hurt the one she loved.
But Spiro Veloudos' broad yet empathetic production, as it did 10 years ago with the same cast, intuits that the heart of Temperley's play with music is not the indomitably tone-deaf Foster Jenkins, but her loyal if horrified longtime accompanist, the unlikely named Cosmé McMoon. The two were partnered musically for 12 years, culminating in a 1944 Carnegie Hall recital that was harder to get into than "Hamilton" — a month after which the deluded diva died, presumably happy.
Unlike the 2016 biopic "Florence Foster Jenkins," which starred Meryl Streep as the critically dubbed "First Lady of the sliding scale," "Souvenir" ignores the theory that Foster Jenkins' syphilis caused a tinnitus that made her unable to hear herself. Instead it looks at the inept soprano through the eyes of the oft-mortified collaborator who came to admire the way in which "she was so absolutely, transparently sure of herself." Maybe she was right, he comes to believe, that "what matters most is the music you hear in your head" — even if it somehow leaps out of your cranium to crucify the ears of others.
A 60-ish McMoon — played by Will McGarrahan with an underlying melancholy paved with frantic facial dexterity and takes worthy of a tamped-down Marx Brother — opens the piece, still tickling the barroom ivories in 1964, 20 years after Foster Jenkins has gone to her reward. (In fact, McMoon left music for bodybuilding after the death of his Carnegie Hall partner in crime.) Addressing the audience, he muses: "People used to say to me: Why does she do it? I always thought the better question was: Why did I?"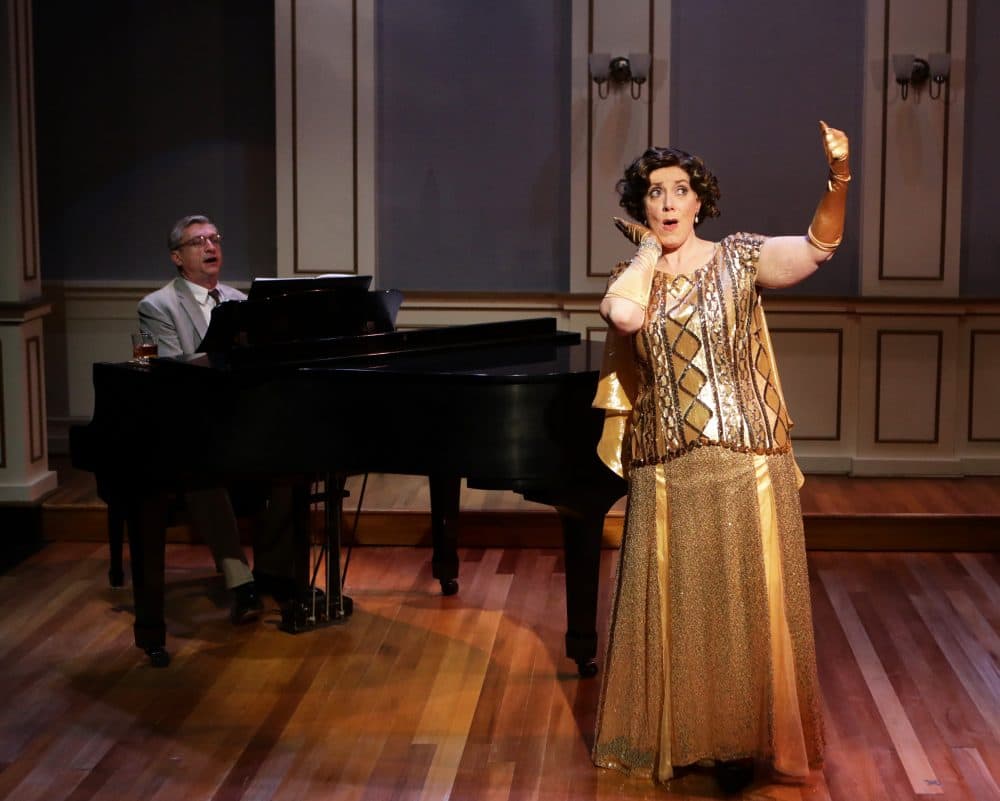 Indeed, that is what the "fantasia" sets out to fathom. Probably nothing could prepare McMoon — or the audience — for the initial interview, in which the aging, moneyed diva assails "Caro Nome" from "Rigoletto," sounding like a cross between a barking dog and a rusty pump being cranked. But almost from the beginning, albeit fighting disbelief and even panic, the accompanist sets out to protect the dedicated, impassioned singer from the potentially heartbreaking discovery that she's a joke.
In this, of course, he is abetted by the performer herself, who, for all her authoritative insistence that she's aural perfection, displays a childlike need to believe in her own mythology. Hoots, even jeers, from the audience can be explained away as misdirected explosions of deep emotion invoked by the music. And Barrett displays this slightly anxious confidence in ways both bewildering and sweet. Never more so than when Foster Jenkins listens, in McMoon's company, to their first recording (ouch, "The Queen of the Night" from "The Magic Flute"). Scraping the needle across the disc in a manner only slightly less grating than the singing, an enraptured Foster Jenkins seems to nurse the song along, straining with concentration yet euphoric. Evidently the diva can't hear her own sound, even when it's coming from outside her.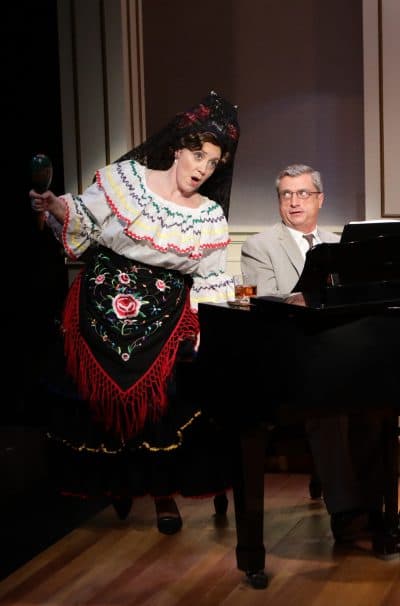 As it was 10 years ago, the "Souvenir" set is by Skip Curtiss, albeit bigger and a bit more gilded than its predecessor, calling forth not the piano bar of the opening, but the music room and ballroom of the New York Ritz-Carlton, where Foster Jenkins concertized prior to the pinnacle of Carnegie Hall. At that last concert, the soprano reportedly sported different over-the-top duds for every number. Veteran costume designer Gail Astrid Buckley does the honors here, supplying Barrett with fantasias in gold, black lace, winged white, even a Mexican sundae of a frock topped by a fruit-anchored mantilla. And Foster Jenkins' day clothes aren't much less amusing or extravagant, featuring flowers, pearls and, in one case, little pinwheels at the shoulders.
Between the flamboyantly brandished costumes and the cracked voice, the comical element of "Souvenir" is very much in place. (And I believe the script has been trimmed to advantage.) Nonetheless, there is enough emotional truth in the piece to earn its arguably sentimental ending — in which we get to hear Foster Jenkins as she might have heard herself and we get to hear Leigh Barrett take the fright wig off her larynx, which is at least part of what many of us came for.
For the apt balance of mockery and tenderness we should give McGarrahan much credit. A somewhat under sung hero of the Boston stage, he not only acts but also sings and plays piano effortlessly, in the case of "Souvenir" dotting the recollected proceedings (and offering a palate cleanser after Foster Jenkins' assaults) with popular period tunes. These range from the syncopated "Crazy Rhythm," which actually mirrors his relationship with Foster Jenkins, to the more pensive "One for My Baby" and "Violets for Your Furs."
But whereas McGarrahan's frozen-faced, darting-eyed deployments of tact and alarm are as funny as Barrett's blindly destructive march through the soprano repertoire, McGarrahan's McMoon also supplies enough rueful, sardonic insight to allow us to view Foster Jenkins as valorous. The commingling of affection and dread with which he anticipates her rendering of his own composition that memorable night in Carnegie Hall is as priceless as the ensuing, cockamamie performance. Kudos to the piano man.
---
The Lyric Stage's "Souvenir" is on stage through Nov. 19.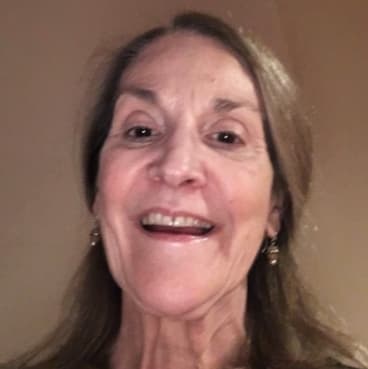 Carolyn Clay Theater Critic
Carolyn Clay, a theater critic for WBUR, was for many years theater editor and chief drama critic for the Boston Phoenix.