Organizer Of 'Free Speech' Rally In Boston Sues Mayor Walsh For Slander
This article is more than 5 years old.
One of the organizers of a recent and controversial self-described "free speech" rally on Boston Common is suing Mayor Marty Walsh, saying the mayor slandered him by linking its participants with white supremacists and other hate groups.
Brandon Navom, of Lowell, said in the suit filed in Berkshire District Court that he lost his job as a software consultant and was subjected to "all manner of hateful harassment" due to remarks the mayor made. Navom says the remarks mischaracterized the rally and its speakers as supporters of a white nationalist and neo-Nazi agenda, according to a statement released Tuesday by his attorney.
The Aug. 19 rally on Boston Common attracted extensive media coverage. About 50 participants assembled at the Common's Parkman Grandstand, according to police estimates, while backlash against the event drew approximately 40,000 counter-protesters. The city had also ordered a heavy police presence to monitor demonstrators.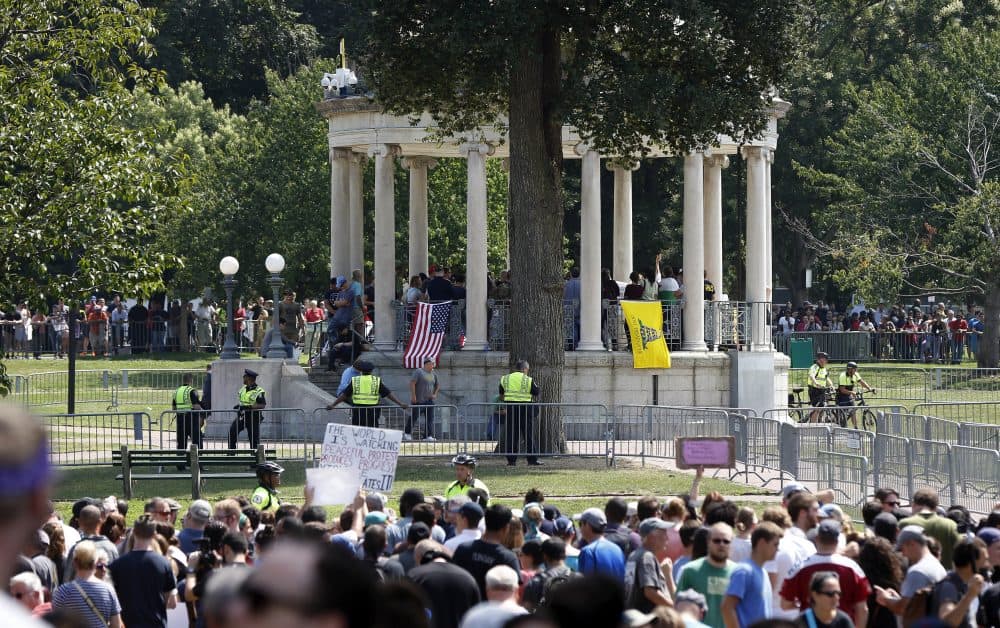 The Boston rally was planned after — and occurred within a week of — the deadly unrest in Charlottesville, Va., during which white nationalist groups and counter-protesters clashed, sparking national debates over far-right extremism and the lines between violent and free speech.
The lawsuit states that though Navom "ultimately decided to not join" the rally, it was well known he was an organizer and scheduled speaker, as he appeared on an event flyer and on TV to promote it.
The suit asserts:
Despite fully knowing that none of the speakers were "white supremacists," "hate group members," or "neo-Nazis" or otherwise affiliated with any type of hate group, the Mayor of Boston repetitiously characterized the speakers as such.
His attorney, Rinaldo Del Gallo, further says in a statement that:
[The complaint] also outlines the easily found wealth of information that was available on the Internet to Mayor Mary Walsh online showing that the organizers, the invited speakers, and the invited attendees were not white supremacist or members of hate groups. This at an event in which numerous police man-hours were expended — it is literally laughable to think the mayor did not know that the speakers were not white supremacist. I believe the Mayor was purposefully lying and if he wasn't lying, he was grotesquely incompetent. But at the very best the Mayor's comments represents a wanton, callous and reckless disregard for the truth.
Del Gallo, a self-described progressive and former state Senate candidate, was also invited to speak at the rally, the statement said.
The statement further accuses the mayor of "a grotesque display of virtue signaling for political gain for an upcoming election, with an egregious indifference to the truth." Walsh is running for his second term against City Councilor Tito Jackson this November.
Walsh's office said the administration has no comment on the suit, which is seeking $100 million in damages.