Tens Of Thousands Are Still Without Power In Mass.
This article is more than 5 years old.
Power is slowly being returned to tens of thousands of Massachusetts homes and businesses.
As of 4:30 p.m. Tuesday, just over 80,000 customers remained without power across the state after a Sunday-into-Monday storm brought violent winds and torrential rains to New England.
A large number of the remaining outages are in northeastern Massachusetts.
There were more than 300,000 outages at one point on Monday.
Eversource said it expects to have power restored to all of its customers by midnight. National Grid has far more outages and said it hopes to have power restored by midnight Wednesday.
National Grid spokesman Bob Kievra says the fact that outages and damage are spread across the state made it hard for crews in the initial aftermath of the storm.
"Obviously safety is No. 1 for us and so there was a tremendous amount of tree damage and downed wires before we could really get in to do a lot of the restoration work," he said.
Chris Besse, a spokesman for the Massachusetts Emergency Management Agency, encouraged those without power to stay somewhere else and to check on neighbors, especially the elderly.
He said the storm's hurricane-force winds coupled with leaves on trees caused the widespread outages.
"It's kind of like sails on a sailboat," he explained. "When the leaves are on the trees it really catches more of that wind and can bring down branches. So that's why we're seeing so many outages across the state."
The lack of power on Tuesday forced dozens of school districts across New England to cancel classes for the second consecutive day, while many towns postponed trick-or-treating.
Amesbury is one, and Mayor Ken Gray says it's all about public safety.
"We don't want children out in the complete dark trick-or-treating, so we decided we had to move it from today," Gray said.
The storm knocked out power to more than 1 million customers throughout New England.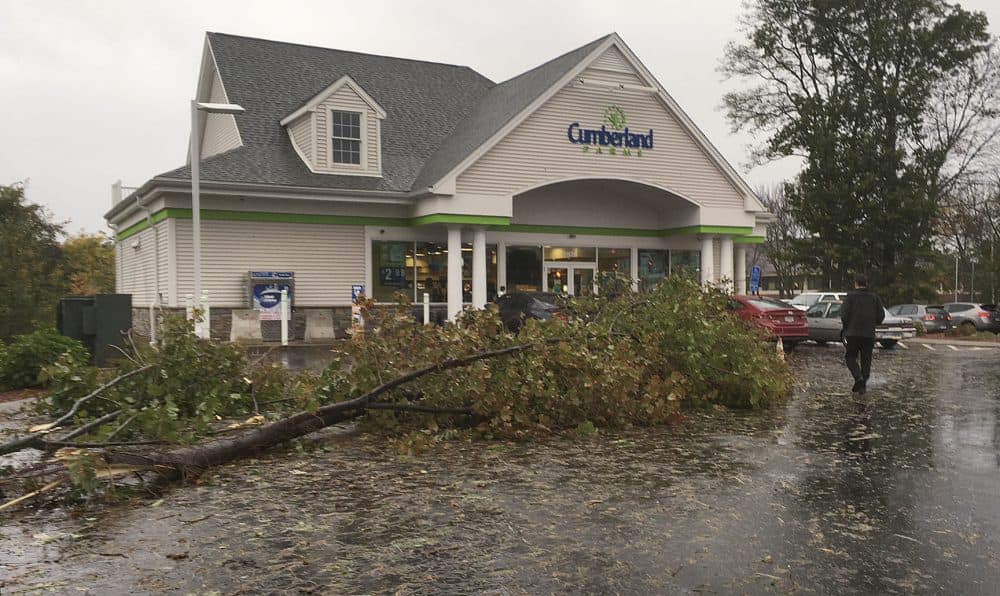 With reporting from The Associated Press
This article was originally published on October 31, 2017.