Baker Says He's Reviewing Edited State Police Arrest Report
Resume
Gov. Charlie Baker says it won't take long for him to complete his review of the facts surrounding the revision of a state police arrest report involving the OUI arrest of a judge's daughter.
The trooper who made that arrest is suing the agency, claiming state police brass, including its superintendent, Colonel Richard McKeon, ordered him to edit the report to remove details of the arrest that could have embarrassed the judge.
Trooper Ryan Sceviour arrested Alli Bibaud, the daughter of Dudley District Court Judge Timothy Bibaud. In his lawsuit, Sceviour claims his superiors, including McKeon, forced him to remove certain details from the arrest report: that she claimed her father was a judge, and that she offered the trooper sex in exchange for leniency.
At the State House Thursday — where McKeon and members of his command staff were issuing quarterly commendations to police personnel for acts of valor and heroism -- McKeon refused to answer questions about the allegations.
"I know the allegations are directed at me. I have no comment about it at this time," McKeon told reporters, as he hastily made his way to a building exit. "I might have comments about it at some point but not right now."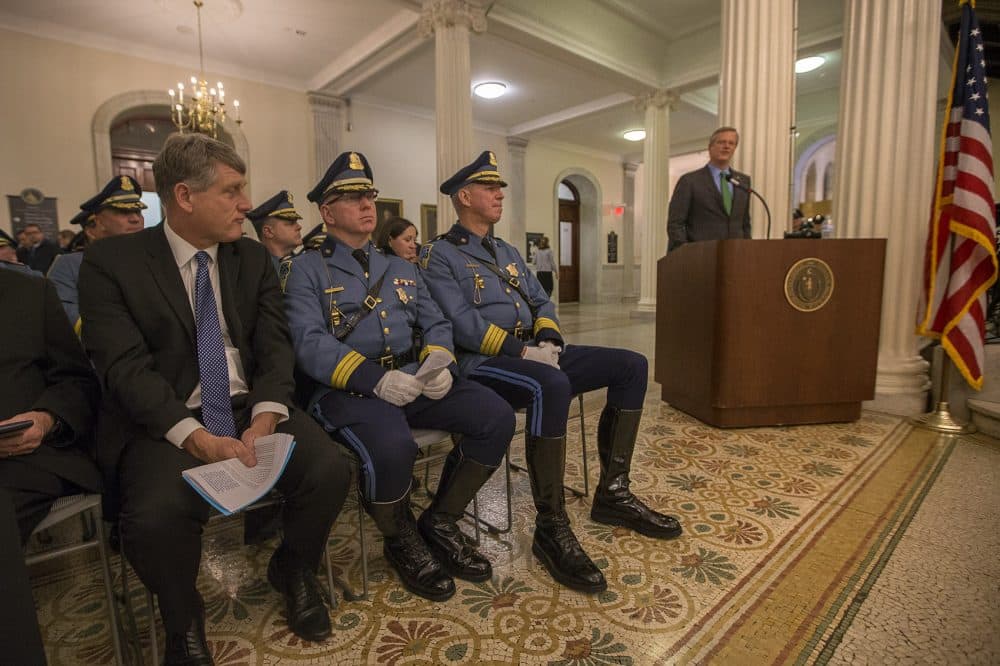 The lawsuit also claims the order to change the arrest report came from the state Executive Office of Public Safety and Security.
Secretary Daniel Bennett vehemently denied being involved in the report revision.
"No one asked me about it to do anything. And I didn't ask to do anything," he said.
State police and the Office of Public Safety say supervisory personnel, up to and including the colonel, may review reports, and have the responsibility to order appropriate revisions. Regarding Sceviour's report, they say the revision consisted only in the removal of sensationalistic details that had no bearing on the evidence.
For now, Baker says he's looking into the allegations.
"It's a serious set of allegations, it's a significant set of issues, and I don't believe in making decisions on stuff like this without having a chance to fully vet everything that's in front of us, which we're going to do, and we're going to do quickly," he said.
McKeon was appointed to his post by the governor two years ago, and serves at his pleasure. When asked if he would ask for McKeon's resignation, Baker said he's not going to speak to that until the review is completed.
But he was clear in the defense of his cabinet member, Secretary Bennett.
"One of the facts in there was that Dan Bennett was somehow involved there," Baker said. "He wasn't. Incontrovertibly was not. And I think it's very important that we make sure that all the facts are vetted and determined before we make decisions about issues like this."
While he says his review won't take long, Baker said he will work through all the information and then make a decision.
This segment aired on November 9, 2017.