Forecast: Chilly Week Ahead With Some Rain
This article is more than 5 years old.
And just like that we're less than two weeks before Thanksgiving. After the weekend chill, temperatures have recovered somewhat but are still at frosty levels.
The weather pattern overall is cold and it does appear that we will have several chances for precipitation between now and the end of the month.
The models have done a particularly poor job of forecasting the cold weather in the long range — initially, it looked like November would be on the warmer side of average.
Today, we're looking at a small area of low pressure moving south of New England that will bring a some showers, especially later this afternoon and early this evening.
With the cloud cover and the precipitation, it will be raw and quite chilly, with highs struggling to get to the lower 40s.
Across northern New England, there is some light snow associated with this system, but it's mainly the type of thing that accumulates on grassy surfaces and in shady areas.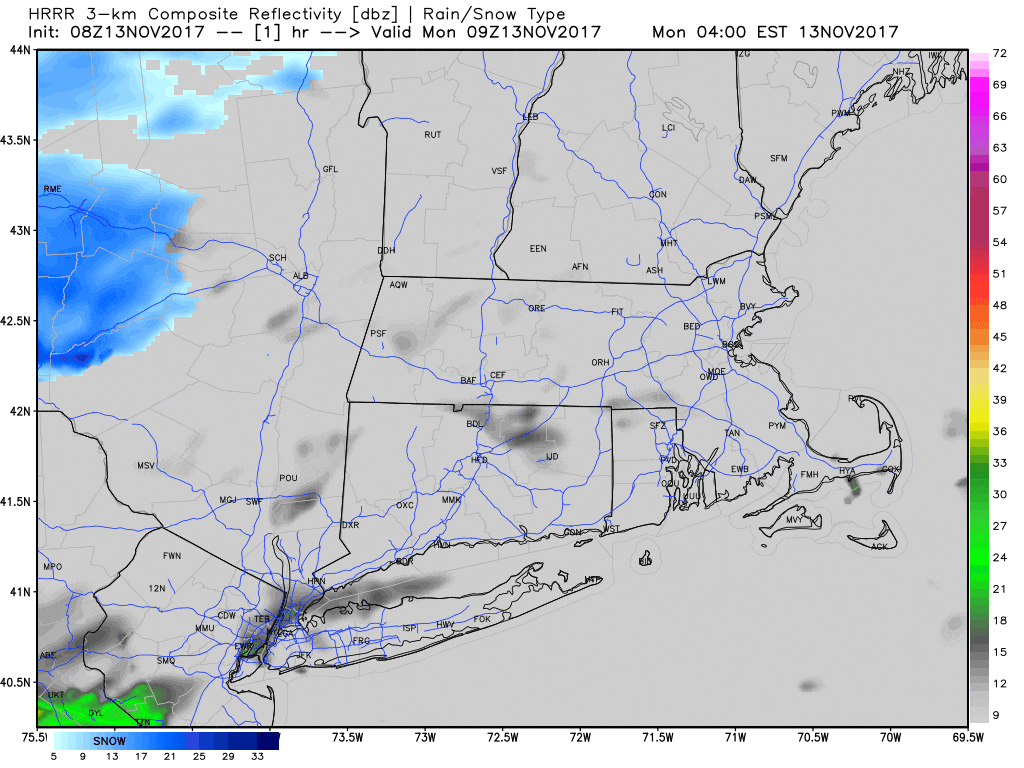 I can't rule out that you'll see a snowflake north of the Mass. Pike, but I'm not really going to mention it in the forecast. For the majority of us it just won't happen.
Drier weather returns for Tuesday and Wednesday with seasonably chilly air. A fast-moving front brings a few showers Wednesday night and Thursday before it's back to nice weather Friday.
Sometime during the weekend there will be another storm system bringing a windswept rain to the region. The timing amounts and all the details will be ironed out in the coming days.
You can follow my updates here and on Twitter @growingwisdom.
---
Monday: Cloudy with a few afternoon showers then a steadier rain for the commute home. Highs in the lower 40s.
Monday Night: Showers end early, could see a snowflake or two. Then clearing. Lows 31-38.
Tuesday: Clouds and some sunshine. Highs in the lower 40s.
Wednesday: Sunshine and on the cool side of seasonable. Highs in the mid 40s.
Thursday: Early shower, then clearing. Highs 45-51.
Friday: Partly to mostly sunny and cool. Highs 40-45.