Forecast: Changing Daily Weather Through The Weekend
This article is more than 5 years old.
You need to be on your toes to keep up with all the changing weather this week. The pattern continues to be relatively active with a day of sunshine followed by a day with some precipitation.
In keeping with that trend, today we find plenty of bright blue sky. Temperatures will reach the mid-40s this afternoon.
But a fast-moving cold front will approach the area overnight tonight and during the day on Thursday. If the front moved through cleanly, we'd just see a few showers in the afternoon, but it looks like the front will slow down. This allows an area of low pressure or a storm to develop along this front, prolonging and increasing the amount of rain for tomorrow. I'll also add in the chance of an isolated thunderstorm in the afternoon.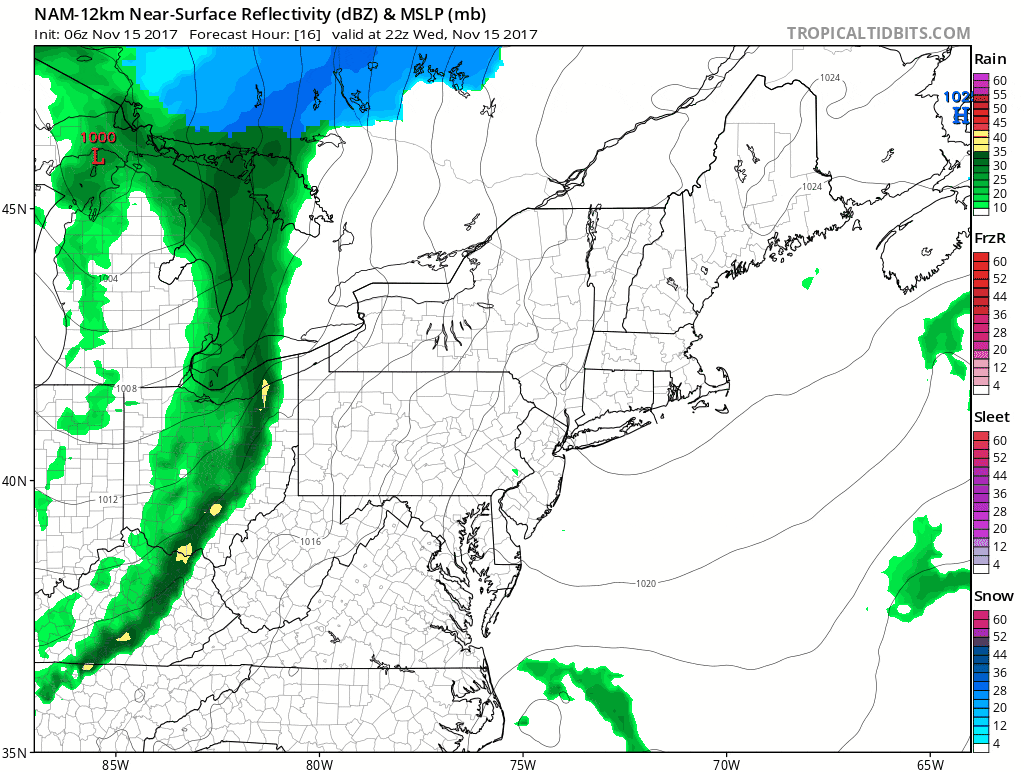 I expect the rain to begin sometime during the morning in the form of showers. It will become somewhat heavier in the afternoon and tomorrow evening's commute will likely be quite wet.
Behind this system, it turns colder and quite blustery for Friday. Winds will be gusty out of the northwest.
But this dry weather won't last very long, as the next system will be approaching. The weekend will start on a dry note early Saturday, but clouds will quickly thicken and showers will overspread the area during the afternoon.
The exact timing will determine whether we get a few hours before sunset that are dry or whether the rain moves in just after lunchtime. It's looking to be quite rainy and windy Saturday night followed by clearing skies and colder conditions on Sunday.
You can follow my updates here and on Twitter @growingwisdom.
---
Wednesday: Sunshine and on the cool side of seasonable. Highs in the mid-40s.
Wednesday Night: Cloudy and chilly. Lows in the low to mid-30s.
Thursday: Showers and then a period of rain, perhaps with downpours. Highs 45-51.
Friday: Partly to mostly sunny and cool. Highs 40-45.
Saturday: Clouding up, showers developing in the afternoon. May briefly start as snow in northern New England. Highs in the mid to upper 40s.
Sunday: Clearing. Highs 46-49.