WBUR Poll Finds Warren And Baker Are Up Big Over Their Challengers
Play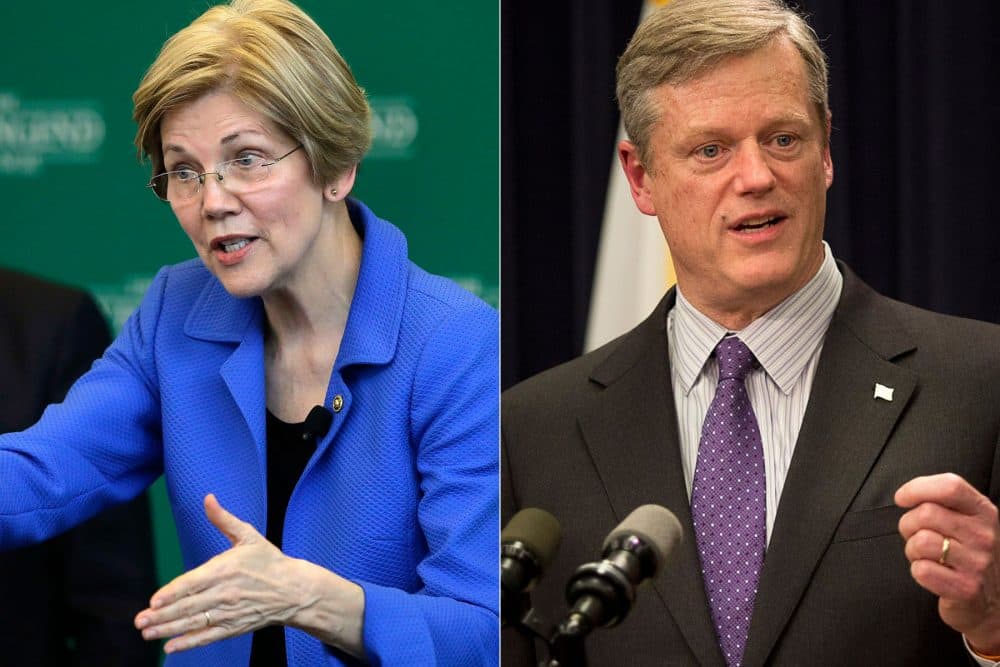 This article is more than 5 years old.
One's a Democrat, the other a Republican. But both incumbents seem to be sitting pretty, at least at this early stage of their respective re-election campaigns.
Now less than a year before Election Day 2018, a new WBUR poll (topline results, crosstabs) finds that U.S. Sen. Elizabeth Warren and Gov. Charlie Baker both retain wide leads over challengers who are struggling to gain broad public attention.
Warren is viewed favorably by 55 percent of Massachusetts voters, according to the survey, and the Democrat has advantages of at least 23 percentage points when faced off individually against her four declared challengers.
In hypothetical match-ups, Warren leads Geoff Diehl, 58 percent to 32 percent; Shiva Ayyadurai, 58-27; Beth Lindstrom, 56-33; and John Kingston, 57-33. (When the survey went into the field, Ayyadurai was running in the Republican primary, with the other three candidates; he now plans to run as an independent.)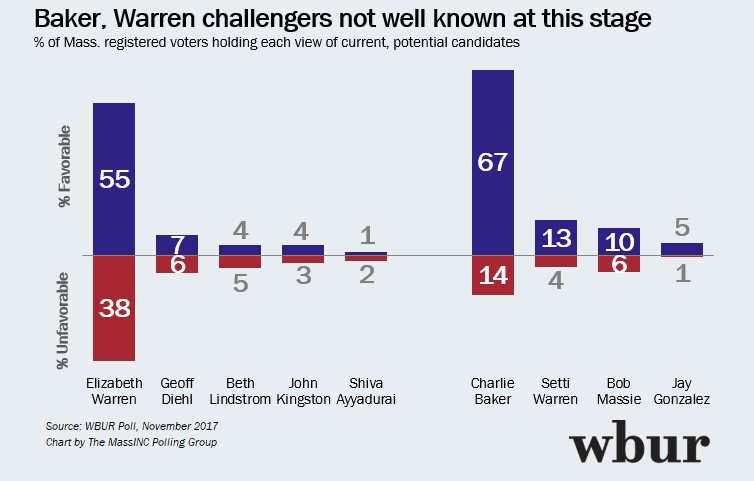 The polling margins are even larger for the governor.
Baker is viewed favorably by 67 percent of the state's voters, and the Republican holds leads of at least 34 points against his three declared Democratic challengers.
Baker is up 59 percent to 19 percent over Jay Gonzalez, 60-21 over Bob Massie, and 58-24 over Setti Warren. (At this stage, Warren is the challenger most well-known and viewed most favorably among Democratic voters.)
All of Elizabeth Warren and Baker's current challengers suffer from a lack of name recognition; for each of the seven, most voters polled had never heard of them.
Baker's support is much broader than Warren's. She's viewed favorably by 78 percent of her fellow Democrats, but 48 percent of unenrolled voters and just 16 percent of Republicans. Baker, on the other hand, is viewed favorably by 70 percent of his fellow Republicans, 67 percent of unenrolled voters and 66 percent of Democrats.
For voters, health care is the top priority in the Senate race.
Most voters polled said a candidate who made addressing the cost of health care a major priority would make them much more likely to back the candidate, while 42 percent of voters said a candidate in favor of repealing the Affordable Care Act would make them much less likely to get their support.
Nearly half of survey respondents -- 48 percent — also said that if a Senate candidate made standing up to President Trump a major priority, it would make them much more likely to back the candidate.
Just 27 percent of Massachusetts voters view the Republican president favorably, compared with 66 percent who have an unfavorable view of him.
In the governor's race, prioritizing a variety of issues would make a majority of voters much more likely to back a candidate, including fighting the opioid crisis, reducing health care costs in Massachusetts, addressing gang violence, increasing funding for public schools, and making state government function better.
The WBUR poll comes a day after Baker released his latest set of initiatives to combat the opioid epidemic, and days after state senators passed legislation seeking to curb health costs for consumers.
Nearly 80 percent of Democratic voters, and more than half of unenrolled voters, also say they are more likely to support a gubernatorial candidate who makes standing up to Trump a priority.
The live telephone survey of 503 registered voters was conducted Thursday through Sunday by the MassINC Polling Group. The poll's margin of error is 4.4 percentage points.
WBUR's Ben Swasey wrote this poll recap. MassINC pollster Steve Koczela joined Morning Edition to discuss the numbers, and that audio is atop this story.
For more poll results, on potential state ballot questions, see our post here.
This segment aired on November 15, 2017.