The On-Tour Doctor Is In: Meet The Boston Symphony's Emergency Medic
Play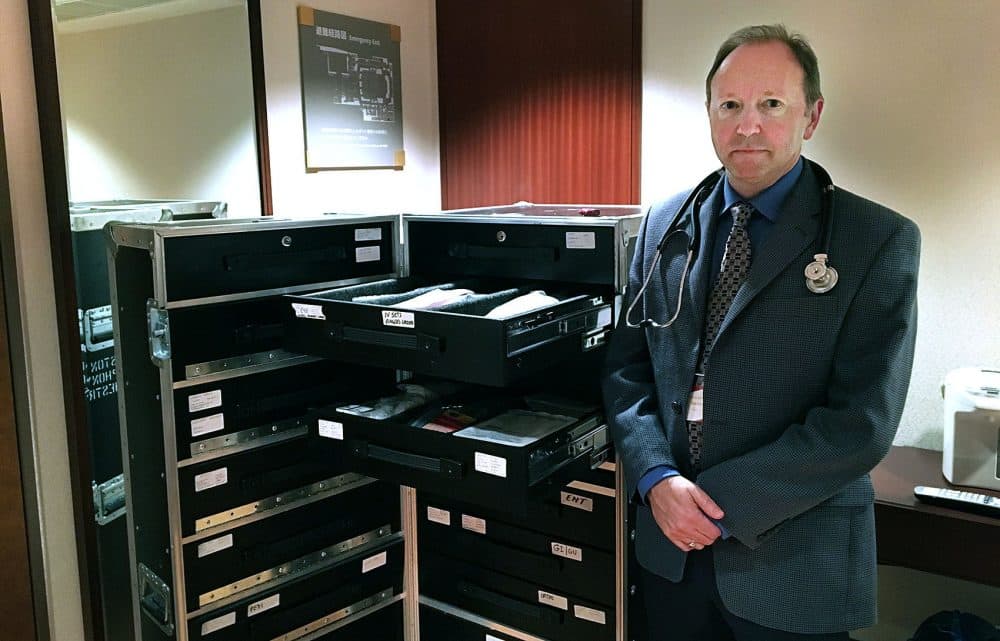 This article is more than 5 years old.
International travel can be grueling on anyone's immune system. That's certainly the case for the more than 100 musicians in the Boston Symphony Orchestra who just wrapped up a fast-paced, four-city tour in Japan. So it's a good thing their doctor was in the house.
"I think it's common for most orchestras in the U.S. to travel with a physician especially when they go overseas," Dr. Robert Partridge told me in Tokyo. "If somebody gets sick — especially, you know, in a place where you might not speak the local language — how are you going to find which is the right place to go to get cared for?" he said. "That would be pretty scary for anybody."
So Partridge set up shop backstage at every concert hall along the tour's route.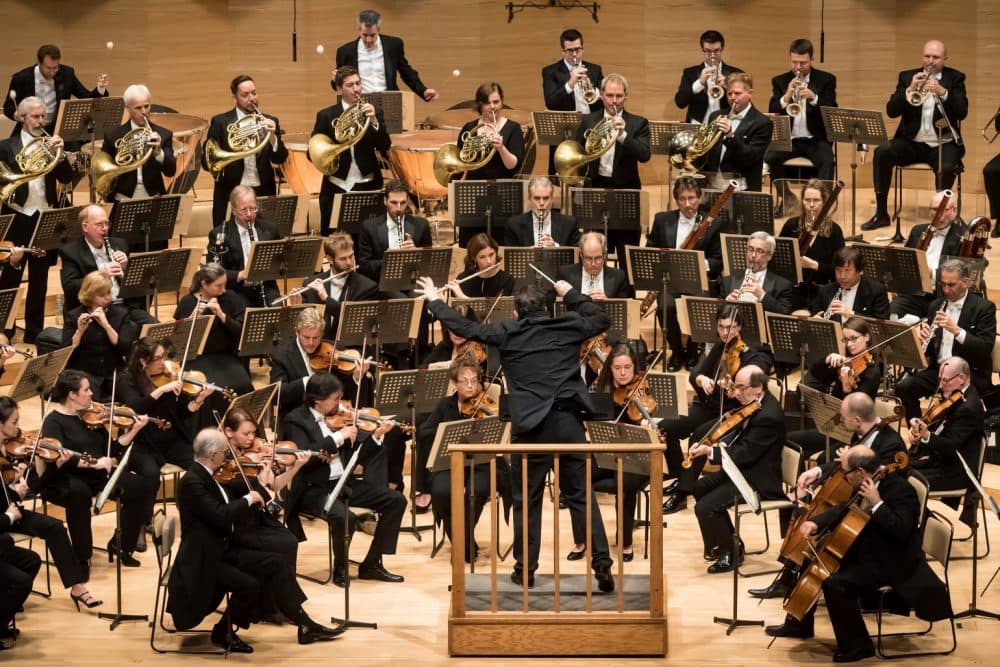 In Tokyo's Suntory Hall, he's tucked away in a small dressing room. The drawers in his big, black traveling trunk are stocked with medical supplies he thinks he'll need to keep the BSO musicians healthy so they can perform their challenging repertoire every night.
"I have a lot of medications in here," Partridge says, showing me his stash. "I've got Tylenol, motion sickness medicine, I've got a wound kit in there. I have some antibiotics here."
There are boxes of sterile rubber gloves, ice packs, moleskin for blisters, 100 types of meds — even a nebulizer machine for people who might need respiratory treatment. "I've never had to use that so far," he says, sounding a bit relieved.
When he's not traveling with the BSO, Partridge, who lives in Needham, practices emergency medicine at Emerson Hospital in Concord, Rhode Island Hospital in Providence and on Martha's Vineyard and Nantucket during the summer.
On tour, he and the BSO musicians have to move around a lot. They jump between planes, trains, buses, hotels and concert halls. If a sick or injured musician had to stop en route it could upset the finely tuned schedule. Partridge says no one should be left behind and his goal is to keep everybody together.
This is his fourth international tour with the orchestra, and he said musicians get sick while traveling, just like anyone else.
"We had one trip where we had a terrible gastrointestinal illness," Partridge recalled, "people were getting really dehydrated. We had several people who fainted at different times. Fortunately, everybody was OK."
During the trip to Japan — with its disorienting 14-hour time difference from Boston — the orchestra's staff, crew and musicians suffered through some serious jet lag.
"Which can cause headaches for some people, gastrointestinal upset. You may get really tired in the day and you may not even feel like you can think clearly," Partridge said of the common symptoms. "Some of those are similar to what you get when you get a concussion. So imagine having that and then trying to go to play an instrument the way the musicians of the BSO can do."
"Some of those are similar to what you get when you get a concussion. So imagine having that and then trying to go to play an instrument the way the musicians of the BSO can do."

Dr. Robert Partridge
Partridge shared a motto emergency physicians embrace: "Anyone, anywhere, anytime. I think it's a position that suits emergency medicine well. And I also really like to travel — and I find that a challenge which I very much enjoy."
And the doctor added, with a little laugh, "My physician friends are envious."
Partridge says people are usually surprised and curious when they learn the BSO travels with its own physician. He's even been invited to do lectures about his job.
When asked if he's a classical music fan, Partridge said his father was an aficionado.
"There was always classical music playing in our house," he recalled, "so I really developed an appreciation of it at a young age."
Now for a stretch of time each year — for the past four — Partridge gets the chance to listen to his patients play while he waits — at the ready — backstage in his mobile office.
This segment aired on November 17, 2017.