'We Feel Like We Are All Family': Somali Refugees Share Their First Thanksgiving In Lowell
Resume
Every inch of the dinner table is covered with food. There are holiday basics like turkey, stuffing and mashed potatoes, and then there are family specialties like samosas.
Hawo Ahmed, 24, scans the options, pointing out a spicy sauce her sister made to eat with the pooris, a sort of savory pastry. Then she comes across an American dish and asks, "I don't know about this, what is this?"
"This is cranberry sauce," one of the family's guests says with a laugh.
Thanksgiving dinner came a little early for the Ahmed family in Lowell. It's the first Thanksgiving the Somali refugees — three daughters and their mother — have experienced in the United States.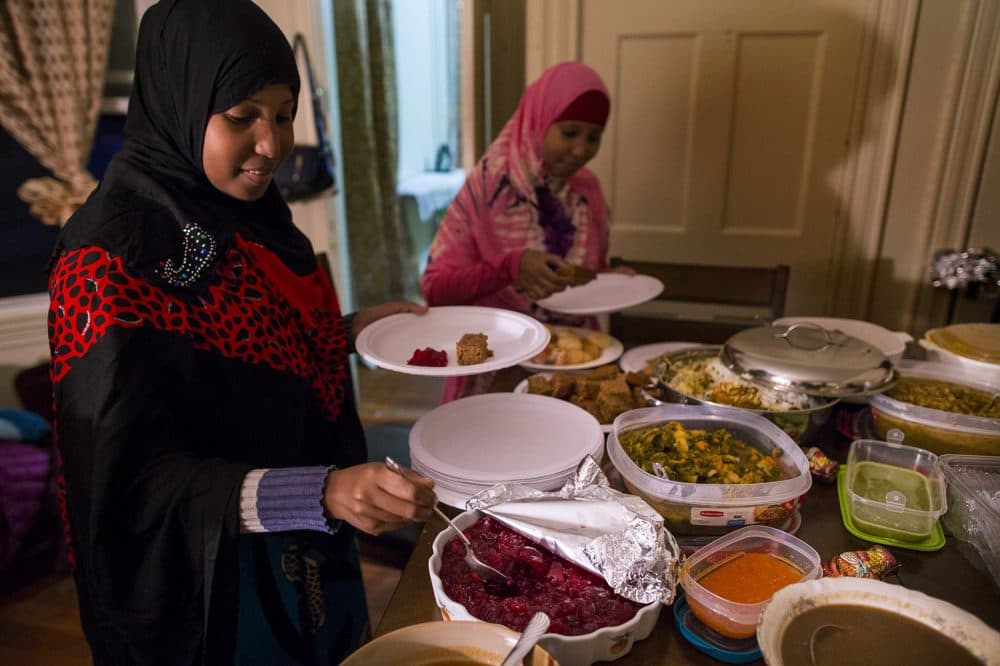 The Ahmeds move effortlessly between the living room and the kitchen, welcoming people and socializing with such a natural air that you'd think they've hosted the holiday before.
In fact, the family just arrived to this country 10 months ago.
The International Institute of New England, the agency helping them resettle, deployed a team of about 10 volunteers to lead the family's transition. The volunteers bring the women to doctors' appointments, help them open checking accounts, and teach them how to pay their bills.
And on this evening, the team brings the family a Thanksgiving spread, complete with mini chocolate turkeys and an abbreviated lesson on the meaning of the holiday from team captain Sherry Mulroy.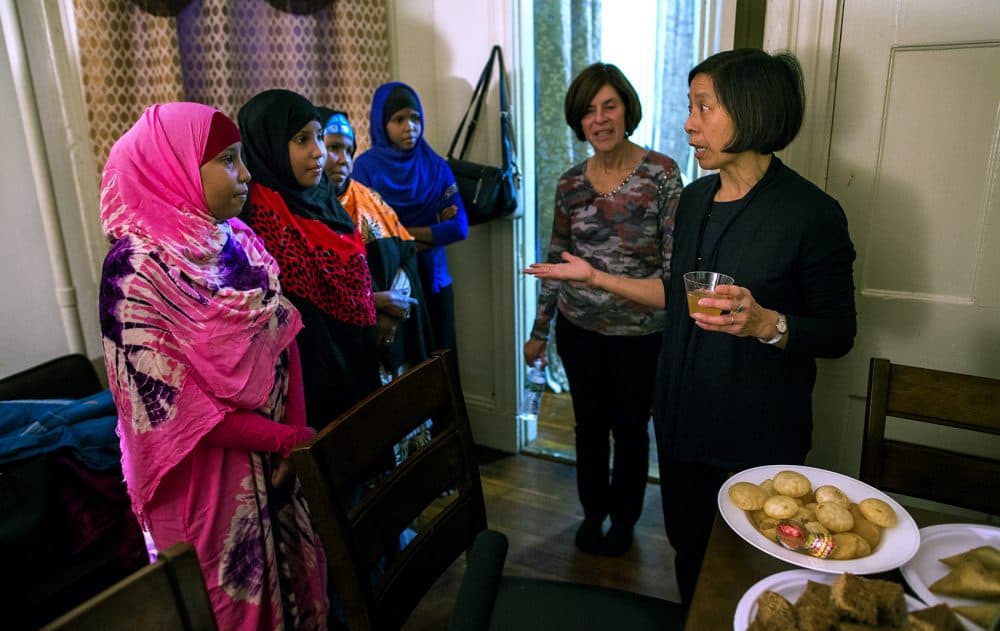 "We thought it was especially nice to share [Thanksgiving] with you, to introduce you to this tradition, but also because we are very thankful that we met you," Mulroy says to the Ahmeds. "We are very thankful to have been able to help you out. You have always been so understanding of us and we look forward to a long friendship with you."
By all accounts, the Ahmeds are adjusting remarkably well to their new surroundings. Identical twin sisters Hawo and Muna are working full time making medical devices and are studying for the GRE exam. They've also managed to become certified phlebotomists, all in less than year. Younger sister Asha and their mother Fatuma work as seamstresses and are learning English.
But according to one of the agency's volunteers, Janet Amphlett of Cambridge, there have been a few bumps along the way.
"They're learning how to write checks," Amphlett says. "I went to go mail two checks to National Grid for them, but the stamp was in the middle of the envelope, the address wasn't legible through the window so, now -- you don't realize that these are learned things, right?"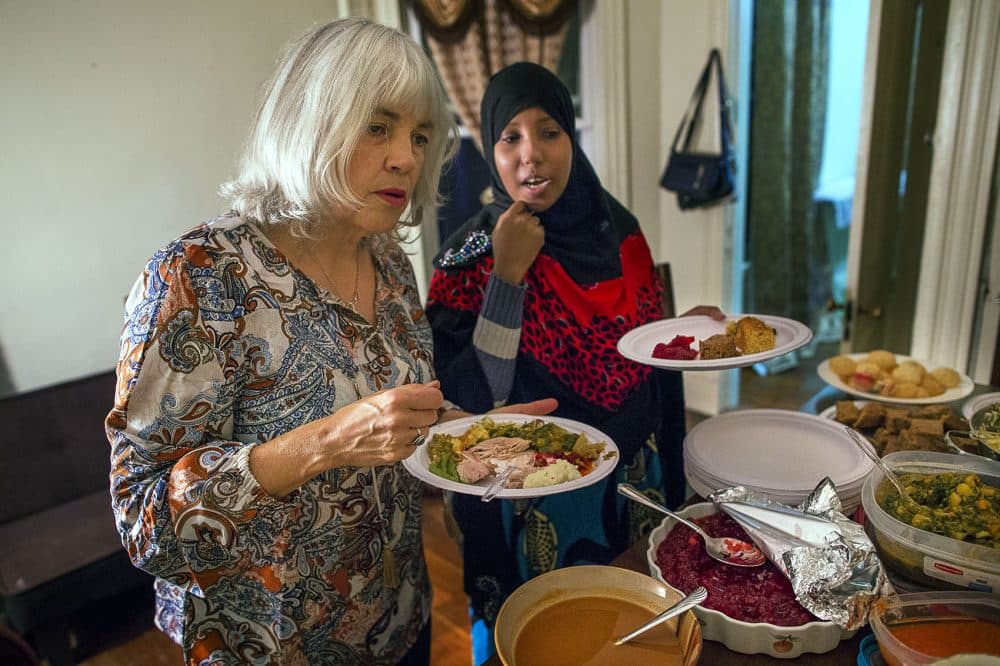 Hawo says she and her family are learning all kinds of new things, like how to use a debit card and how to navigate public transportation. And Hawo is learning how to drive. With a bright smile on her face, she says she's still learning to control the steering wheel.
From sharing something as mundane as addressing an envelope, to new milestones like learning to drive, the Ahmeds and the volunteers have grown to understand each other — even though they come from very different worlds.
Hawo and Muna were only a few months old when their parents fled civil war in Somalia. Asha, 22, was born in Kenya, where the family lived as refugees for more than 20 years until they arrived in Lowell in January, only a few days before President Trump signed his original travel ban.
When they first arrived, Hawo and Muna said they were nervous and didn't know what to expect in their new home country. But that's changed.
"I think we were meant to be here," Muna says, "because we have seen what life is all about."
Hawo chimes in: "They say that sharing is caring so we feel like we are all family, there's no difference at all."
Hawo says they all try to keep in touch with their family still living in Somalia as best they can. But on this night, in their modest one-bedroom apartment, the Ahmeds are surrounded by a new family.
This segment aired on November 22, 2017.