Forecast: Sunny And Crisp For Thankgiving
This article is more than 1 year old.
It's a chilly morning across the area for Thanksgiving 2017.  A cold front swept through the region overnight and has ushered in Canadian polar air which is chilly and dry. This will be with us today and tomorrow before a brief shot of milder air arrives for Saturday.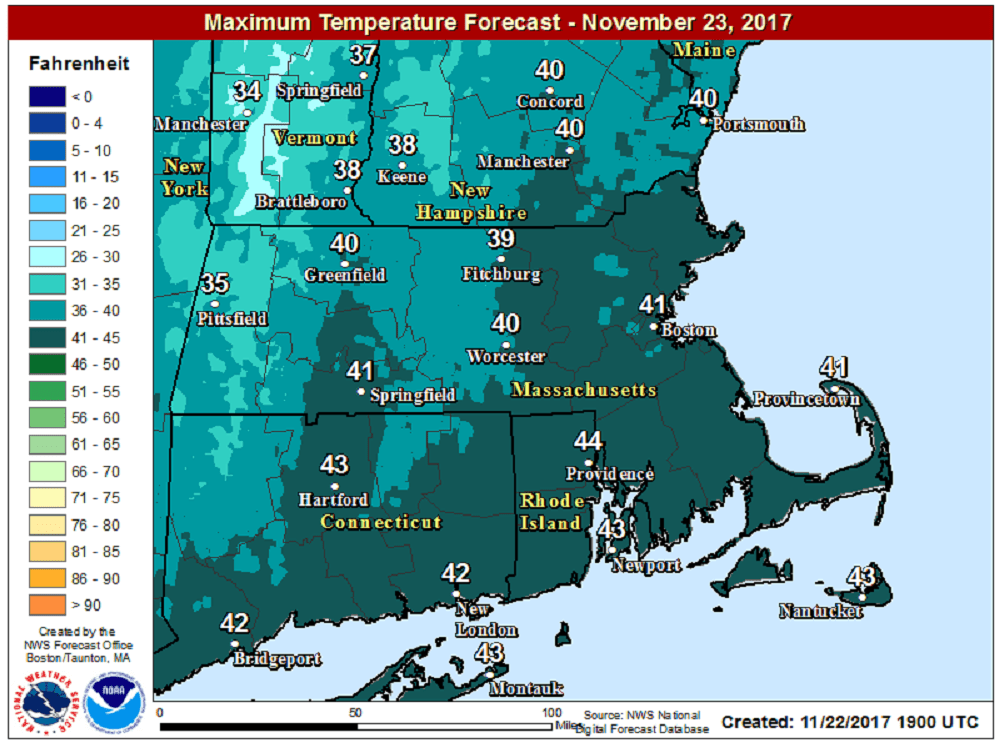 Saturday temperatures will get back into the 50s. I am recommending that day to spend some time outside doing those fall chores which perhaps we're all a bit reluctant to perform but need to be done. If the leaves around you have fallen off, it would be a good day to clean the gutters. It's also going to be a nice afternoon to do some raking, as well as put up any lights to celebrate the season.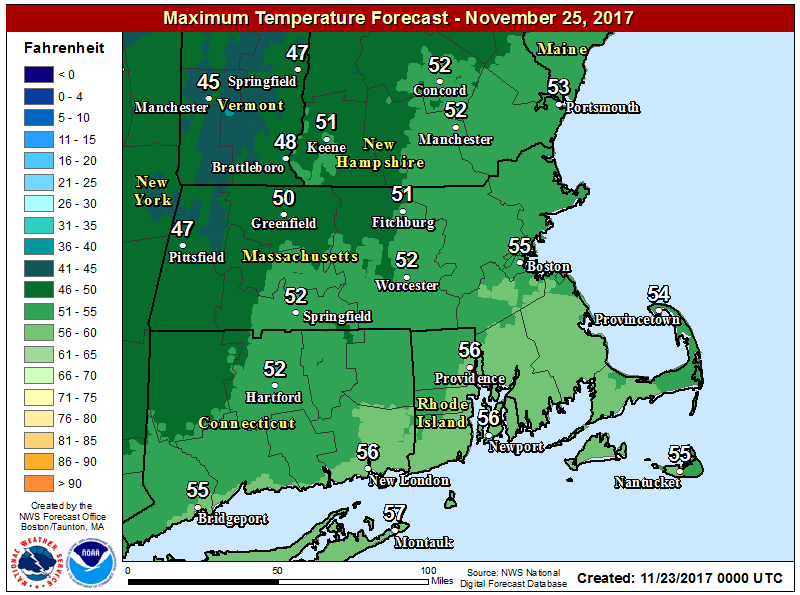 There will be a cold front crossing the region Saturday evening and that could kick off a brief sprinkle after that mostly sunny day. Temperatures on Sunday will be about 10 degrees cooler but winds will be light and there will be plenty of sunshine.
The start of next week looks dry and seasonably cool to mild. As we close out the final few days of November, temperatures look to be about where they should be and I don't see any snow. This means most of you will have made it through the entire month snow-free, which isn't unusual, but is below the 30-year average when we would expect many of us to see our first coating to an inch of the white stuff.  Winter will be here soon, so let's just enjoy the tranquility while it lasts.  Happy Thanksgiving.
You can follow my updates here and on Twitter @growingwisdom.
---
Thanksgiving (Thursday): Sunny and chilly. Highs from 40-45.
Thursday Night: Clear and cold. Lows 25-30, but 30-34 Boston, Cape, Islands.
Friday: Partly to mostly sunny and cool. Highs in the mid-40s.
Saturday: Sun and clouds, milder. A brief shower is possible. Highs in the mid-50s.
Sunday: Sunshine and cool. Highs in the mid-40s.
Monday: Sun and clouds.  Highs in the lower to middle 40s.