Wynn Casino Opens Final Phase Of Environmental Cleanup
Play
This article is more than 5 years old.
Riding up the Mystic River, you can see all of the work underway to build the resort casino coming to the Boston area in about 18 more months.
More than 1,500 workers are building what will become a $2.4 billion, 27-story casino along the riverbanks — complete with convention space, and views of the Boston skyline.
But in addition to the construction, there's also some major environmental remediation going on. The site itself is built on land that housed chemical plants for more than a century.
They've already carted off more than 600 thousand tons of dirt — old contaminated soil left on the property that housed chemical plants for more than a century. They've started work on a living shoreline, with greenery taking hold on what a few months ago was just sand and dirt.
Now the focus is on the water itself — or more accurately, what's below it.
A 'Biological Desert'
"You know, this was a chemical plant," said Chris Gordon, president of Wynn Development. "Stuff migrated into the water."
That's putting it lightly. The site housed chemical and industrial buildings for more than a century, eventually going vacant before Wynn Resorts bought the property to house its future casino.
"It was a biological desert. And what that means is they found nothing alive," Gordon said. "And in the Northeast, in a harbor, that's very unusual. There's always organisms, there's always something moving around. They found nothing in that area."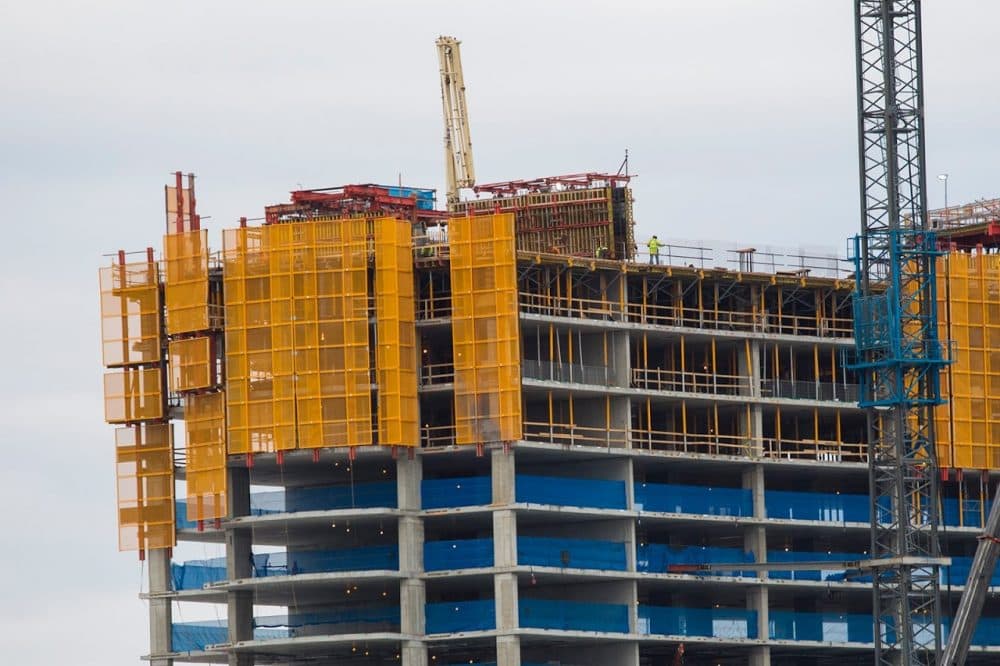 For the next two and a half months, teams will be working eight-hour shifts — 24 hours a day — to dredge an inlet of the Mystic River that is one of the river's most polluted spots.
All it takes is one look at the dirt being dug out of the river to see just how polluted it is. In a massive barge filled with sediment and water, the water has turned a yellowish brown with streaks of rusty orange running throughout.
"Well, it's got heavy metals in it. It's got lead, it's got arsenic, that kind of stuff. So you don't want to spend a lot of time in contact with it," said Gordon.
Once water drains from the barge, the sediment gets taken to a nearby dock, where it's sorted and trucked to a landfill.
'Unusual' — And Costly — Environmental Cleanup
The work here serves two purposes: first to deepen the river and make it easier for boats to dock once the casino's finished, and second, to clean up one of the dirtiest sites along the Mystic River.
"The big picture here is that, in the near term, that area around the living shoreline... will have healthy habitat for the first time in a couple hundred years," said Patrick Herron, the executive director of the Mystic River Watershed Association.
Wynn expects to spend about $30 million in total cleanup between both land and water.
He said this kind of environmental cleanup is unusual. A new developer, he says, rarely comes in and cleans up old pollution.
"What they'll typically do is build a building on it and pave it over. And they'll basically have shifted the burden to the next owner. To say look, don't worry, we're not going to put the public in harm's way. We've paved it over and sealed it up."
The challenge with a cleanup of this magnitude is that it costs money. A lot of it. Wynn expects to spend about $30 million in total cleanup between both land and water.
Herron said few other developers even could perform that scale of a cleanup.
"Your profit margin would disappear quickly on the three-floor condo versus the scale of development here."
The work is expected to finish by mid-February, when it needs to stop to make way for migrating fish.
Wynn Boston Harbor is scheduled to open in June 2019.
This segment aired on November 27, 2017.