Celebrity Series Goes To Roxbury And Dorchester Looking For The Next Generation's Celebrities
When you think of the Celebrity Series of Boston, chances are names like Yo-Yo Ma, Wynton Marsalis or David Sedaris come to mind.
What you might not know is that since 2012, the Celebrity Series has made an increasingly strong effort to get into Boston's marginalized communities with highly-acclaimed local and international artists. On Dec. 2, the Dorchester Stringfest will feature the Soul Yatra Trio and on Dec. 3 the Roxbury Stringfest will include performances by the Castle of our Skins quartet, the Boston City-Wide String Orchestra and City Strings United at Hibernian Hall.
Classically trained musicians and community combine in these cross-cultural concerts. (Click here to see the full roster of Celebrity Series community events.)
The Dorchester Stringfest offers a unique collaboration with young performers from BridgeBoston Charter School and the Conservatory Lab Charter School. The students enrolled in music programs with both institutions have the opportunity to perform with members of the 2017 Grammy Award-winning Silk Road Ensemble featuring cellist Mike Block, tabla (Indian hand drums) player Sandeep Das and violinist Shaw Pong Liu. The musicians all collaborate in a larger ensemble with an emphasis on sharing culture and musical storytelling traditions through instrumentation.
For a taste of this contemporary international music, take a listen to"Ichichila" from the Silk Road Ensemble's latest album "Sing Me Home":
The ongoing collaboration between young people and classically trained musicians signifies a trend in the changing outreach initiatives between live music organizations and the communities they serve. According to a study by the National Endowment for the Arts and the League of American Orchestras, attendance at orchestras and classical music concerts since 1982 has declined by 30 percent and still continues on that downward trend. Without introducing new audiences to live music, the funding structures of those institutions, including donors and ticket buyers become less secure.
Diversity, both in racial demographics and age, is the key to help save live music performances. Music and arts programs are often the first cut when schools are determining budgets, despite evidence that art and music programs contribute directly to academic achievement. Developing new audiences starts at an early age. When students can learn an instrument and begin to recognize famous classical musical scores used in film and television, they develop a greater sense for music appreciation on a whole.
Robin Baker, manager of community performances and partnerships for the Celebrity Series says, "I believe that being exposed to classical and international music is essential for all children." Baker facilitates the collaboration between local musicians and communities "all performances are free of charge, and our goal is to connect audiences to music and to fulfill a need that our neighborhood partners want."
The Celebrity Series Neighborhood Arts program develops concert series options like Stringfest by speaking with neighborhood partners to discover what that specific community needs.
"The genres are different, not just classical and jazz, we work to fit the neighborhood demographics," Baker explains about the Celebrity Series' programming choices. "Almost every culture has a stringed instrument, we've got a range of world music styles that we can use through Stringfest." With an emphasis on connecting to specific communities, Stringfest offers a customized neighborhood experience of live music.
Two of the local musicians involved in Stringfest, Shaw Pong Liu and Sandeep Das both have deep ties to Boston, and both have work centering around engagement and cross-cultural communication. Liu, a 2016 city of Boston Artist-in-Residence for her project "Code Listen" that uses music to "support healing and dialogue around gun violence, racism and police practices." Sandeep Das' work reflects his mission of promoting understanding across cultures through music, performance and education. Both Das and Liu are returning performers with Stringfest after a successful collaboration last year, here's a taste of what to expect:
"[The Dorchester] Stringfest is a collaboration between young student musicians and professional musicians exploring music from many parts of the world," explains violinist and performer Shaw Pong Liu.
This year, Liu is participating in both Stringfests in Dorchester and Roxbury, and both concerts have different goals. "[Roxbury] Stringfest has more classical music and is uplifting artists and composers of color from within classical music, including black women composers," says Liu, who welcomes the opportunity to expose young performers of color to other composers and musicians from marginalized communities.
In Roxbury, The Castle of Our Skins (COOS) collective is a Boston based group of classical musicians whose mission is, according to the group's statement, to "invite exploration into Black heritage and a curiosity for Black culture" through a blend of live music and contemporary sensibilities, COOS works to foster "cultural curiosity" through music. The Boston City-Wide String Orchestra takes a similar approach by fostering a multigenerational orchestra with players starting at age nine through more seasoned adult players. This approach fosters mentorship throughout different generations, and the chance to expand musical experience and knowledge.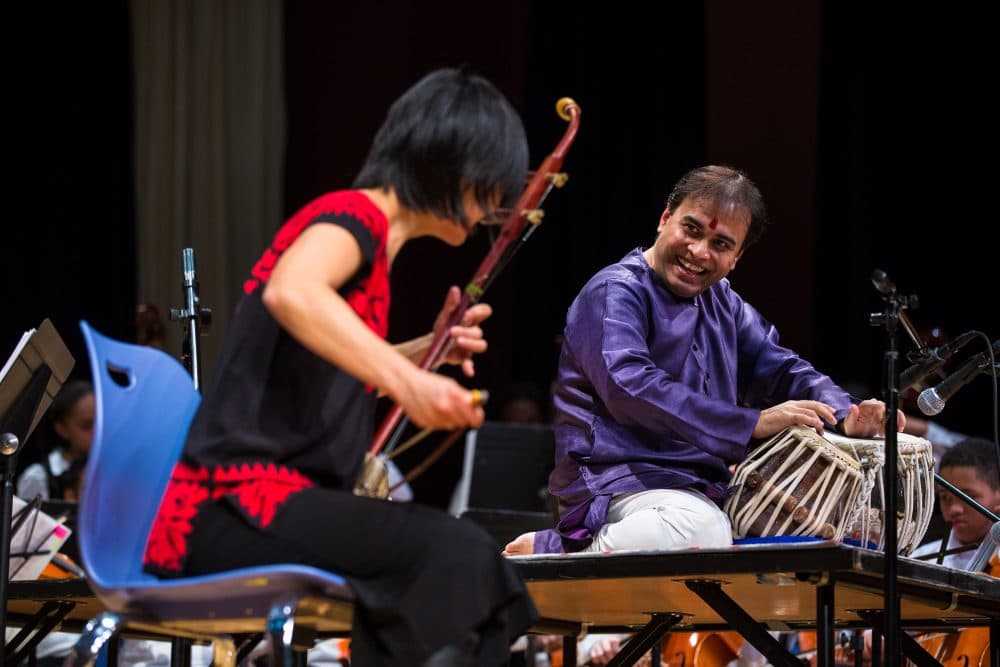 These artists, in partnership with the Celebrity Series in Boston are involving youth and the community in a way to establish meaningful connections in a new era of performance and outreach. "I think the experience of live music can be powerful and inspiring, regardless of the genre," Liu states. "The chance for young musicians to collaborate with professional musicians can likewise inspire the younger generation both musically and in life."