A Warm Welcome In Boston For Hillary Clinton
Play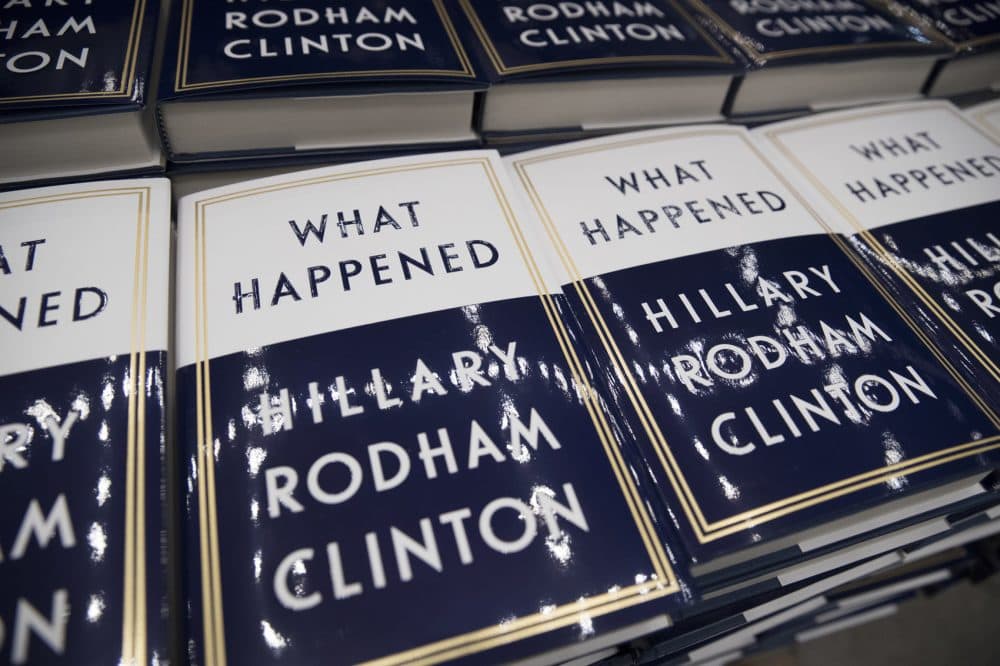 This article is more than 5 years old.
In a state that voted almost 2 to 1 for Hillary Clinton over Donald Trump, and in a city that voted almost 6 to 1 for her, everyone seemed to embrace Clinton Tuesday night at the Boston Opera House.
Almost everyone. Five men stood outside the venue holding a Trump sign and chanting "lock her up!"
But inside, more than 2,500 people clapped, cheered and jumped to their feet numerous times for Clinton. A little more than a year ago, she expected a return to Boston as president. But instead, this was just the latest stop on her book tour, which she's been on for the last two months.
"What Happened" is her account of why she failed to break through that highest glass ceiling.
"It was a perfect storm. There were deep currents of anger and resentment flowing through our culture," she told the crowd.
Clinton also blamed Russia for waging information warfare against her campaign, the FBI for intervening just 10 days before Election Day, and the political press for focusing obsessively on her emails and too little on Trump's lies.
"I kind of concluded while writing the book that this was the first reality TV campaign, and my opponent was the first reality TV candidate. And I was the candidate of reality," she said, as the crowd laughed. "And, I will tell you, that is just not as much as fun or entertaining."
And then there was the sexism. Clinton argued that female candidates like her are held to a different standard than their male counterparts.
But Clinton didn't only look back. She also looked forward.
"The only way we will get sexism out of politics is to get more women into politics," she said, to cheers.
This is part of Clinton's call to action, urging women and Democrats to organize and build the kind of political structures that have been so helpful to Republicans.
It was also as close as she came to acknowledging the current moment, in which a parade of powerful men, including her own husband, stand accused of sexual abuse and harassment.
But she was interviewed by a very friendly Tim McCarthy from Harvard, who avoided difficult questions like that or whether Clinton herself made mistakes that contributed to her defeat.
The partisan crowd was made up mostly of women, including Susan Trulli of Lexington, who liked what she heard.
"I thought she was dynamite. I thought if some of that personality came through a little bit more on the campaign trail, along with her strong policies, maybe we wouldn't have the circumstance we have today," said Trulli.
Maybe so. But Clinton made it clear her career as a political candidate is behind her, even if her involvement in politics is not.
"I am not going anywhere except right into the middle of the debate about our future," she said.
Clinton criticized current efforts by Republicans and the Trump administration to ram through a tax plan she calls an "abomination" that favors the rich and busts open the deficit.
She vowed Clinton the activist will be a lot more outspoken and less guarded than Clinton the candidate was.
Correction: An earlier version of this story misstated Clinton's victory margin over Trump. We regret the error. 
This article was originally published on November 29, 2017.
This segment aired on November 29, 2017.