Generosity Never Forgotten: Author Traces 'Great Halifax Explosion' And How Boston Stepped Up
08:12
Play

This article is more than 4 years old.
A towering Christmas tree from Canada stands on Boston Common. It was lit Thursday night with great fanfare, including fireworks, Santa and song.
The Boston tradition always brings good cheer. That's in stark relief to the catastrophic accident 400 miles away that is at the root of the tree ceremony.
On December 6, 1917 in Halifax, Nova Scotia, two ships collided in the harbor. The crash sparked the largest man-made explosion until the atomic bomb. Two-thousand people were killed, 9,000 others were wounded.
In his new book, "The Great Halifax Explosion," author John U. Bacon has tracked the disaster in Halifax a century ago to the celebratory annual tree lighting in Boston.
"Within one hour of getting the news about this explosion, without being asked, [Massachusetts] Governor [Samuel] McCall — whose lieutenant governor was a guy named Calvin Coolidge — they gathered in Faneuil Hall," explained Bacon, "and within an hour, a hundred city leaders put together a committee — the Massachusetts-Halifax Relief Committee. And they sent two trains, two ships, 100 doctors, 300 nurses, $1 million worth of supplies, cars with gas and chauffeurs ...  enough to run several temporary hospitals. And this saved countless lives."
To set the scene of the disaster, World War I had reached its crescendo overseas. The Allies were sending over high explosives. The French freighter Mont-Blanc had stopped in New York. There, it was carefully packed with dynamite, TNT and a poisonous chemical to put in shells aimed at the Germans.
Bacon said the ship and cargo weighed about 6 million pounds — 13 times the weight of the Statue of Liberty. He spoke with WBUR's All Things Considered host, Lisa Mullins.
Interview Highlights
On the disaster: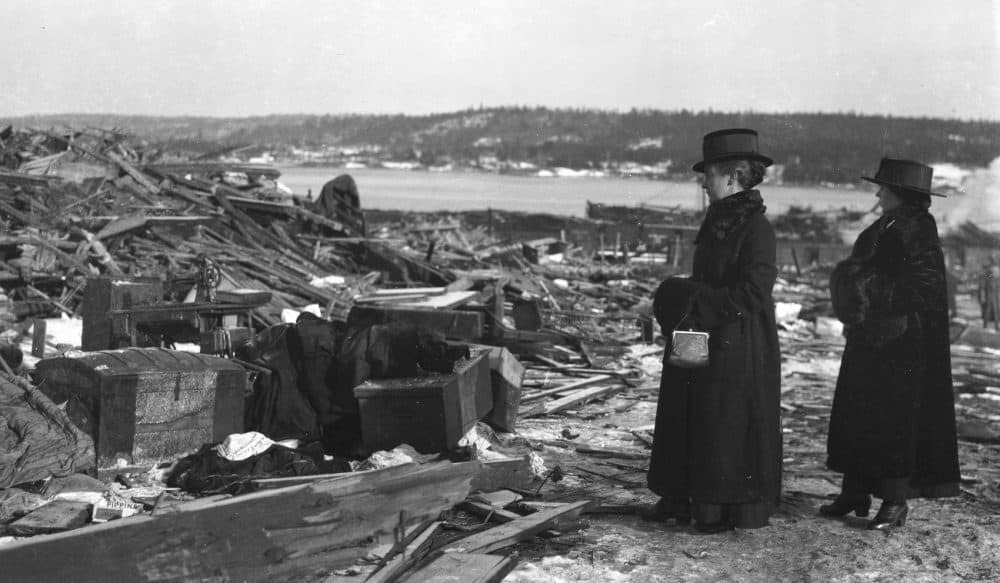 The timing [of the ship accident and explosion] is cruel. It's 8:46 in the morning. School kids, guys going to offices and factories, they all stop and watch this thing burn. And they go, 'Ooh' and 'Ah,' having no idea what's going to happen next. The temperature of the hold of Mont-Blanc skyrockets to 9,000 degrees Fahrenheit. That's six times hotter than molten lava. At the same time, of course, it expands in all directions at 3,400 miles per hour. That's four times the speed of sound. J. Robert Oppenheimer, the architect of the A-bomb, calculated correctly that the Mont-Blanc explosion was one-third to one-fifth as powerful as the bomb we dropped on Hiroshima. The ship itself basically disintegrates and becomes a two-mile-high mushroom cloud ...  Next comes a 35-foot tsunami, because the pressure also went down. You could see the sea floor briefly, and that creates a 35-foot tidal wave that hits the shore of Halifax. If you survived the first two things, this would pull you back into the harbor and drown you.
On the generosity of Massachusetts: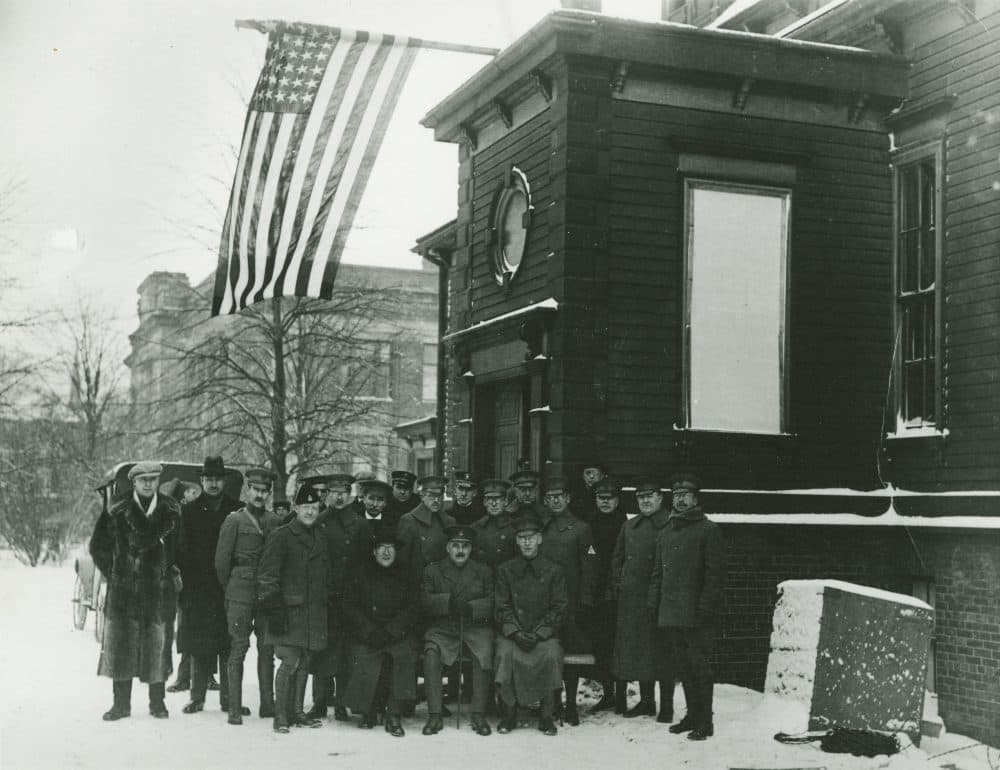 Your governor and your Boston mayor at the time had planned for World War I in a way that no other city in North America did. They knew that something might happen in Boston Harbor. If it did, they had to have people lined up — doctors, nurses, material supplies. So they sent all these materials, all these people, all these trained professionals — including welders and glaziers to put window panes back in the windows ... And when they packed the ships in Boston Harbor, they announced this through the newspapers, and there was a throng that came down to drop off things themselves. A high-society lady pulls off her fur coat and puts it on top of the pile. And they cheer the ship as it goes to Halifax. That generosity, by the way, was never, ever forgotten.
This segment aired on December 1, 2017.