6,000 Cases May Be Dismissed After Former State Chemist Misconduct
Play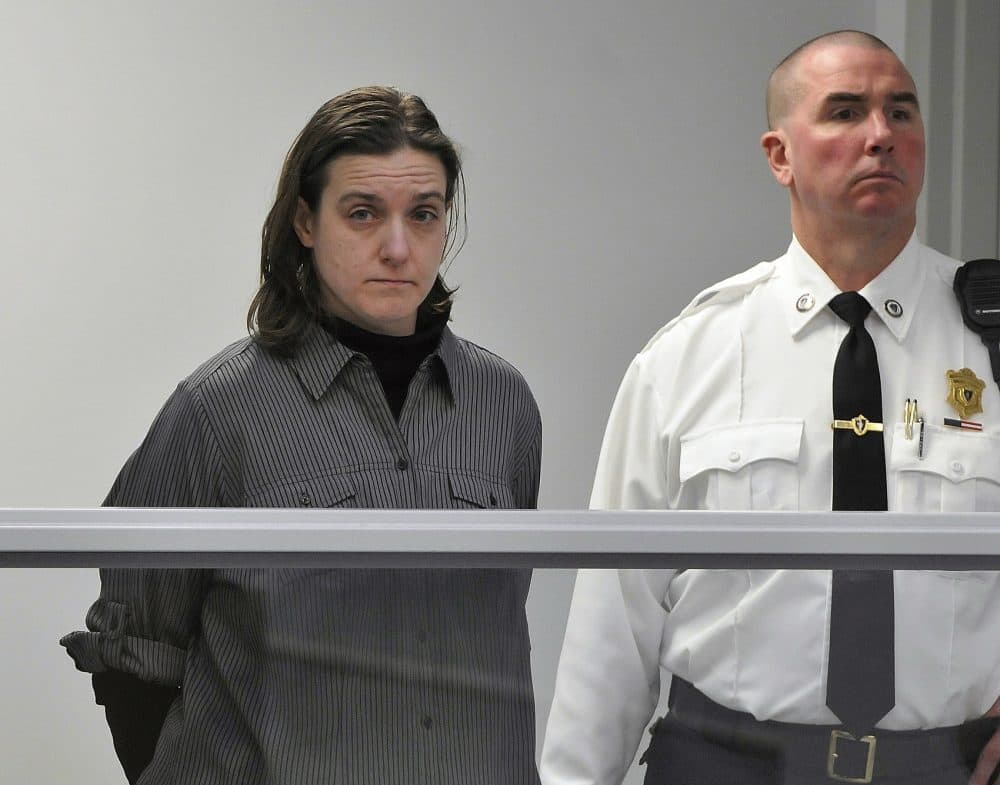 This article is more than 5 years old.
For the second time this year, Massachusetts prosecutors are dismissing thousands of criminal drug convictions because of misconduct by a former state chemist.
On Thursday, most of the state's district attorneys notified the Supreme Judicial Court that some 6,000 cases may be dismissed because of the misconduct by Sonya Farak. She pleaded guilty in 2014 to charges of stealing and using drugs from the Amherst lab where she worked for almost a decade.
"She corrupted thousands of cases. She stole drug standards, seized drug samples she was supposed to test, and used the stolen drugs while she was on the job," said Randy Gioia, deputy chief counsel for the Committee for Public Counsel Services.
CPCS, the American Civilian Liberties Union and the Boston law firm Fick & Marx filed suit on behalf of two women whose drug convictions were based on evidence tested by Farak. The suits say that prosecutors never notified defendants of Farak's misconduct, or of apparent efforts by prosecutors in the Massachusetts attorney general's office to hide her misconduct.
A Superior Court judge in June ruled that two former assistant attorneys general committed fraud by not disclosing the extent of Farak's misconduct.
Both the DAs and the AG had until Thursday to tell the high court how many so-called "Farak cases" would be dismissed. Because the cases happened years ago, it's not believed that any of the defendants are still incarcerated.
"This shameful history of misconduct keeps repeating itself," said Carol Rose, executive director of the ACLU of Massachusetts. "Except this time around it's at the highest levels of the criminal legal system. When the evidence tampering came to light, the DAs failed to notify thousands of people until we filed suit."
These suits are in large part the result of work by Luke Ryan, a criminal defense attorney in Northampton. Ryan questioned whether the evidence in his clients' drug cases was solid because it had been tested by Farak. He says the assistant attorneys generals first indicated that Farak was arrested just days after her misconduct began. But Ryan discovered that the prosecutors were well aware that Farak had struggled with drugs for a long time.
"As [the former assistant AGs] were resisting and disputing the possibility that the misconduct was longstanding, they were withholding documentation showing conclusively that Farak was engaged in misconduct, and they identified third parties providing treatment for her drug addiction," Ryan said.
Ryan's cases resulted in the judge ruling that the two former assistant AGs — Kris Foster and Anne Kaczmarek — committed fraud by not disclosing the scope of Farak's evidence tampering. Foster and Kaczmarek did not work under current Attorney General Maura Healey and no longer work in the AG's office.
"We need a justice system that reserves its harshest judgement not for poor people who have struggled with addiction like our clients, but instead for powerful people who commit misconduct, like the egregious misconduct of the attorney general's office," said Matt Segal, legal director for the ACLU of Massachusetts.
A statement from Healey's office said: "It's unfortunate that the ACLU chose to stage a press conference without reading the AG's brief filed in this case, which calls for speedy relief for these defendants. For the ACLU to suggest otherwise is false and irresponsible." The response also points out the attorney general did not bring criminal charges against any of the Farak defendants.
But many legal observers say how prosecutors reacted to Farak's misconduct is just as damaging to the criminal justice system as wrongful convictions, and they should face consequences.
Scott Harshbarger -- a former Massachusetts attorney general and former district attorney who is now with the law firm Casner & Edwards -- says those former prosecutors should be held responsible.
"If the case shows that these assistant attorneys general knew about this, wrongfully withheld it, then that's an appropriate criticism and subject to the appropriate misconduct charges," he said. "That does not necessarily mean the AG's office itself — which was not bringing these cases but reviewing them — is responsible for that."
District attorneys filed both a joint response and separate responses with the high court Thursday. A rundown:
The Hampden district attorney's office agreed to dismiss nearly 4,000 cases related to Farak.
The Northwestern district attorney's office emailed a statement saying it is seeking to dismiss "every single drug conviction" tainted by Farak, which comes to nearly 1,500 cases.
Middlesex County agreed to dismiss all of its Farak cases — 245 cases.
Essex County indicated that it will dismiss all juvenile and district court cases, which it says is less than 500 cases.
Plymouth County will dismiss approximately 100 cases, Worcester County will dismiss more than 200, Suffolk County will dismiss all of its 134 Farak cases, and Norfolk County will dismiss convictions for 76 defendants, according to emailed statements.
The Cape and Islands district attorney did not respond to the court but emailed a statement saying, "We have relatively few affected cases, and are working diligently to comply with the Court's directives."
In their joint response, the district attorneys say they carefully reviewed all affected cases. They also said the attorney general's office is a separate government agency over which the district attorneys have no control, so the DAs do not bear responsibility for any prosecutorial misconduct.
The district attorneys and the AG say the Farak cases should be handled the way the high court handled the cases tainted by another former chemist, Annie Dookhan. She was arrested in 2012 for widespread evidence tampering at the former Hinton state drug lab in Boston. This summer, after years of litigation, prosecutors agreed to dismiss more than 20,000 cases that were based on evidence tested by Dookhan.
This may not be the end of the litigation over Farak's misconduct. The SJC must move to formally dismiss the 6,000 cases. And the ACLU wants the SJC to address some of the issues raised in this case, particularly prosecutorial misconduct and the role of the attorney general.
This article was originally published on December 01, 2017.
This segment aired on December 1, 2017.