MS-13 Member Pleads Guilty To 2015 Murder Of 15-Year-Old In East Boston
05:00
Play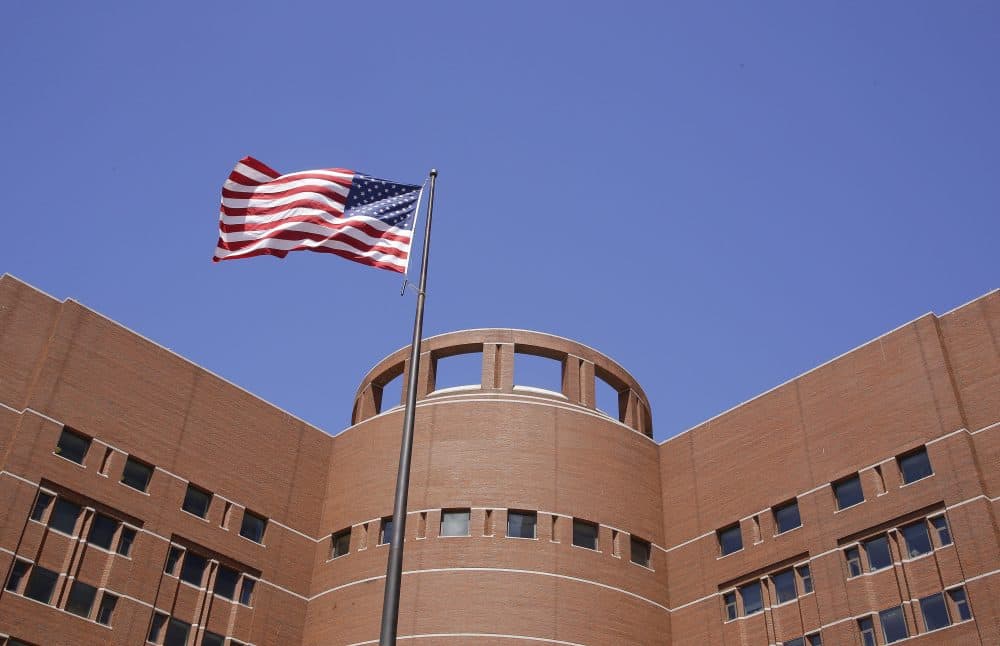 This article is more than 3 years old.
A steady stream of local gang members from Central America has been flowing into federal court in Boston to plead guilty to criminal charges involving their ties to the violent transnational gang MS-13.
Sixty-one associates and members of MS-13 have been indicted, and 19 are accused of murder.
One of them, Henry Josue Parada Martinez, was in U.S. District Court in Boston Wednesday, where he pleaded guilty in the September 2015 death of a 15-year-old in East Boston.
Twenty-one years old, in full black beard, Parada came into the courtroom with two U.S. Marshals and a nickname (members of MS-13 refer to each other by nicknames) that would make a defense attorney wince: "Street Danger."
By his own admission, the name fit.
As the mother of Wilson Martinez, the teenage victim, watched motionless, the prosecutor described the central tenet of MS-13: Kill your rivals and kill informants.
As a federal prosecutor before joining the law firm of Donnelly, Conroy & Gelhaar, Peter Levitt led the five-year investigation that led to the sweeping indictment.
Levitt said investigators learned that young, newly arrived immigrants are often the targets of MS-13. The gang recruits in schools, even having its younger members show their classmates promotional videos on their cellphones at lunch.
"They would be befriended by older members of MS-13," explained Levitt. "You know, 'Come smoke weed with us in the park, come hang out with us, come meet our friends.' "
Like a Mafia recruit needs to "make his bones" before he is made a member, Levitt said a teenager who aspires to full status in MS-13 has only one path upward.
"Typically, to become a homeboy, a probationary member will have to participate in the murder of a rival gang member," he said.
Parada, or "Street Danger," was one of those probationary members awaiting his assignment. Martinez would be his chance.
Two years earlier, Martinez had left El Salvador to escape the tyranny of gang violence there and reunite with his mother and brothers in East Boston. He was one of those young new immigrants from Central America who draw the gang's recruiters.
He never joined MS-13. But he marked himself for execution when he posted photos on Facebook showing him flashing the hand sign of the 18th Street gang, the archenemy of MS-13. That was the proof they needed.
In the courtroom, "Street Danger" seemed unaffected as the prosecutor described how, in the hope of becoming "homeboys," "Street Danger," along with a juvenile defendant and two other defendants nicknamed "Bloody" and "Criminal," embraced the opportunity to kill Martinez.
"One of the things that MS-13 is known for is planning its murders very deliberately and specifically, and then planning the murder to do it in a way that they are most likely to get away with it," Levitt said.
Their plans are often in the dark, in parks, or at night, on a beach. In this case, that turned out to be Constitution Beach in East Boston. They took two months to plan the murder of Martinez.
Prosecutor Christopher Pohl told the judge that, if there were a trial, the government would prove the defendants lured the victim into a trap by posting fake pictures on Facebook so they could pose as an attractive young woman.
Believing a relative of the made-up woman wanted to meet and that a relative of hers was picking him up, Martinez got on the back of a scooter behind a driver whose face was hidden by a helmet. They drove to the beach, where the killers were waiting.
In the courtroom, Estela Martinez, the victim's mother, sat still and composed as the death of her son was recounted, the death of the boy she hoped would escape the gangs in El Salvador.
He was stabbed to death, said the prosecutor who spared his mother from the detail that four gang members shared two knifes.
Levitt said that like the meticulous planning for these initiation rites, the execution itself follows MS-13 form and custom.
"It's multiple members of MS-13, killing an individual with knives or machetes, and sometimes passing them around killing a young victim," he said.
In court, the judge asked Parada, "do you disagree with anything the prosecutor has said?"
"No," said Parada.
Another admitted MS-13 killer, he is one of 25 defendants who have pleaded guilty in hopes of getting something better than life in prison when he comes back to court in March.
This segment aired on December 1, 2017.