Baker Backing Democrat Jones In Alabama Senate Race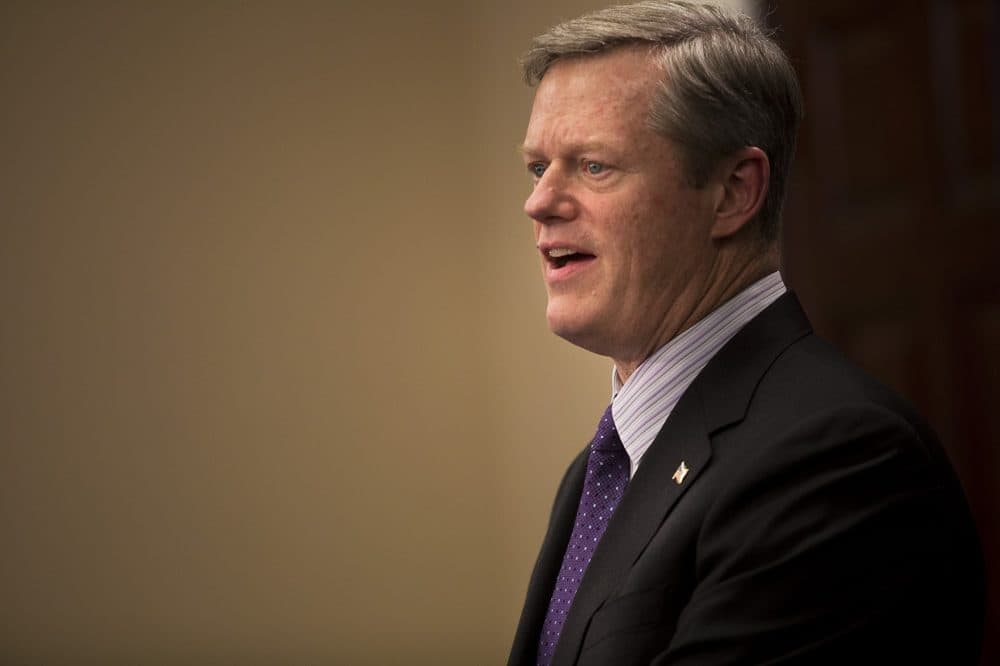 This article is more than 5 years old.
Gov. Charlie Baker supports the Democrat running for U.S. Senate in Alabama against Roy Moore, the controversial Republican who has been dogged by multiple accounts that he made sexual advances toward teenage women well into his adult years.
The Republican governor reiterated his belief Monday that Moore is unfit for the office and noted that Doug Jones, a Democrat, is the only alternative on the ballot in Tuesday's contest.
"I certainly don't want to see Roy Moore win. That means, obviously, that I would be supporting the alternative," said Baker, when asked if he supports Jones. Baker blanked his presidential ballot last year after expressing reservations with both candidates Donald Trump and Hillary Clinton.
"I certainly don't want to see Roy Moore win. That means, obviously, that I would be supporting the alternative."

Gov. Charlie Baker
Although the Republican National Committee has resumed its support for Moore who received an endorsement from President Trump, Baker does not plan to end his participation in a joint fundraising effort between the MassGOP and national Republican Party that sends 40 percent of contributions raised by the governor for MassVictory to the RNC, according to the Boston Globe.
"If I thought raising money for the Mass. Republican party had anything to do with Roy Moore's campaign, I would not do it, OK?" Baker told reporters Monday afternoon, after announcing a set of policies aimed at spurring housing production. "I said from the beginning that I didn't think he was fit for office."
One of three Democrats running to challenge Baker in 2018 — Newton Mayor Setti Warren — disagreed with Baker's assessment of the fundraising partnership.
In a statement last week, Warren said, "In an attempt to get around Massachusetts campaign laws, Gov. Baker is helping to fund an organization that is now being used to defend an accused child molester. We already knew that the RNC was spending money it collected from fundraising schemes like Baker's to pay the legal bills of the Trump family, but their support of Roy Moore is a bridge too far."
On Nov. 20, about a week after the Washington Post reported that at the age of 32 Moore initiated a sexual encounter with a 14-year-old girl, Baker said he didn't think Moore should be seated even if he won the special election.
"I think he should step down, and if he doesn't step down, I don't think he should sit," Baker told WGBH's Jim Braude and Margery Eagan last month.
Jones, a former federal prosecutor, edged past Moore in polls after the first stories broke, but Moore has surged back into the lead, according to Real Clear Politics' polling average.
The former judge's stance that Muslims shouldn't be allowed to serve in Congress and Moore's belief that Barack Obama wasn't born in the United States made him a divisive candidate before the Post documented five women's claims that Moore pursued them when they were teenagers and he was a prosecutor in his thirties. After the Post article, four more women stepped forward claiming Moore made unwanted advances.
Baker is not quite on the vanguard of Republican opposition to Moore. Arizona Republican Sen. Jeff Flake, who is not seeking re-election, created an online sensation when he posted a photo last week of a $100 check he made out to Jones's campaign. "Country over party," Flake tweeted last Tuesday.
Last year was the first time in Baker's memory that he did not support the Republican candidate for president, he said in May 2016. On Monday, the governor said the Alabama Senate special election is not the first time he has supported a Democrat.
"Oh no, I've voted for Democrats before," Baker said, pausing before he continued. "Non-partisan elections, local elections in places I've lived, I've voted for Democrats. But I do believe that competitive politics is a good thing. And I believe we've had an opportunity to create a more competitive climate here in Massachusetts over the past couple of years."