In Wake Of Cambodia's Genocide, Survivors Create Art To Honor Their History And Heal
A nine-part score weaves together multimedia art, music and movement. It includes a traditional Cambodian ensemble, a choir and a Western string orchestra. The setting? A countryside funeral during Cambodia's brutal Khmer Rouge regime.
The show is "Bangsokol: A Requiem for Cambodia," and fuses Cambodian musical and funeral traditions with the symphonic style of the West to tell the story of the genocide. But "Bangsokol" is as much a story of healing as it is tragedy, using art to both reckon with the traumatic past and find strength to move forward.
"Sometimes you need art," says Rithy Panh, the filmmaker and director of "Bangsokol" known for his work on the Oscar-nominated film "First They Killed My Father." "After all this tragedy … we are still playing music, we have creativity and imagination. That is the point."
The performance, which ArtsEmerson is bringing to Boston's Paramount from its homebase in Phnom Penh, Cambodia, on Tuesday, Dec. 19 and Wednesday, Dec. 20, draws its name from a bangsokol ritual — the Buddhist equivalent to the Catholic Requiem Mass. The ritual for the dead includes placing a white shroud on the body, and removing the shroud so the spirit can pass on to the next life.
"We wanted to create a piece that spoke from the religious and cultural traditions of Cambodians, many of whom are Buddhist," says Trent Walker, who wrote the production's libretto. "'Bangsokol: A Requiem for Cambodia' reframes that ritual as multimedia art."
"It was the perfect idea — much closer to Cambodian culture," says Phloeun Prim, executive director of Cambodian Living Arts, the international organization that commissioned the production. "Although we really liked the concept [of a requiem], we were trying to identify something really about Cambodia."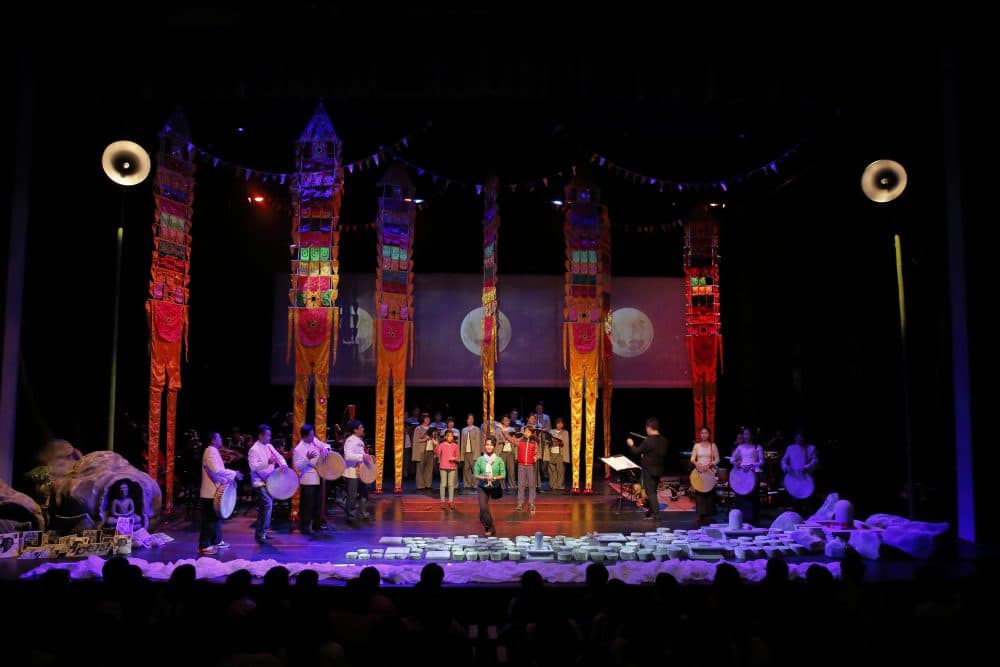 The Buddhist liturgical text, which Walker set and translated from Pali and Khmer to English, creates the narrative of a country funeral, remembering the Khmer Rouge and culminates with prayers for all beings.
"It's not only about death. It's about the mourning … how to keep our minds and our spirit complete after death," says Panh.
The Khmer Rouge, led by the dictator Pol Pot, ruthlessly controlled Cambodia in the late 1970s. Cities were purged and citizens were forced into re-education programs and labor camps — any perceived opposition or inability to work manual labor resulted in death. When the Khmer Rouge fell from power in 1979, an estimated 1.5 to 2 million people had died from execution, starvation and overwork — bones have been found in mass graves across the country.
For both Panh and composer Him Sophy, this is not just a story, but a memory -- both men survived the genocide.
"We all lost somebody," says Panh, noting that his experience is not unique, but something shared with other Cambodians of his generation, including those involved in the show -- many lost family to the violence. "We all have these experiences, but we still come together to create a masterpiece."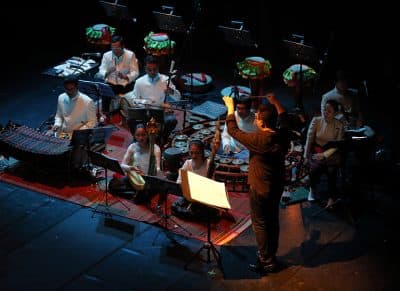 Other members of the production, like the majority of the Cambodian population today, were born during or after the genocide — due to the mass killings, over 60 percent of Cambodian people are under the age of 30. Panh hopes "Bangsokol" succeeds in both educating this younger generation about their history while also paying tribute to the victims.
"A lot of people don't know the story of their country," says Panh. "We need to make tribute to them — they sacrificed something for us, and today we want to tell the new generation who they are."
"It is important for the young people to know where we come from," he adds.
Some of that education may come from the larger exhibit put on this month by ArtsEmerson. Leading up to this performance, the organization hosted a number of community engagement events looking at Cambodian cultural and musical traditions, including a conversation with Him Sophy, a Cambodian classical music workshop and a film screening of Panh's "First They Killed My Father."
"Maybe art can bring some light, and people can try to understand," says Panh. "This is a requiem about who we are, how we deal with our history and how we move together in the future."
---
"Bangsokol: A Requiem for Cambodia," presented by ArtsEmerson, is at the Emerson Paramount Center on Tuesday, Dec. 19 and Wednesday, Dec. 20.