While First Night Festivities Begin, Some Canceled Due To Cold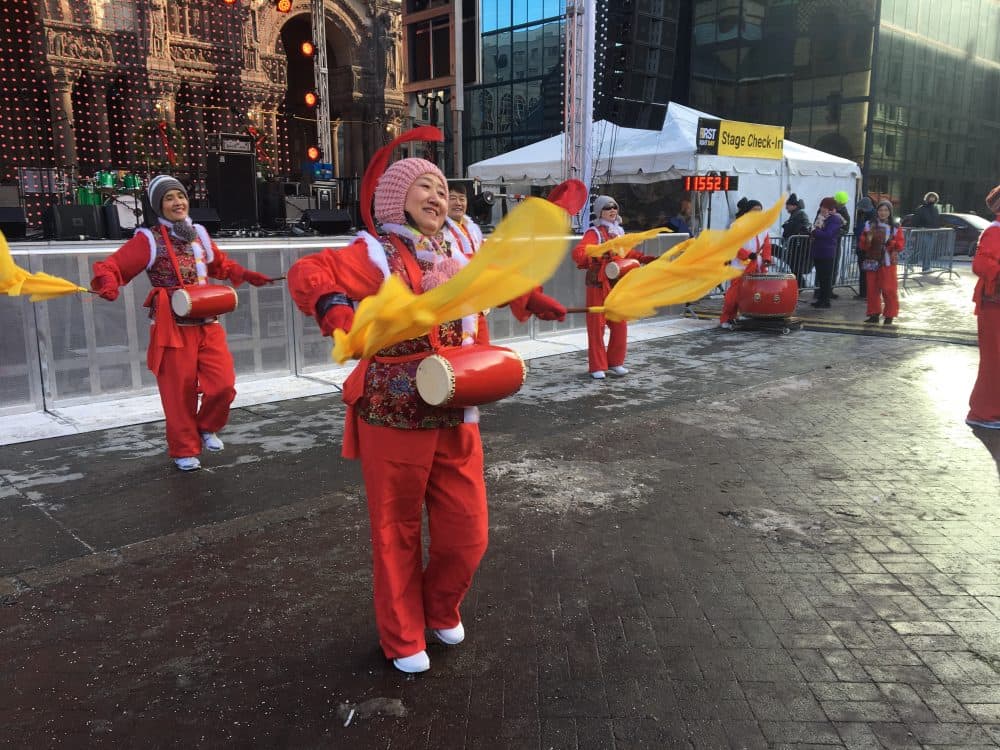 This article is more than 3 years old.
Boston's annual First Night has kicked off with festivities at Copley Square to bring in the New Year. But the cold snap has led First Night organizers to cancel some events. Here's a list of the events that are canceled:
The ice skating show on the Frog Pond (6 p.m.)
The annual parade from Copley to Boston Common (6 p.m.)
The family fireworks show over the Common (7 p.m.)
However, the midnight fireworks show over the harbor is still on.
First Night Begins
In Copley Square around noon, Bill Lehrman came from Old Lyme, Connecticut, with his dog, Bear. He said he came to see the happenings up in Boston and spent the night near his son in Somerville.
When asked if he'll make it to midnight, Lehrman shook his head and smiled.
"Umm, I don't think so," Lehrman said. "We'll be here a couple hours."
And when asked what his resolutions are for the New Year, Lehrman looks down at Bear, his golden retriever.
"To spend as much time in the woods with my dog as I can," he said. "We have a blast out there."
Staying Safe And Warm
Boston Police Commissioner Bill Evans says there are no credible threats to First Night, but extra police will be on hand. And he says in a reaction to the Las Vegas mass shooting, the plan includes officers on rooftops.
"Unfortunately it's a reality now," Evans said. "We did it in the playoffs at Fenway Park this year, which is crazy — the first year we ever had to do that. But, unfortunately, we have copycats out there, people who are inspired to do things like that."
Boston Mayor Marty Walsh says people enjoying First Night should dress in layers. Walsh says if you feel yourself getting too cold — then go home.
MBTA Travel And More
The MBTA is not collecting fares after 8 p.m. on New Year's Eve. You can find more info here.
And you can learn more about First Night events and cancellations on their website.
With reporting from WBUR's Simon Rios, Jeremy Rellosa and newscast unit