Boston's Homeless Have High Hopes For Marty Walsh's Second Term
04:17
Play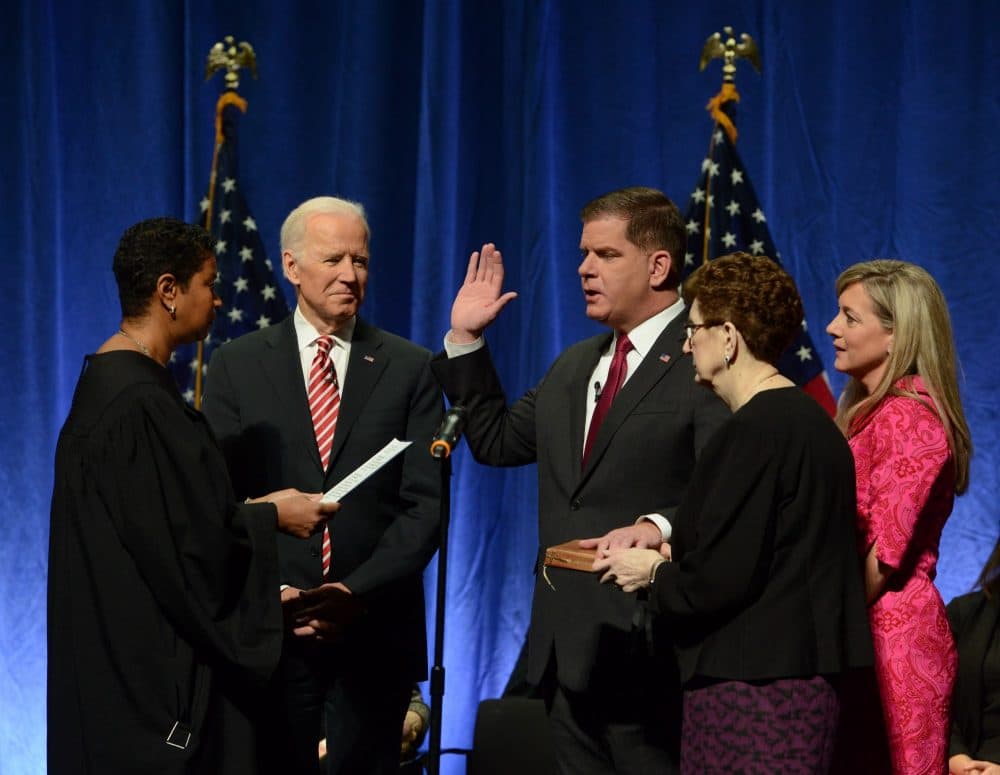 This article is more than 3 years old.
Monday beckoned in the new year, and at the Cutler Majestic Theatre, Marty Walsh was inaugurated as mayor for the second time.
With former Vice President Joe Biden presiding, Walsh committed to making Boston a comfortable refuge for all in his second term — and to leaving no one out in the cold.
A block away on Boylston Street, as the temperature hovered around 1 degree, a few residents of the St. Francis House shelter braved the weather for a smoke and a New Year's greeting.
"See? This is my family. Homeless people, we don't need real family members; we have each other," said Melanie Burey, who is a guest at the day shelter.
When it comes to Walsh, Burey said her main concern is the epidemic of opioid abuse in the homeless community. It's all the more visible after Walsh demolished the bridge to Long Island, and closed down a shelter and rehab clinic there.
"When they closed that place down, it was like opening a bag of worms," she said.
Burey's friend, Jessica DiRosa, has been off of heroin for six months. She said she's staying positive, but both she and Burey want to see tackling the opioid crisis, and housing the homeless, treated as two separate priorities. She knows of too many people who find a home, only to lose it to addiction.
"The housing's given to the wrong homeless people," said DiRosa. "I feel like the people that need treatment before they get the housing should be in treatment."
Neither woman saw much of Walsh's inauguration ceremony, just a block away. But he made the same point. Beating addiction is one thing; finding a home that works is another. And Walsh even took up Burey's suggestion about Long Island, pledging to rebuild the bridge.
Walsh also said he'd build a modern recovery campus there to deal with the opioid epidemic. And he committed to raising $10 million in an attempt to help people like Burey and DeRosa. It'd be a new first for one of America's oldest metropolises.
"Now let's be the first major city to come together as a community to end chronic homelessness for good," he said.
But this is part of Walsh's balancing act in a city in transition, as he aims to entice new corporations to settle here while he assuring the city's poor that they'll survive, even thrive, in an age of rising rents, segregation and economic inequality.
There was no talk of Amazon as Walsh vowed to rebuild schools, to fight for affordable housing extending out into Greater Boston, and to hire thousands more citizens for high-quality jobs.
Biden, who presided over the ceremony, made it clear that Walsh embodied an ecumenical brand of Democratic Party politics, one that doesn't see villains in big business or in immigrant newcomers.
"We don't demonize immigrants. We don't look for scapegoats. ... We don't marginalize people. Folks, we're all in this together, and this guy knows it in his bones," he said.
It remains to be seen how well Walsh can gratify all his different constituencies, solving longstanding problems like homelessness and racial segregation, even as he helps Boston come into its own as an affluent, well-educated coastal stronghold in the Trump era.
Biden argued that Walsh is the right man at the right time for Boston. The city's succeeding, but the mayor's own past experience with alcoholism and cancer may suit him to tackle the deep problems that remain.
Out on the street near St. Francis House, Bury said she caught a bit of Walsh's speech. She didn't know his past — the drinking, the childhood chemotherapy. She said Walsh strikes her as a continuation of Thomas Menino — the highest praise she can offer.
"When a situation happens, he shows up. I think he's there for everyone in this community — I really do," she said.
This segment aired on January 2, 2018.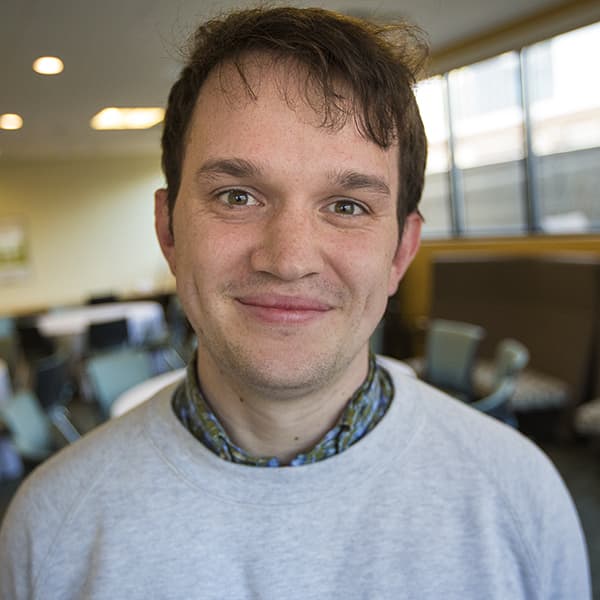 Max Larkin Reporter, Edify
Max Larkin is a multimedia reporter for Edify, WBUR's education vertical.