Forecast: Major Storm Bringing About A Foot Of Snow To Boston To Pick Up Mid-Morning
02:57
Play
This article is more than 3 years old.
Afternoon Update
As I look at new information from the models today, it seems not much has changed about Thursday's big snowstorm.
Story continues below
Current conditions in Boston
The storm is trending westward, meaning there is likely a bit more heavy, wet snow coming into Boston and a chance of a mix of snow and rain, or even a few hours of rain, over the outer tip of Cape Ann.
This also means winds are going to be very strong as the center of the storm comes closer to the coast. The risk of power outages continues to be greatest along the coast and near the rain-snow line.
At the height of the storm — from mid-morning to mid-afternoon — there will be some snow totals falling at 1 inch per hour.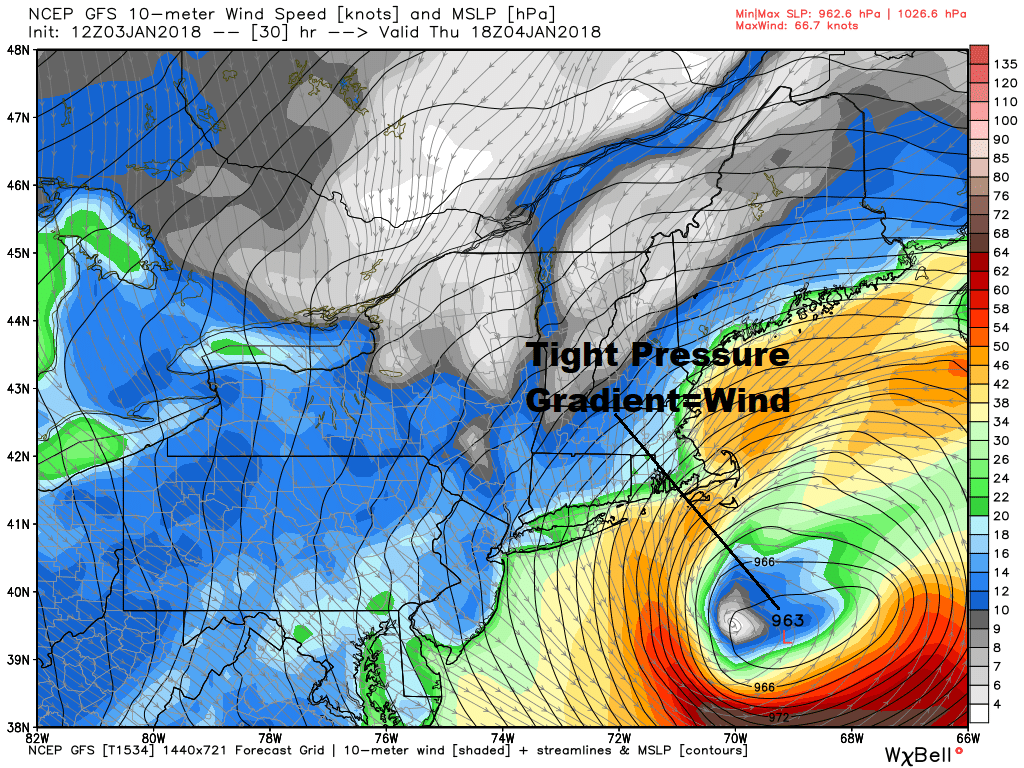 This storm will have heavy snow, but it's the wind, the risk of power outages and the movement of ice chunks inland at the shore that make this something more atypical from winter nor'easters. Those storms, of course, are simply part of living here in New England.
---
Our Earlier Post:
It's no surprise temperatures are cold again this morning, but we do have a bit of a difference this afternoon as readings get into the 20s for the first time since Christmas.
That's the only good news I have for you unless you're excited about a major snowstorm, more bitter cold and the possibility of power outages.
A rapidly developing storm will move along the coastline on Thursday. This storm will come close enough to New England to bring a major snowfall but not a crippling one.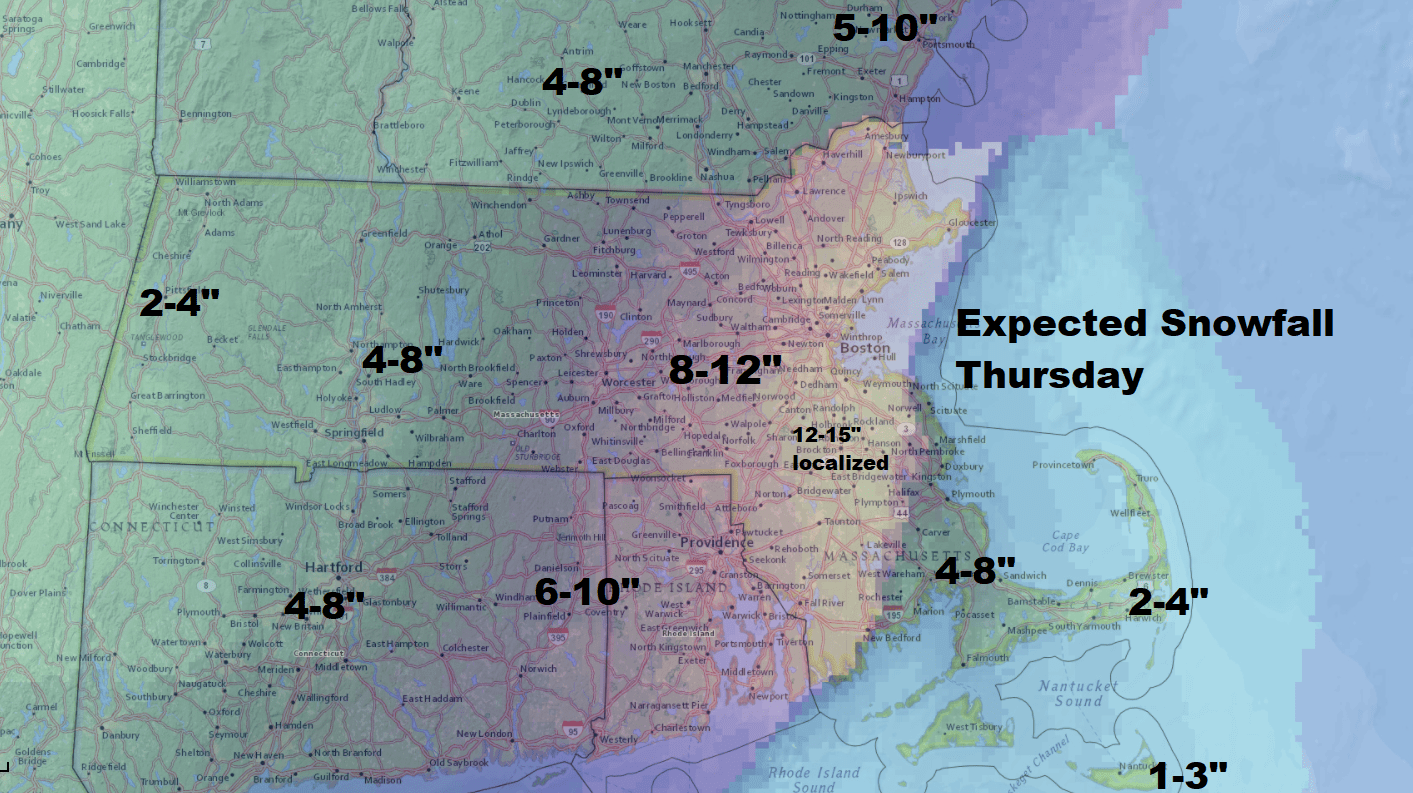 The snow will arrive in the predawn hours of Thursday and will wrap up by sunset. Right now, there's a blizzard warning for parts of Massachusetts, and coastal New Hampshire and Maine.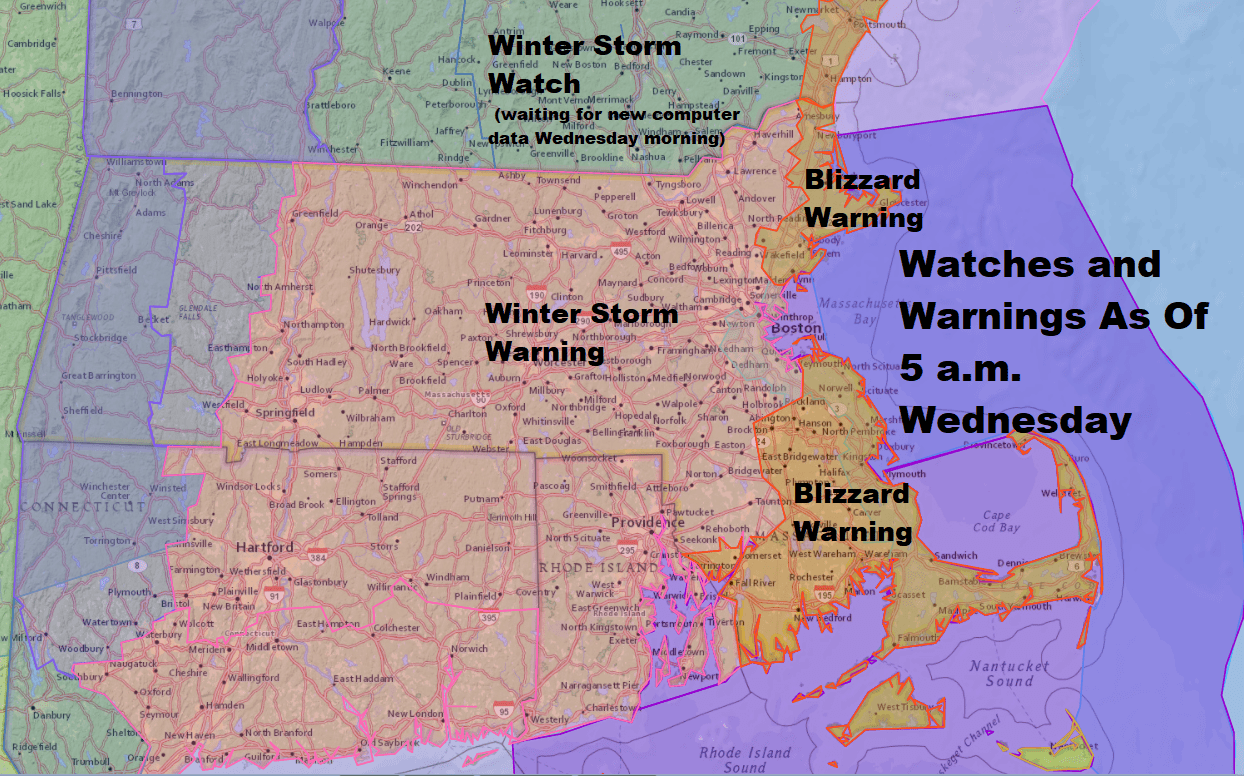 It's important to remember a blizzard tells you nothing about the amount of snow — only that visibility will be under a quarter-mile for three hours or longer due to snowfall, with winds 35 miles an hour or stronger.
The North and South shores are most likely to get blizzard conditions; there is a warning up for parts of Cape Cod but it may not happen depending on where the rain/snow line falls.
The rest of us will have heavy snow during Thursday and travel isn't recommended. Schools will be cancelled, and I suspect many adults won't be heading into work or working from home.
If you do need to travel, the best thing to do would be to get there before 7 in the morning and plan on staying into the evening. The worst time to travel will be from about 9 in the morning until 4 or 5 in the afternoon.
The winds will be strong enough to create scattered power outages, but the snow shouldn't be too wet in most areas, so that's one saving grace. Coastal flooding will also not be a major problem, although with the strong winds from the north, there will be minor to moderate flooding and perhaps some localized damage.
There's chunks of ice floating around Cape Cod Bay and those could be blown onshore, creating some damage in and of themselves. High tide Thursday is from just before 1 to just before 2 in the afternoon so the window for flooded roadways will be a couple of hours either side of that.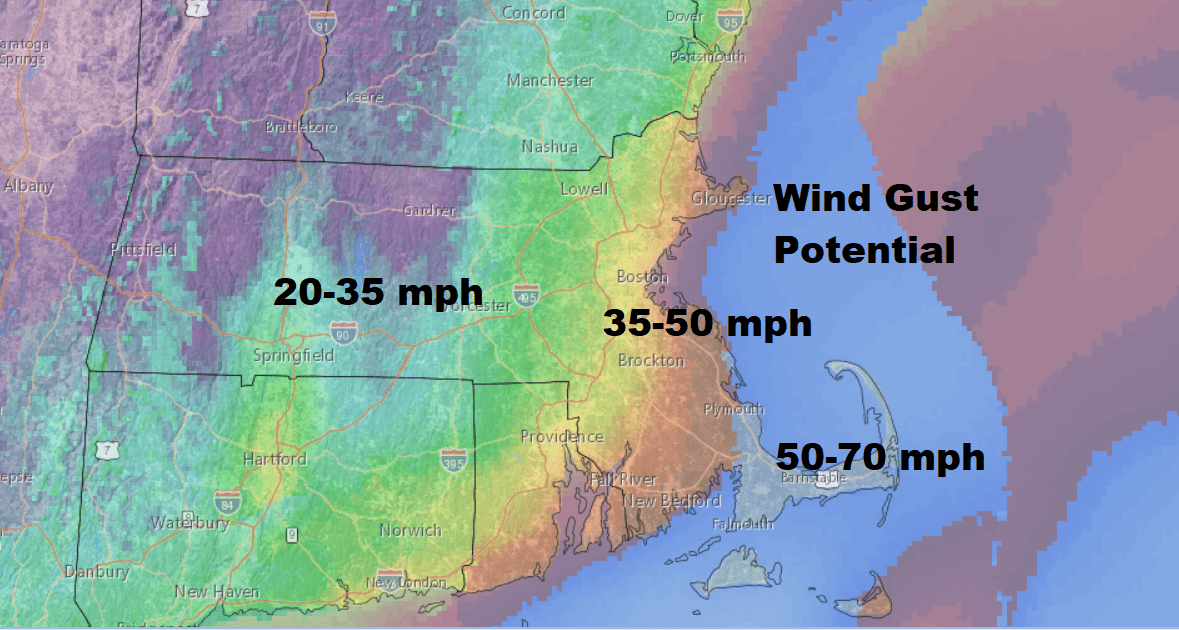 Behind the storm we have about 60 hours of very cold air. Temperatures on Friday will not get out of the lower teens and wind chills will be well below zero.
Saturday, temperatures will not reach 10 degrees in Boston and rival the record low maximum of 7 degrees from 1896. The low temperature Sunday morning is forecast to be about 5 to 10 below zero and with the record in Boston -2 set back in 1896 it's almost a sure bet we're going to break that.
It does turn milder next week for a couple of days, but a true January thaw will have to wait until the second half of the month.
You can follow my updates here and on Twitter @growingwisdom. I'll also be doing a Facebook Live at 3 p.m. today. Submit your questions here.
---
Wednesday: Sunshine with some afternoon clouds and less cold. Highs near 28.
Wednesday Night: Clouding up. Snow developing in the wee hours of Thursday. Lows in the teens.
Thursday: Snow. Near blizzard conditions possible at times. Rain and snow for the Cape. Highs 23-30.
Friday: Partly sunny, blustery and cold. Highs 12-18.
Saturday: Blustery and very cold. Highs 7-13.
Sunday: Very cold at sunrise, then highs in the teens with sunshine.
This article was originally published on January 03, 2018.
This segment aired on January 3, 2018.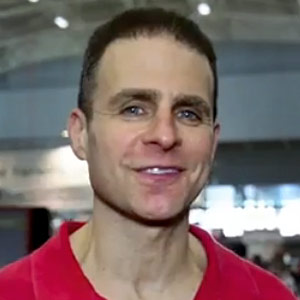 David Epstein Meteorologist
David Epstein is WBUR's meteorologist.