It's Cold, But Workers On The Job Outside Are Prepared
03:17
Play
This article is more than 3 years old.
In the heart of Savin Hill, in Boston's Dorchester neighborhood, a demolition crew takes down a building that used to house Savin Hill Variety.
One of the workers is Justin McDonald. He's been working as a laborer for a decade, and he says the last few days have been the coldest he's ever worked through.
"It's real cold, ya know," McDonald says, steam rising out of his mouth. "Just keeping your extremities moving, layering up. We usually keep a car running, if anyone gets cold we just jump in the car."
Those words are the essence of what experts recommend for avoiding cold stress -- dress appropriately, and be sure to have a warm place to take refuge.
McDonald says his crew will be working outside a couple more weeks before wrapping up until spring. But in the end, he said he doesn't mind the cold all that much -- even if the wind chill makes it 20-below.
"This is what we grew up with," he says. "I kind of like it. You saw the Pats out there Sunday, they were dealing with it, so we can't complain."
Working outside in freezing weather can lower the body temperature and cause the body to experience cold stress. Conditions can include frostbite, hypothermia and trenchfoot, which occurs with prolonged exposure to cold and wet conditions.
The Occupational Safety and Health Administration does not have a specific policy on working in the cold. But employers are encouraged to provide heaters, and schedule frequent breaks in places that are warm and dry.
For the demolition men in Savin Hill, nobody has to tell them when to take a break.
"We don't have a lot of guys working anymore, it's just a couple of us, so we keep an eye on each other and make sure everyone stays warm," McDonald says. "There's a coffee shop next door, we'll go over, get a coffee, and keep going."
McDonald said his good sense has led him and his comrades to stay healthy despite the frigid temperatures.
At Codman Square Health Center, Chief Medical Officer Dr. Chip Severin said the longer you're outside, the higher the risk.
"People who have jobs that require them to work outside for extended periods have to take extra precautions," he says. "Hopefully they'll be able to work with their employer to make sure that they're in a safe situation and can have breaks when appropriate.
"And [the workers] need to themselves take special precautions."
Severin said there has not been a big uptick in frostbite cases at the health center. Other winter dangers, like slipping on ice, continue to pose a greater public health risk.
But Severin said people need to be vigilant when going outside, especially when it comes to the extremities.
"That would include your fingers or toes or nose or ears feeling very numb, feeling very cold," he says. "If they start to get white or pale, those are signs that you're heading towards frostbite and that's when you should get warm."
One of the organizations that depends on cold weather work is the Massachusetts Department of Transportation.
MassDOT Highway Administrator Jonathan Gulliver says his workers are the unsung heroes of Massachusetts, keeping the roads, tunnels and bridges in working order no matter the weather.
"These guys are out in all weather, Gulliver says, "you name it, responding to crash scenes, clearing snow and ice, handling whatever road hazard."
And he said the 300 to 400 workers outside on any given day know to layer up and when to seek shelter.
"We tell the guys, 'Use common sense,' " he says.
Dr. Chris Baugh, medical director of the emergency department at Brigham and Women's Hospital, says most people who work outside know how to handle the cold.
"I feel like those folks have been doing this for quite a while and understand the risks fairly well and do a good jobs of protecting themselves," he says. "We see more often in the emergency department people who don't spend as much time outside normally ... say someone who misses a bus and is out there longer than they expected and they weren't really prepared."
But even during a historically cold stretch, Baugh says New Englanders are generally a weather-savvy bunch.
"It doesn't seem like a surprising amount of frostbite for Boston in December and January," Baugh says. "I think that just speaks to the local residents being smart about their time outside."
This article was originally published on January 03, 2018.
This segment aired on January 3, 2018.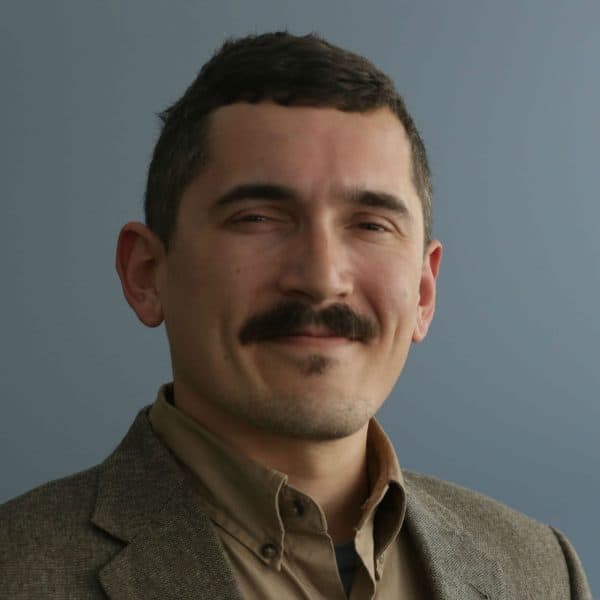 Simón Rios Reporter
Simón Ríos is an award-winning bilingual reporter in WBUR's newsroom.