Forecast: Some Coastal Areas See Tide Levels Not Seen Since Blizzard Of '78
This article is more than 3 years old.
Here is our full story on the storm. Below is WBUR meteorologist David Epstein's weather reports as the storm progressed Thursday. He'll have more updates as Massachusetts residents dig out early Friday morning.
Midday Storm Update: High Tides And Flooding
I wrote earlier this week this was not a storm we wanted to hit us head on, and in spite of it being hundreds of miles off the coast, the tides in Boston Harbor have risen to levels not seen in nearly 40 years.
The tides will become the big story from this powerful storm, and while a foot or more snow is still likely in many areas, the extremely high water along the coast is the part of the storm that was under-forecasted.
The chart below (click to enlarge) shows the highest tides reached at Boston Harbor since the 1920s. The storm is moving very quickly. So, unlike the blizzard of 40 years ago, we won't see successive high tides with flooding.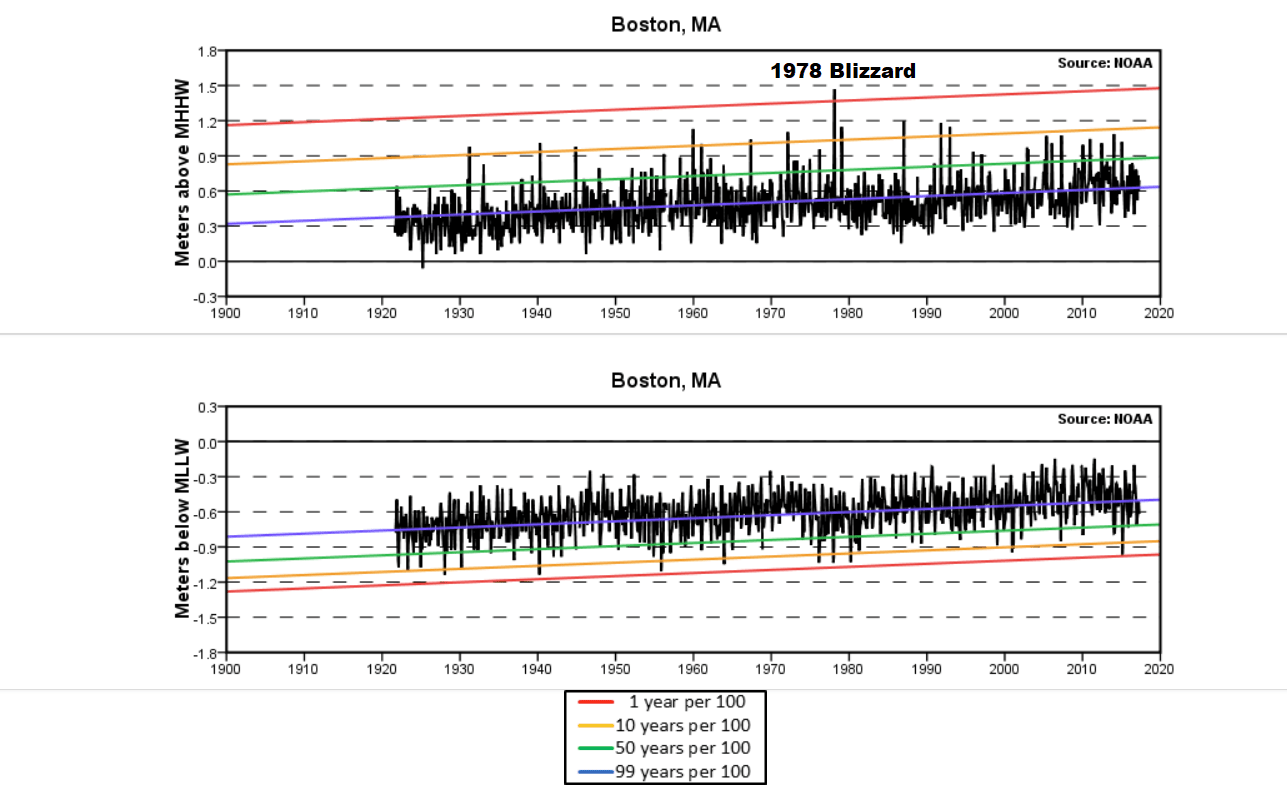 ---
More From David Epstein's Morning Forecast
This morning, you may be wondering, is the storm going to be as bad as everyone's been talking about? It is, after all, January — a time when we get nor'easters.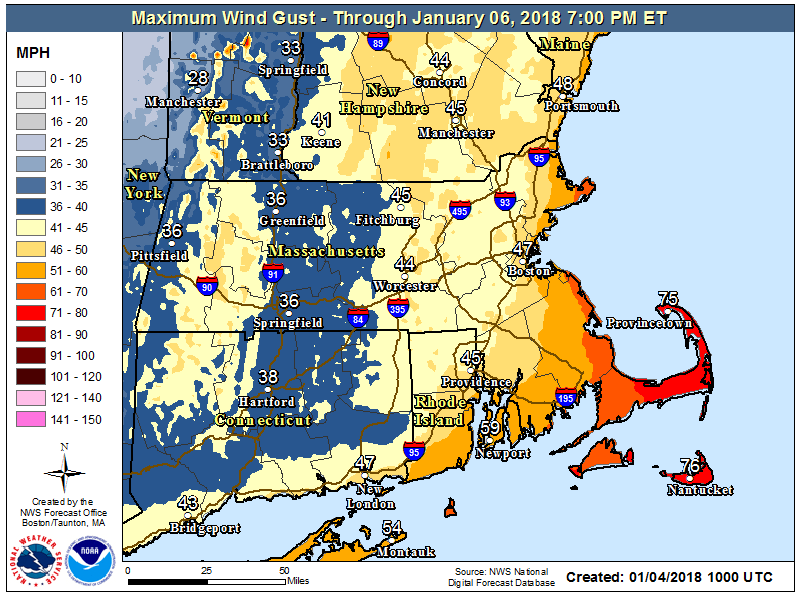 From the meteorological community standpoint, this particular storm is developing unusually quickly with a quickly increasing intensity. So yes — it's a big deal.
As storms develop and become stronger the air actually rises quickly in the center of the low. That rising air has to be replaced, because we can't pull air off the planet and create a vacuum. So as the air rushes in to replace the rising air, it creates a lot of wind. The more the air rises, the more replacement needs to happen and the faster the winds blow.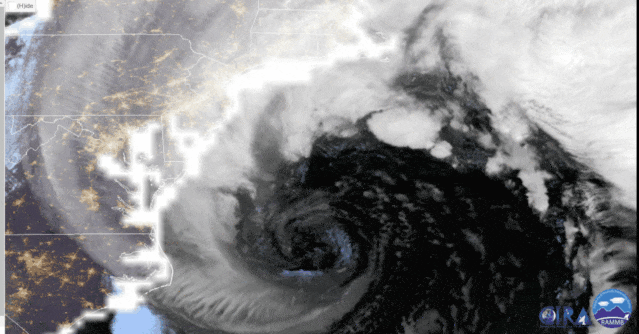 What does that mean for today? The storm has already brought winds over hurricane force to Wellfleet and Nantucket. Gusts are expected in Greater Boston to 50-55 miles per hour. That is strong enough to bring down trees and power lines.
With the eventual temperature drop behind the storm it creates a situation that's actually dangerous. That's why the storm's getting so much attention — because of the wind and cold, not because we're going to see record-breaking snowfall.
Timing Of The Storm
With all that in mind, let's break it down. If you need to travel today, your best bet is to go before 9 a.m. At about 4 p.m., the snow will get at its heaviest; blizzard conditions, especially along the coast, could occur during this time.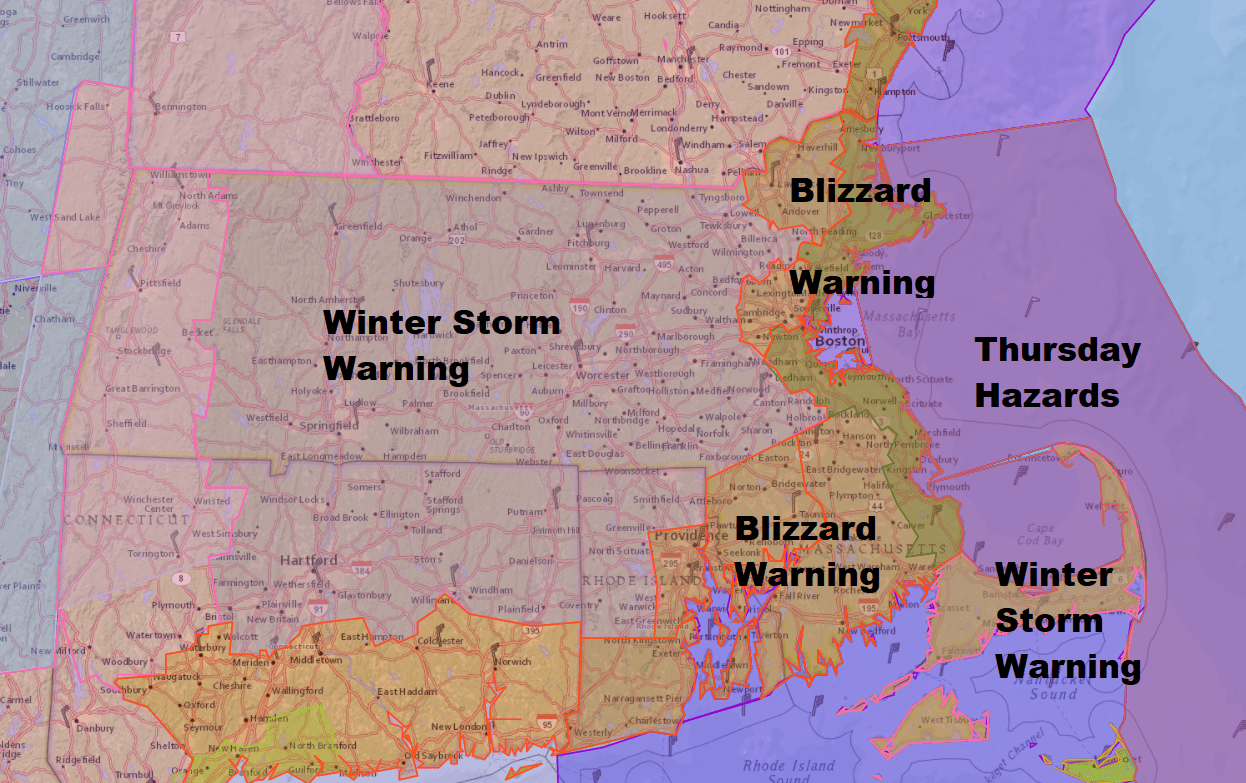 The snow starts to lessen in intensity around sunset and fully ends sometime between 8 to 11 p.m. The winds will continue to blow the snow around and create drifts.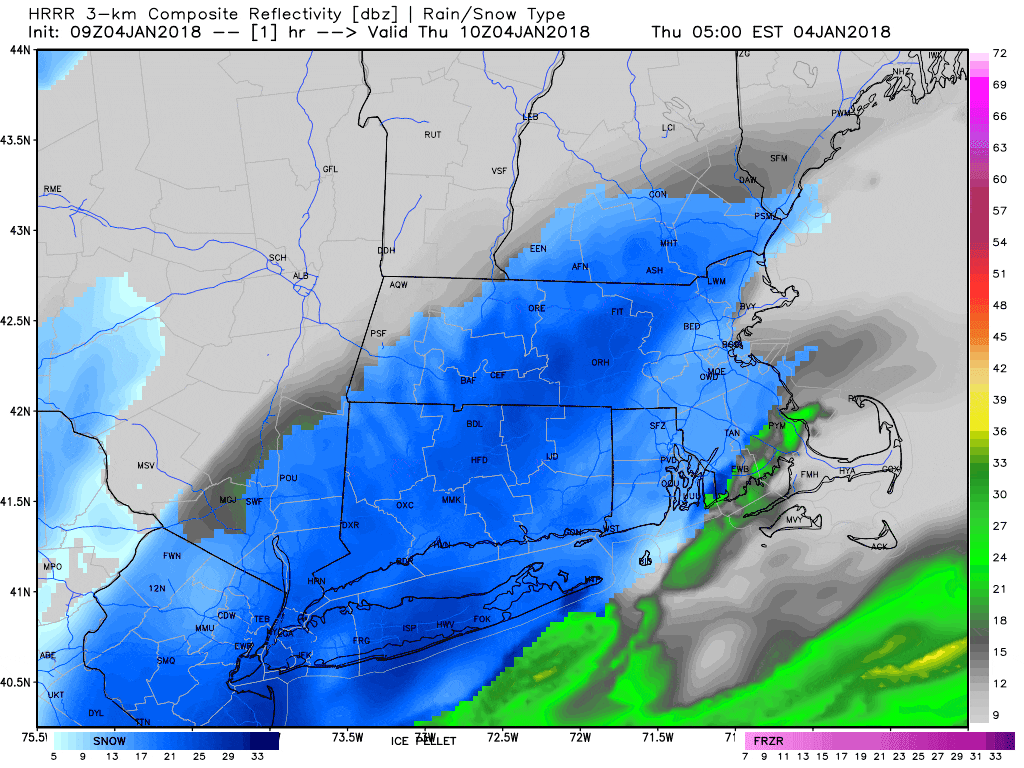 Coastal Flooding
Along the coastline, high tide is just before noon to about 2 p.m., depending on where you are. Since there's chunks of ice floating around from all the cold weather, some of that could be blown onto some docks or even structures and create damage.
The water will also rise and flood some shore roads and perhaps other properties which typically flood in these situations. All of that will be relatively minor. I don't expect widespread moderate coastal flooding or coastal damage. Here again the wind is going to be the big issue.
Story continues below
Current conditions in Boston
The winds will increase along the coastline later this morning and really ramp up this afternoon. If you live 15 or 20 miles away from the coastline it will take a little longer for the winds to become strong but there as well the winds will be gusty enough to create some scattered power outages.
Total Snowfall
Snowfall will range 8 to 14 inches in a wide swath across the area with some places seeing a little bit more and some seeing somewhat less as these bands set up during the day.
On Cape Cod the snow will start as rain and then change to snow. Here the snow will be heavier and wetter and you'll definitely want to clean it up as quickly as possible because as temperatures fall there will be a flash freeze.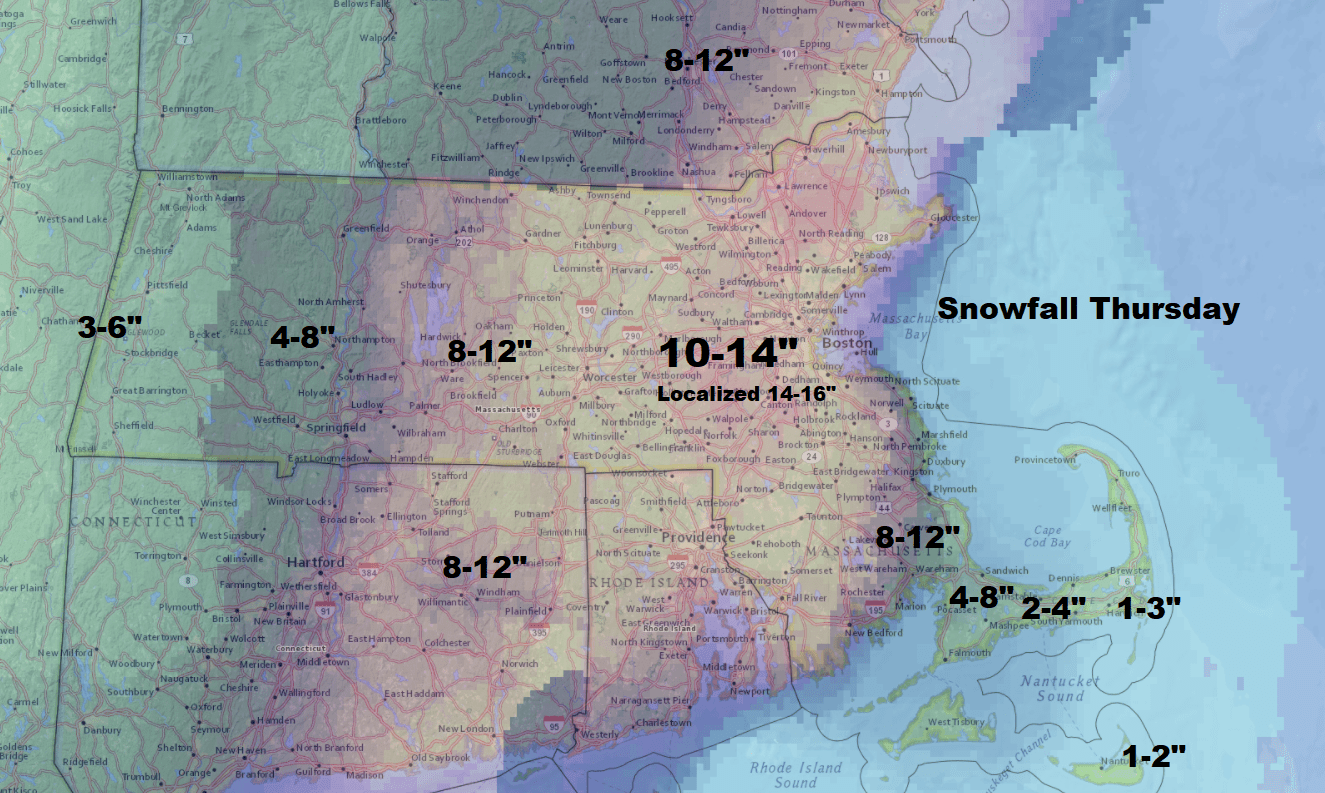 More Bitter Cold
It gets very cold behind the storm with highs Friday in the upper single numbers and lower teens and mainly in the single numbers on Saturday. Hopefully any power loss is restored quickly, but if you do lose power for an extended period of time and can let your water slowly drip it can help prevent the pipes from freezing.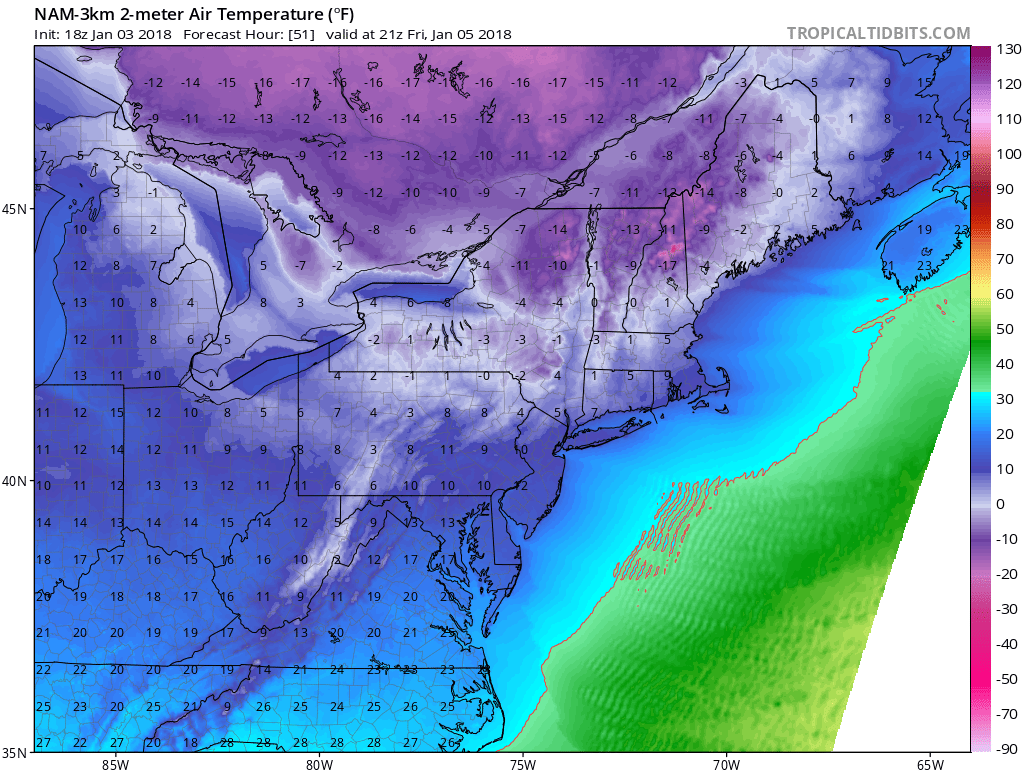 There is some moderation in temperatures Monday and Tuesday, but more cold air comes in later in the week.
You can follow my updates here and on Twitter @growingwisdom. 
---
Thursday: Snow. Near blizzard conditions possible at times. Rain and snow for the Cape changing to snow with a flash freeze there. Highs 23-30.
Thursday Night: Snow ending. Very windy and cold. Lows 3-11.
Friday: Partly sunny, blustery and cold. Highs 12-18.
Saturday: Blustery and very cold. Highs 7-13.
Sunday: Very cold at sunrise, then highs in the teens with sunshine.
This article was originally published on January 04, 2018.