WBUR Poll: 21 Percent Of Mass. Voters Say They've Been Sexually Harassed At Work
03:32
Play
This article is more than 3 years old.
One in five Massachusetts voters — a total of 21 percent — report having received an "unwanted sexual advance or other verbal or physical harassment of a sexual nature at work," according to a new WBUR poll (topline, crosstabs) out Thursday.
Among the female respondents, however, the number is much higher, with 33 percent of women voters reporting they've been sexually harassed. That number rose again, to 37 percent, among women under 50 who participated in the poll.
A Troubling 'Part Of The Fabric Of Your Life'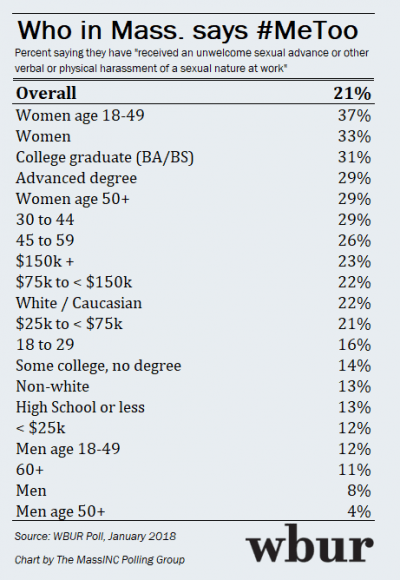 Alise Crossland, 38, of Lancaster, said she has endured several such experiences as a worker — the first of which occurred when she was 15 or 16, as a higher-schooler working at a fast-food restaurant.
"When I'd go in for my salary review for raises," Crossland recalled, "my manager at the time would say things like, 'if you sit on my lap, I'll give you an extra 15 cents an hour.' "
Crossland said she had no idea what to do about the harassment, or whom to report it to. She said that until the #metoo movement exploded this year, she had not spent much time thinking about these experiences.
"Because they just become part of the fabric of your life," Crossland said. "They build up so often, and they're such little things over and over again that you kinda forget about them. And sitting down and really thinking about it, it's like, oh, my gosh, there's this story and there's that story and there's this time."
Crossland said in her recent career, she has not encountered sexual harassment.
"But I also work for a non-profit with mostly women, so that's probably why," she said, laughing. "There's safety in female-oriented occupations."
There's been no such safety for 23-year-old Kristin Tobin, of Peabody, who said she has worked in clothing stores.
"Male coworkers, managers or customers get a little too close and personal and make comments," she said.
"The Hollywood bubble has burst, and it now needs to burst everywhere else."

Kristin Tobin
Tobin said she has also worked in restaurant kitchens. At one establishment, she said she was sexually harassed every day.
"There's not a lot of space where you're working, so you're constantly bumping into people," Tobin said, "but there's a difference between having a coworker bump into you, and your coworker rub on you and inappropriately walk behind you and rub his body against yours."
And I had reported it a few times, and I had the general manager just tell me: 'That's not something we handle. You have to call corporate for that.' "
Four years ago, Tobin left that kitchen and has not worked in one since.
"The Hollywood bubble has burst, and it now needs to burst everywhere else," she said.
Polls Shows Slight Differences In Reporting Between Age Groups
Most people would probably call what Tobin and Crossland experienced sexual harassment. But pollster Steve Koczela, of MassInc Polling, who conducted the survey for WBUR, says younger women may report more sexual harassment because they may be defining it more broadly than older women.
"What other polls have shown is that it varies a bit by demographic group what is considered sexual harassment," Koczela explained, "so younger people are likely to consider more things to be harassment compared to older people."
The WBUR poll also asked people whether recent revelations about sexual harassment have caused them to treat their colleagues differently, or to rethink how they behaved in the past.
And in response to those questions, more younger people said they were inclined to rethink their own behavior. For example, 13 percent of respondents age 30 to 44 said recent revelations made them rethink their current behavior toward colleagues, while only 6 percent of those voters over 60 said it did.
This segment aired on January 11, 2018.