What Should An MLK Memorial In Boston Look Like?
This year marks the 50th anniversary of Martin Luther King Jr.'s assassination. To honor the legacy of the civil rights activist and his wife, Coretta Scott King, and their connection to Boston, the city is requesting submissions for a new memorial.
The memorial, with an estimated budget between $3 million and $5 million, could be anything ranging from a garden, to a statue, to a mural, or whatever else that artists conceive. The nonprofit MLK Boston, with the Mayor's Office of Arts and Culture, are accepting proposals from artists, architects, landscape architects or teams around the world through Feb. 28. The city estimates it will announce the final artist in November 2018.
King studied at Boston University's School of Theology between 1951 and 1955. While here, he served as assistant pastor at Twelfth Baptist Church in Roxbury, where he met his future wife who was studying at the New England Conservatory. Soon after the march in Selma, King returned to Boston in 1965 to testify before the Massachusetts Legislature and hold a march from the South End to the Parkman Bandstand in Boston Common.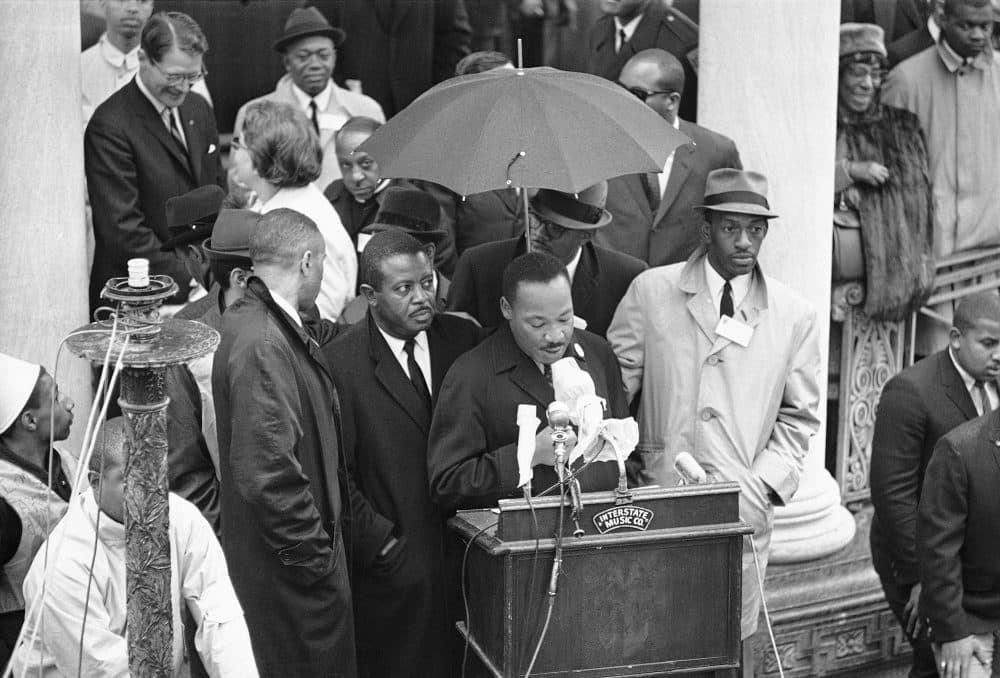 King and his wife both worked to confront and combat the systematic inequalities in the United States, from economic disparity, labor rights, racial discrimination and injustice — inequalities that are still felt around the country, and in Boston, today. The memorial's goal is to serve as a landmark to inspire visitors with their legacy, and to compel citizens to work toward equity and inclusion.
The possibilities are endless. So I contacted local artists, activists and academics to see what they hope it will be.
What do you want from an MLK memorial?
Overwhelmingly, the people I interviewed expressed the desire for it to be ingrained in the community to inspire and remind different generations the importance of the Kings' social activist message.
Barbara Lewis, director of the Trotter Institute for the Study of Black History:
"I'm particularly interested in the involvement of a younger generation. I think having a garden that has to be planted and cultivated and re-planted reminds people that democracy is also a changing reality that requires tending as well."
Cedric Douglas, local artist, designer and community activist:
"The monument should be something that isn't just stagnant and sits there, hopefully it's something that people can connect with. I think if it's something that people can interact with, it could make the monument last longer. Maybe there's something that encourages the community to leave something at it, like a penny in a fountain where you make a wish. Maybe the monument has something that you're leaving to it, or giving it to it. Interacting in a way where the monument continues to grow and build."
Gregory Ruffer, president and CEO of Boston Center for the Arts:
"I hope that a monument that pays tribute to Martin Luther King Jr. can also act as this spark for community dialogue, and embody the spirit of the arts in Boston: innovative and engaging, sophisticated and accessible."
Danielle Legros Georges, Boston's poet laureate:
"I would like to see the monument in some way highlight the transnational or universal aspect of King's work and the work of the U.S. civil rights movement — both in its formulation and in its articulation. The participants and leaders of 20th-century decolonization, anti-apartheid and freedom movements around the world — in Africa, Asia and the United Kingdom — referenced and were inspired by King' work. His impact was global."
Kerri Greenidge, co-director of the African American Freedom Trail Project:
"When we memorialize King in Boston, then, my historian's eye believes that such a monument can go beyond tokenism and actually create an opportunity for Bostonians to reclaim their central role in black America's modern civil right historys. As one of the oldest cities, with one of the oldest and most significant black communities in the country, Boston played an integral role in 20th-century black political and intellectual thought, something that I hope a monument to Martin Luther King Jr. will publicly consecrate in the popular imagination."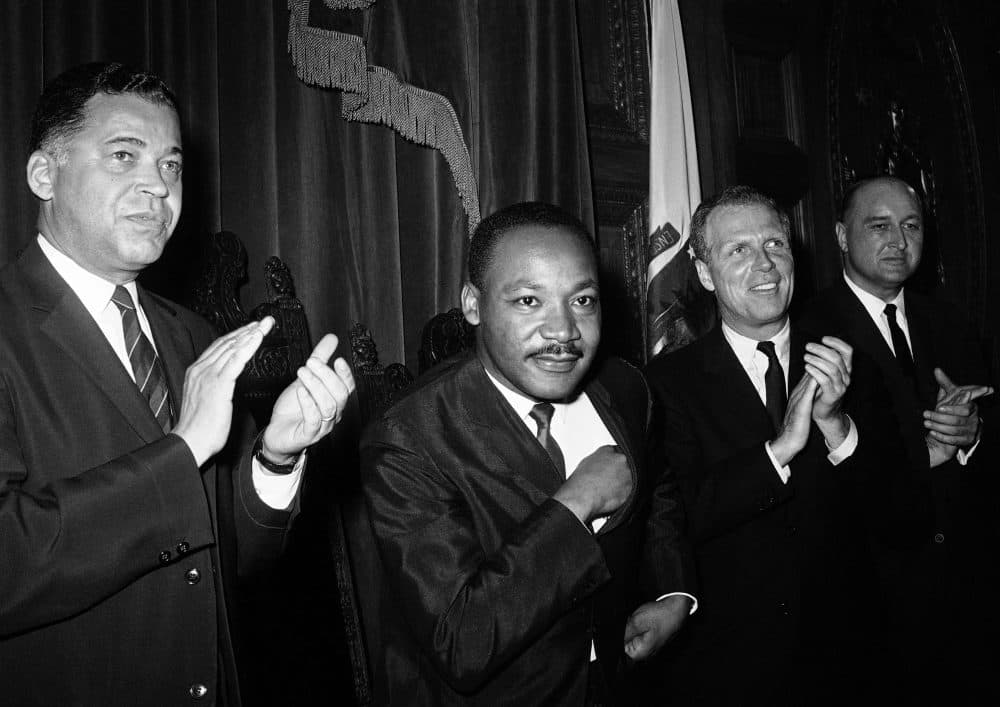 What do you think this memorial will do for the city of Boston?
Barbara Lewis:
"It could be a unifying monument. It could promote and encourage a sense of collaboration and connection, which I think would be very important for Boston now."
Cedric Douglas:
"I think this monument could be something that takes Boston to the 21st century. The potential of art is infinite. This could be something that could become a national monument that people come to Boston to see. It could make people look at Boston in a new way."
Gregory Ruffer:
"We have seen firsthand the ways that people can connect around powerful works of art."
Danielle Legros Georges:
"I think and hope the monument will allow a linking of many and continued struggles -- and allow entrée into critical discussions of African-American and American history, politics and culture."
Kerri Greenidge:
"If done properly, with historical accuracy and scholarly rigor, public monuments have the power to tell stories that are accessible to professional scholars, academics and the general public without diluting the complex implications, or global significance, of a historic figure or event. [The memorial] can produce something beyond public myth that we will look back on a century from now with the same appreciation with which we admire the gold-domed State House and the 54th Regiment Memorial. This can be done, and my hope is that if it is, it will elevate public history at a time when Bostonians need it most."
Whatever the memorial ends up being, hopes are high for a destination that honors the legacy of the Kings, educates the community and adds to the national conversation about social justice and equality for all.
---
What form do you think a memorial to Martin Luther King Jr. should take in Boston? Let us know in the comments.