For A Vision Of Offshore Wind In New England, Look To The U.K.
Resume
Part 1 of a two-part story. Here's Part 2.
Massachusetts wants to get 1,600 megawatts of electricity from offshore wind farms by the year 2027, up from zero today.
In December, three developers submitted proposals for the state's first offshore wind farm, which could supply up to a quarter of that goal when built.
Many in New England are banking on offshore wind bringing not just energy but a new industry to Massachusetts that could mean jobs for aging ports like New Bedford.
That's already happening in the United Kingdom, which leads the world in offshore wind energy.
For a possible future vision of New England, we looked to a part of the U.K. that's staking its economic recovery on offshore wind.
A Major Economic Engine
At dawn in the English port of Grimsby, a few dozen seafood wholesalers huddle around tubs of fresh fish on ice, bidding on each lot with a flick of the wrist or a nod as the auctioneer barks.
This is a proud fishing town, even though fishing hasn't driven the economy here for decades. The collapse of England's fishing industry left a legacy of poverty and unemployment in the area.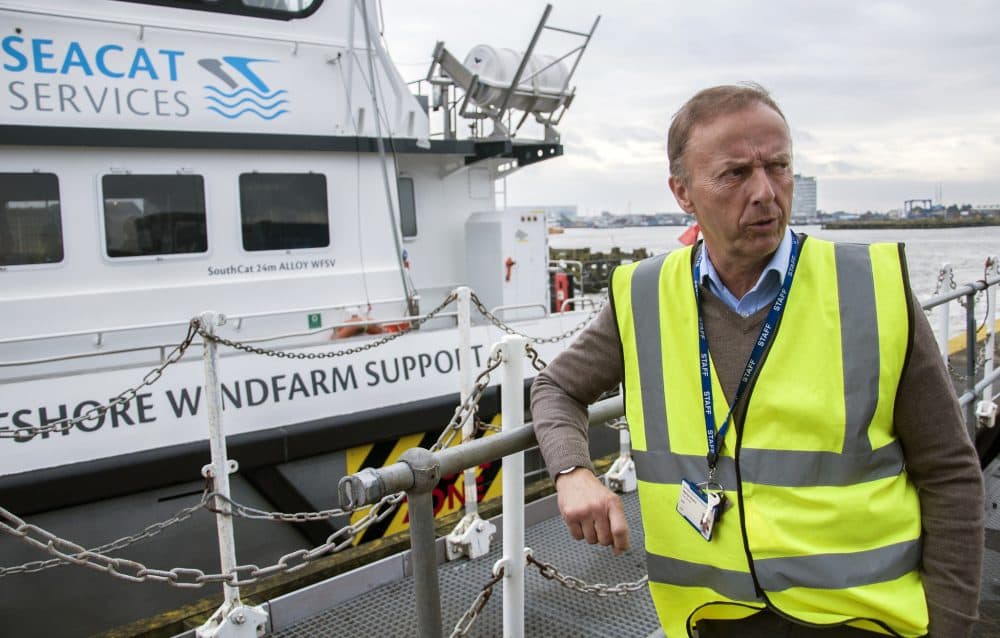 Still, when wind farm developers showed up about 10 years ago promising jobs, most people here were skeptical.
"Oh my goodness, at first it was going to be the ruination of them all, and it's turned out to be the savior," said Martyn Boyers, who has run the Grimsby fish market for 16 years.
He said at first fishermen thought offshore wind would scrub out what's left of the region's struggling fishing industry.
Instead, offshore wind has become a major economic engine. Today the waters off the coast of Grimsby are home to seven wind farms, generating enough electricity to power more than a million homes.
Thousands more turbines are on the way, including what will be the biggest offshore wind farm in the world.
'If You Can Do It In Grimsby, You Can Do It Anywhere'
And at the port, Boyers is busier than ever.
After the daily fish auction, Boyers grabs a bacon bun from the cafeteria and heads to a control tower overlooking the Port of Grimsby's locks. One after another, catamarans full of wind turbine technicians cruise out to service one of the wind farms off the coast.
Boyers doesn't just manage the fish auction. He also runs the Port of Grimsby East. These days the port's biggest clients are crews doing operations and maintenance on wind farms.
"I suppose they're a bit like vehicles," he said. "It needs servicing, and the wind farms need servicing in the same way. So the technicians leave port and go out to work on the turbines, which are fixed and working out in the North Sea, and we're the closest port to the North Sea, so this is the ideal place to be."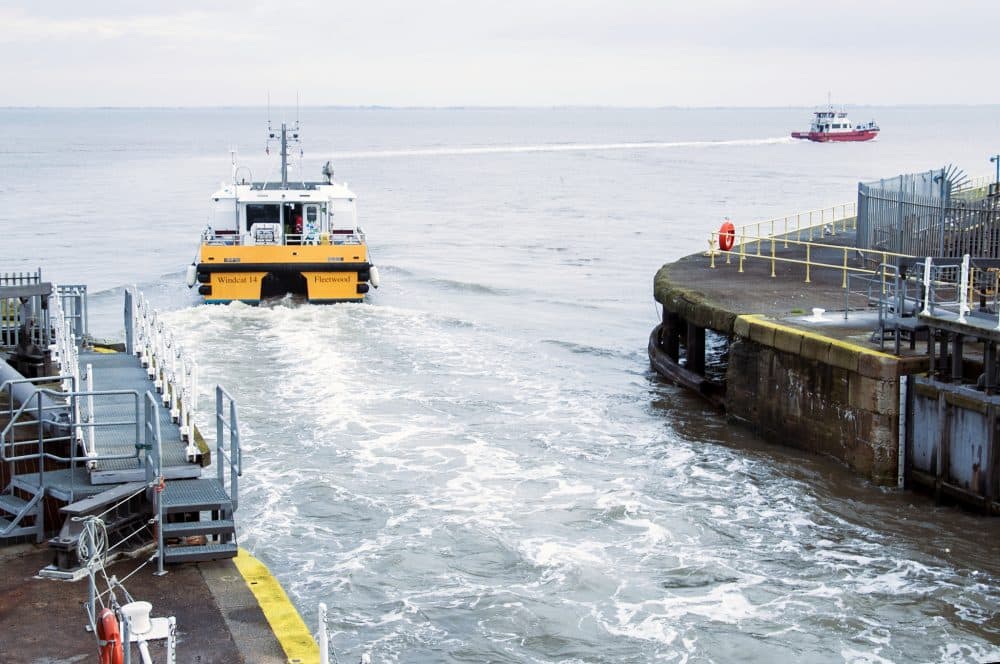 Boyers said it's clear that the fish business and offshore wind can coexist.
"If we can do it in a place like Grimsby, which was steeped in history, and only fish, if you can do it in Grimsby, you can do it anywhere," he said. "So none of the ports along the Eastern Seaboard of the States need to worry about offshore renewables. It's an opportunity."
Learning Lessons From The U.K.
To try to capture that same opportunity, Massachusetts has put more than $100 million into upgrading New Bedford's Marine Commerce Terminal.
If offshore wind takes off in the U.S. like it has in the U.K., it could mean lots of new jobs. Not just in service and maintenance, but in manufacturing too.
That's already happened in the English city of Hull, just across the river from Grimsby.
The German company Siemens chose Hull as the site of its first British factory for wind turbine blades, and $375 million later, the factory just finished its first full year in operation.
Each blade is about 250 feet long and has to be made almost entirely by hand. So far, the company has hired nearly 1,000 people to do that work — nearly all of them are locals.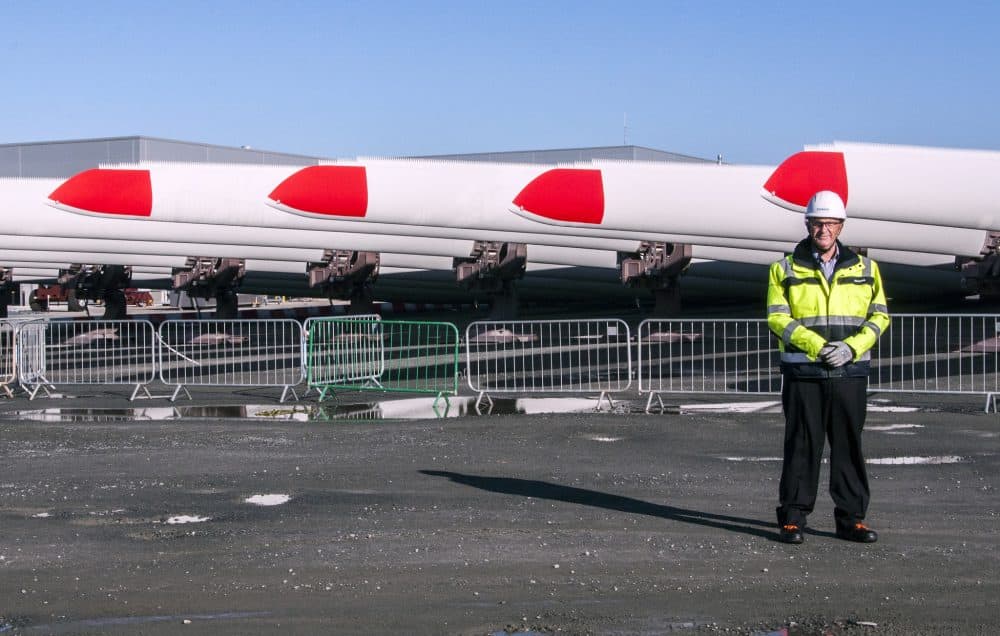 Outside the factory, Barry Denness, one of the plant's directors, marvels at a row of freshly finished turbine blades.
"It's a phenomenal piece of engineering, really, when you think about it," he said.
Denness grew up nearby in a family of fishermen, and used to work in the oil and gas industry, decommissioning old oil rigs. He said the wind industry has transformed the city.
"The Hull area has struggled over the last 20 years, but over the last five years I think there's been a bit of a renaissance," he said. "You know I think it's put us on the map as a place where you can do business."
Wind energy companies in the U.K. are only just now building new factories, a decade after the industry started taking off.
Replicating British Success?
That could happen in New Bedford, but it'll take time, said Benj Sykes. He runs U.K. operations for Ørsted, the world's biggest offshore wind developer.
"What we need to see though is that visibility of a future market. Certainly if you want to build a supply chain you have to provide that visibility," Sykes explained. "No one's going to invest in manufacturing just for one or two projects."
Ørsted is Danish, but has its North American headquarters in Boston. It's one of the firms bidding to build the first offshore wind farm in Massachusetts.
"There's a huge opportunity here to deliver low-cost, low-carbon electricity to large coastal markets in the U.S.," Sykes said, "and that's what we intend to do."
The U.S. may be a late arrival to the offshore wind industry, but that doesn't mean it's missed the boat.
Emma Pinchbeck, head of the industry group RenewableUK, said the U.K. also hesitated at first, letting Denmark and Germany corner the market.
That's starting to change as more companies build British factories like the one in Hull.
And Pinchbeck said states along the East Coast of the U.S. could replicate that success if they bet big on offshore wind.
"We are now the working example that if you do that it will pay off in spades,"she said. "And where you make less brave decisions — for example, 20 years ago deciding that wind turbines are a bit niche -- you're often wrong. I would back this industry to still have so much growth to come."
And if economic planners in Massachusetts have their way, that growth will be here.
Chris Bentley is a producer at Here & Now. You can follow him on Twitter @Cementley. Chris' reporting was supported by the Heinrich Böll Foundation. 
This segment aired on January 16, 2018.