'Unveiled' Tells Stories From Women Around The World, United By Their Hijabs
04:44
Play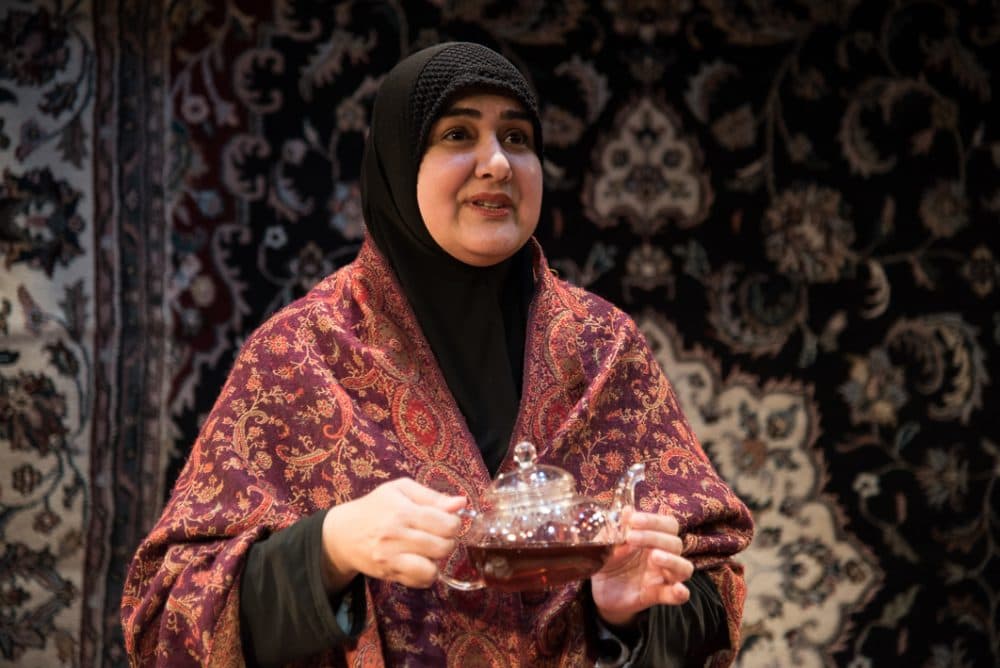 This article is more than 3 years old.
Playwright and performer Rohina Malik delves deep beneath the skin — and behind the veils — of five distinct characters in her deeply affecting one-woman show "Unveiled," a co-presentation of the New Repertory Theatre and Greater Boston Stage Company.
At just under an hour, "Unveiled" is a potent, filler-free work that whisks us around the country, and beyond, to hear the stories of a handful of women from different ethnic backgrounds. The thing that binds their stories is the hijab, the traditional headscarf worn by Muslim woman as a symbol of modesty. It's a garment that reflects deep devotion and sincere piety -- but it also provokes institutional hostility and abuse from individuals blinded by Islamophobia.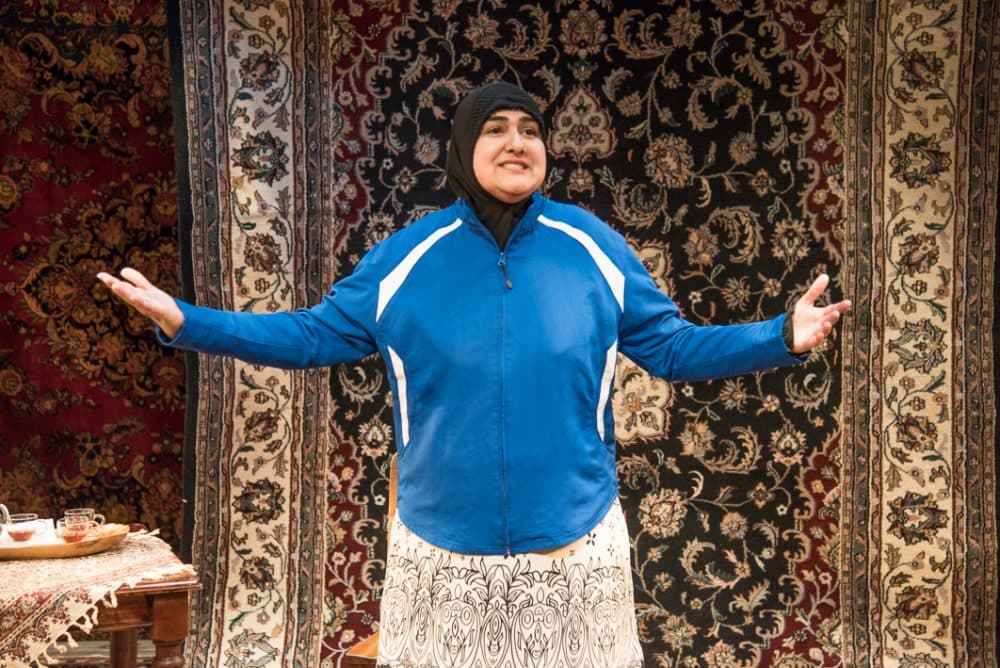 The show's first segment offers the story of Maryam, a Pakistani immigrant and dressmaker living and working in America. She no longer creates wedding dresses after a hate-fueled incident at a friend's marriage. This means lost business, but Maryam doesn't care about that. The real problem is a loss of joy in her role as an artisan. It's a hard place to find herself, both as a professional and as a mother; as Maryam reflects, "Everything I do, my children will do." The corollary is, of course, that the things she doesn't do, such as reclaiming the pleasure of her craft, also serves as an example to the young.
The other four stories follow similar lines, mixing the personal with the political and showing how blanket biases impact the innocent. Noor, a Moroccan-American lawyer who was born and bred in Chicago, relates her own story of savage violence and incomprehensible loss in order to encourage the victim of a hate crime to speak up. Inez, an African-American Muslim living in the deep South, recalls the way she was instantly singled out on 9/11 and, to her shame, terrorized into removing her hijab for the sake of her unborn child. Shabana, a West London resident and the daughter of South Asian émigrés, lays out her discontent in a hip-hop jam before arguing with her mother over plans for an arranged marriage (and debating the safety of continuing to wear the hijab). Layla, the proprietor of a Middle Eastern restaurant and a Palestinian immigrant, tells the story of her brother's death on 9/11 who, as a medical professional felt it was his duty to rush to the stricken twin towers and help. "There was no body to bury," Layla says. It's a devastating grace note in a story that's otherwise about describing how Layla faces down a mob that's descended on an Islamic school and threatens her young son.
The no-frills production is punctuated by brief intervals during which Malik leaves the stage to change costumes. These periods become opportunities for reflection, as the lights dim and musician Alejandro Castellano plays the oud, a stringed Middle Eastern instrument not unlike a guitar. The musical collaboration between Castellano and Malik is a vital part of the show, with Castellano's playing timed to underscore and enhance Malik's monologues.
The scenic design, by Jeffrey Petersen, is similarly simple and evocative, relying on three beautiful rugs, two of which are hung so as to serve as backdrops. A wooden table with a couple of oranges and a tea service completes the setting, and it's not just for show; the oranges relate directly to a moving passage about a convert's religious awakening, and the tea service embodies another kind of connective tissue for the monologues. Each character offers hospitality in the form of a traditional hot beverage: Moroccan mint tea, Kashmiri chai, Bedouin sage tea. That hospitality extends to the post-show discussion at which chai is served to the audience, along with cookies.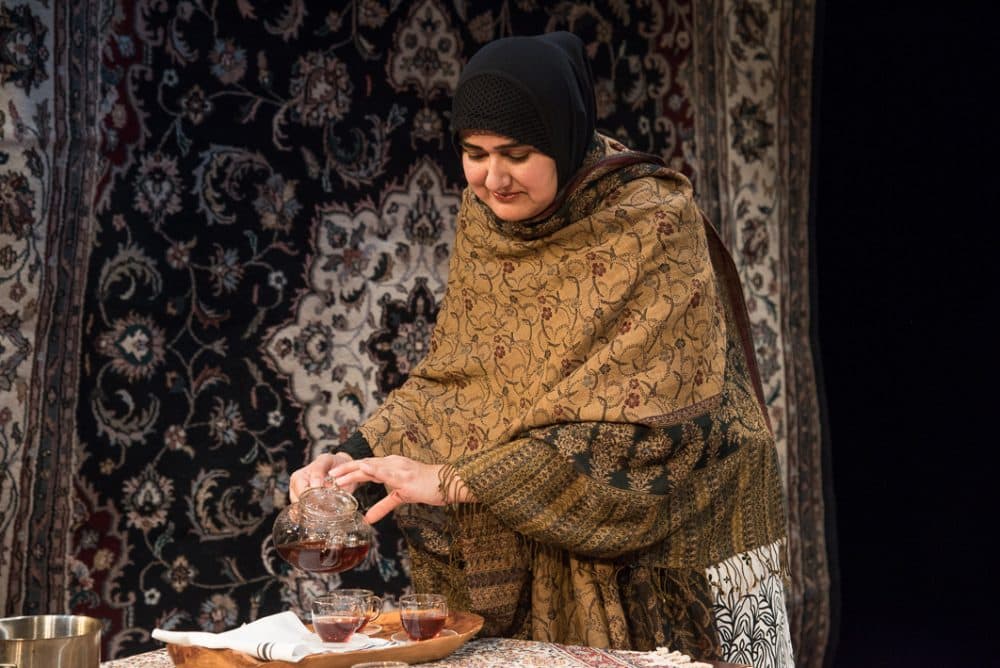 "Remove the veil from your heart," one of Malik's characters begs of an attacker whose intransigent fear gives his eyes the look of "a wild animal." That's what Malik proposes to help us do with these monologues and gently, with humor and wisdom, that's what she accomplishes.
---
The New Repertory Theatre's presentation of "Unveiled" continues at the Mosesian Center for the Arts in Watertown through Jan. 28. The show then moves to Greater Boston Stage Company in Stoneham from Feb. 7 to 16.
This segment aired on February 11, 2018.
Kilian Melloy Theater Critic
Kilian Melloy is a contributor to WBUR's The ARTery.