For Patriots Practice Squad Members, It's All About 'Chasing The Dream'
Resume
While reporters and cameramen wait for big names like Tom Brady, Rob Gronkowski, Devin McCourty and Danny Amendola to appear in the Patriots locker room, an undersized offensive lineman sits about 40 feet away and goes quietly about his business.
It's practice player James Ferentz. And by way of introduction, he says, "I've been kicking around, trying to hang on, and chasing the dream."
That dream is a spot on the active roster of an NFL team, a chance to play in packed stadiums on Sunday afternoons.
But the Patriots practice squad comes pretty close.
"If you're not good enough to be on the 53-man roster," says Ferentz, "the next best thing is to be on a practice squad."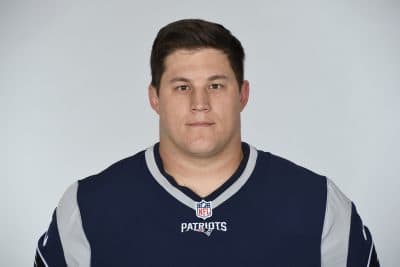 Ferentz is one of 10 players on the Patriots practice squad who won't take the field for Sunday's AFC Championship Game against the Jacksonville Jaguars. Their job is to help the team prepare for its next game. And their workweek ends on Saturday.
In September, Patriots coach Bill Belichick told the 28-year-old Ferentz he wasn't good enough to make the active roster. Belichick also told Ferentz the skills he needed to improve to work his way up.
When asked about his team's practice players, Belichick says, "They do a great job. They help the team prepare for the game. They improve their individual skills and, at some point, those players may be needed but, in any case, they develop their own skills."
The practice squad is a long way from where Ferentz found himself almost five years ago.
After playing for the University of Iowa, he was undrafted and went to work full-time at a carpet warehouse.
"It was a little shop called Randy's Carpets down in Coralville, Iowa," says Ferentz. "You know we did everything from driving the forklifts around, loading up tile to, you know, cutting carpet and helping installers take it to a job site. I mean it was a lot of manual labor, but I worked with a lot of really good guys."
The job also gave him perspective and flexible hours. So, he kept training for the NFL. That led to the Houston Texans practice squad, then a Super Bowl title while on the Denver Broncos active roster.
But Ferentz couldn't stick with the Broncos.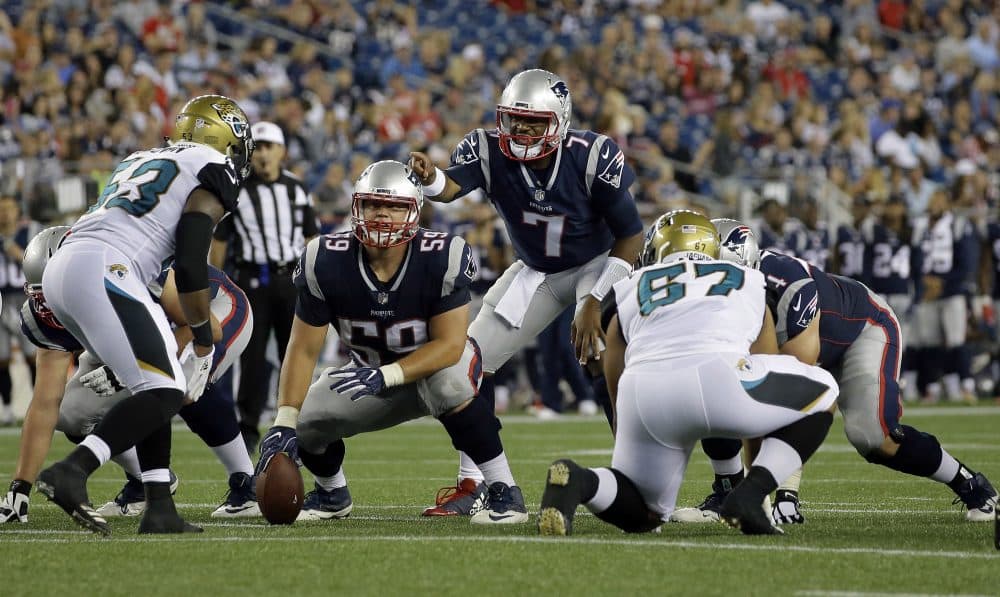 Next, he landed on the Patriots practice squad. And he considers himself lucky.
"You know, you could be on the street versus being on a practice squad," says Ferentz. "It's an opportunity to just keep competing and keep improving, as canned as that is. It's really the truth of what we're doing. We're just trying to improve and give ourselves an opportunity to play."
If it sounds as if Ferentz is speaking for practice squad players across the NFL, he certainly could. His career is a lot like the careers of hundreds of others in the same position.
And the daily routine of a practice squad player is a lot like the daily routine of an active roster player. He gets to Gillette Stadium around 6:30 in the morning, then goes through all the practices and all the same meetings as players on the 53-man roster. But there is one significant twist.
"Our week is more geared to getting the guys who are going to be playing ready to roll," says Ferentz. "We're making sure we give them a good look [at what their opponent will be doing]. It's something a lot of guys probably haven't done since they were freshmen in college where you're on the scout team. But it's a real opportunity to continue to improve, compete and, at the same time, you're still a part of a team."
The other big difference between practice players and active roster players? The money. The minimum weekly pay for a practice squad player is $7,200. The minimum weekly pay for an active roster player is $27,350.
But for Ferentz, it's not about the money.
"There's a lot of success stories out there of guys who've gone from practice squad to active roster," he says. "And you know if you lose sight of that I think you lose a step, you don't improve, and then you end up back out on the street and nobody wants to be there."
From his locker stall, Ferentz can see a crowd of reporters and cameramen gathered around wide receiver Amendola. It's a semicircle four rows deep. Amendola is a key part of the Patriots offense and favorite target of Brady's.
He's also a former practice player who beat the odds, turning time on the Dallas and Philadelphia practice squads into a nine-year NFL career and counting.
Amendola still remembers getting the call to join the active roster of the then-St. Louis Rams.
"I definitely shed a tear and started packing my bags," says Amendola. "Very thankful for the opportunity. I was undrafted so it's something that I'll always have that chip on my shoulder."
When Amendola takes the field against the Jaguars on Sunday, Ferentz will be watching from home with his wife and 1-year-old son.
"You watch it at home and you're right there with them," says Ferentz. "Every play your heart's with the team. … You just hope for the best come Sunday. You hope that you did your job well enough that they felt prepared."
Most of all, Ferentz hopes to be back at work next week, practicing for the Super Bowl.
This segment aired on January 19, 2018.