Mass. Launches First Statewide Salary Negotiation Workshops For Women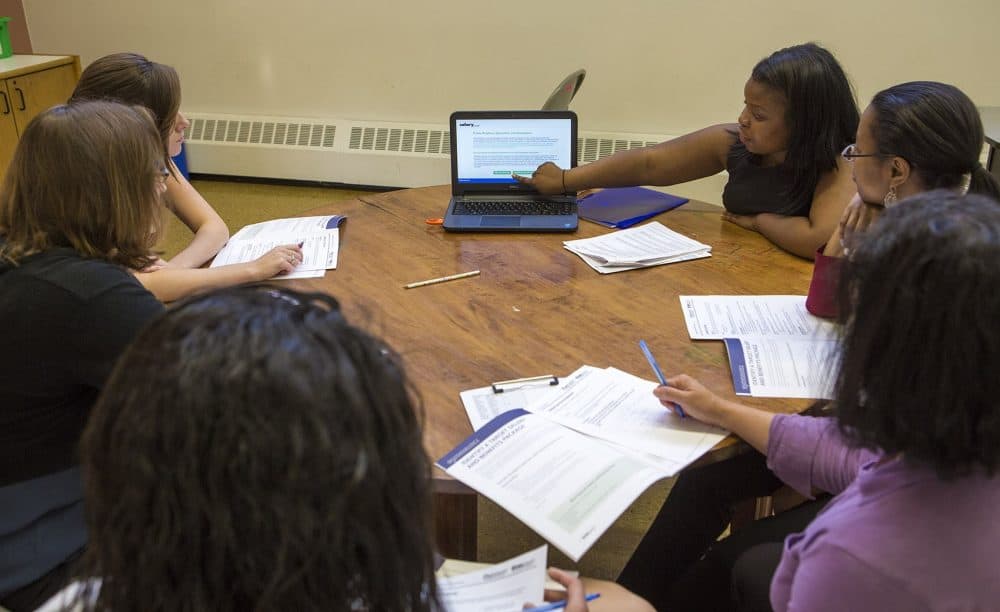 This article is more than 3 years old.
Massachusetts officials are hoping to help working women get their due.
In what officials say is the first statewide salary negotiation training program in the U.S., the new initiative — dubbed "Just Ask!" — aims to offer techniques to help women negotiate better pay. And, in doing so, bridge the gender wage gap.
With 150 free workshops planned for this year, the state hopes to reach at least 5,000 workers and is inviting all women to participate. Classes will be held at the state's 15 community colleges and are expected to begin in March.
"We are going to give them the skills and the tools they need in order to negotiate their salaries so they do not experience a wage gap," said state Treasurer Deb Goldberg, who announced the program on Wednesday.
The workshops will go over how to develop a strategy for asking for a raise, as well as helping women calculate what their worth might be in terms of pay and benefits.
The program is essentially an expansion of similar efforts by the city of Boston, which has been offering women free salary negotiation workshops since the fall of 2015. So far, Boston has trained over 6,000 women. In a study last year, the city found that nearly half of the women used the skills they learned in the workshops to negotiate higher pay or a competitive starting salary at a new job.
Goldberg said she wants to brings those results to more women.
"Candidly, when you support women, you support people of color, you're more creative, more innovative, and most importantly, more profitable," Goldberg said.
The state is working with its community colleges, the American Association of University Women and the Massachusetts Commission on the Status of Women to offer the workshops. It has a three-year contract with AAUW, and is looking to expand the initiative down the road.
In Massachusetts, women earn 82 cents for every dollar men earn, according to the state. That's a little higher than the national average, where women earn 80 cents for every dollar men earn. But the wage gap for women of color is much wider. In Massachusetts, Latina women earn 50 cents for every dollar men earn, while black women earn 61 cents and Native American women earn 63 cents, and Asian women earn 80 cents, according to the state.