Boston Police Face Criticism For Black History Month Tweet
This article is more than 5 years old.
Boston police are facing heavy criticism online for a now-deleted post on Twitter for Black History Month that celebrated a white man.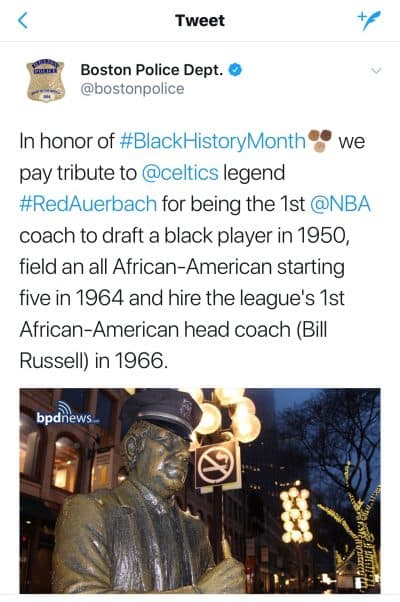 The original post on the department's official Twitter account Sunday night was in honor of former Boston Celtics coach Red Auerbach. The department said in the tweet it was paying tribute to Auerbach for being the first NBA coach to draft a African-American player, play an all African-American starting lineup, and hire the league's first African-American head coach.
Several Twitter users responded by calling the post "tone-deaf" and "clueless."
In a statement on Monday, Mayor Marty Walsh strongly condemned the tweet, calling it "completely inappropriate."
"I am personally committing to the people of Boston that we will always honor our Black leaders, activists and trailblazers with the respect they deserve, not just in February, but every day and every month of the year," he said.
The tweet was deleted less than an hour after it was posted. The department's account later posted another tweet that night honoring Bill Russell, the first African-American head coach in the NBA.
The police department has declined to comment, but apologized for the tweet on Twitter.
This article was originally published on February 12, 2018.