Opioid Overdose Deaths Fell About 8 Percent In 2017 In Mass.
This article is more than 5 years old.
Preliminary data from a new report by the Massachusetts Department of Health shows deaths from opioid overdoses fell slightly in the state from 2016 to 2017.
In total, DPH estimated there were 178 fewer opioid overdose deaths in 2017 from 2016, an 8.3 percent decrease.
"While there is still a lot of work to do, this report is encouraging news that gives us hope that we are beginning to bend the curve of this epidemic," said Gov. Charlie Baker, in a statement.


It's not clear exactly why fewer Massachusetts residents are dying as the result of an overdose. During a presentation on the numbers, DPH Commissioner Dr. Monica Bharel noted that use of naloxone, the drug that can reverse an opioid overdose, increased sharply after dipping at the beginning of 2017.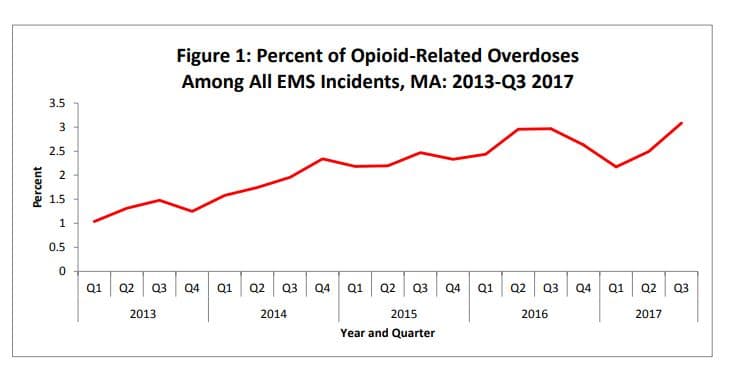 Bharel also highlighted several statistics that show use of prescribed opioids is down. There was a 30 percent decrease in the number of opioid prescriptions reported to the state's prescription monitoring program in the last three months of 2017 as compared to the first three months of 2015.
In addition, the number of patients who received an opioid prescription from four or more doctors or pharmacists in one year dropped 56 percent between 2013 and 2017.
But tightening the supply of prescription drugs can push active users to heroin, and increasingly, fentanyl. The powerful opioid was present in 83 percent of deaths in 2017.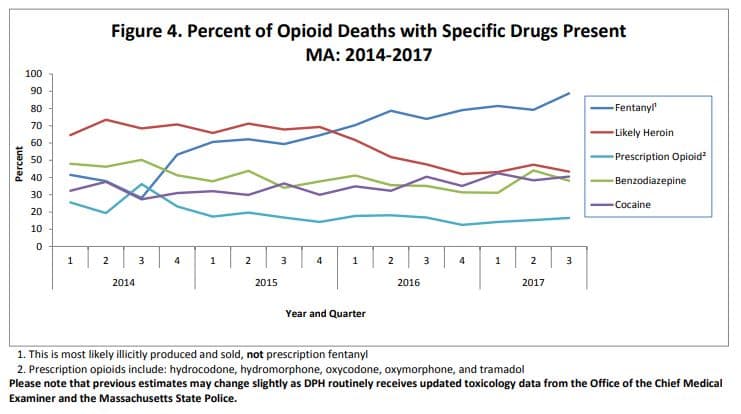 Baker said the data points to the need for easier access to treatment and increased efforts to stop the fentanyl trade, in his statement.
"The data makes clear that we must give law enforcement every possible chance to track down this terrible drug and hold accountable those who sell it," Baker said.
Many other areas need more attention, the Baker administration says. For example, the number of overdose deaths among Latinos has doubled from 2014 to 2016.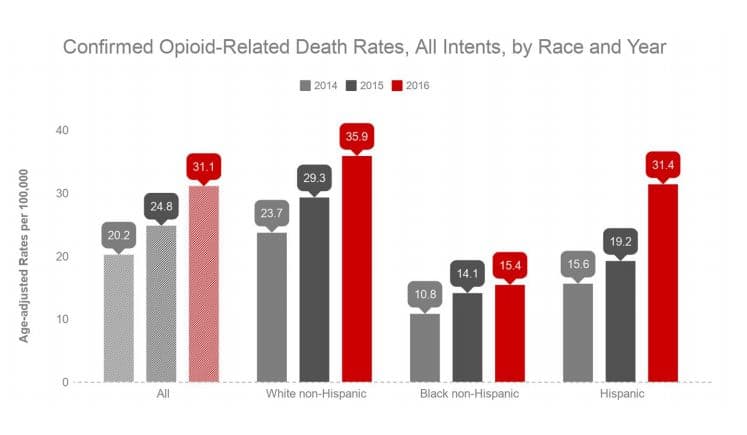 Bharel said the state has launched a public information campaign directed to the parents of Latino teens, in Spanish, with spots on TV, radio and Facebook.
Men and women coming out of jail or prison are also at much greater risk of an overdose death, 120 percent, as compared to other adults.
Bharel said the Suffolk County House of Correction will, later this month, become the sixth correctional facility in the state to make medication-assisted treatment (MAT) and recovery services available within two months of release. A study out of Rhode Island shows a 61 percent decrease in post-incarceration overdose deaths after prisons in that state began offering MAT.