New England Alumni Of Marjory Stoneman Douglas Join Student Movement To End School Shootings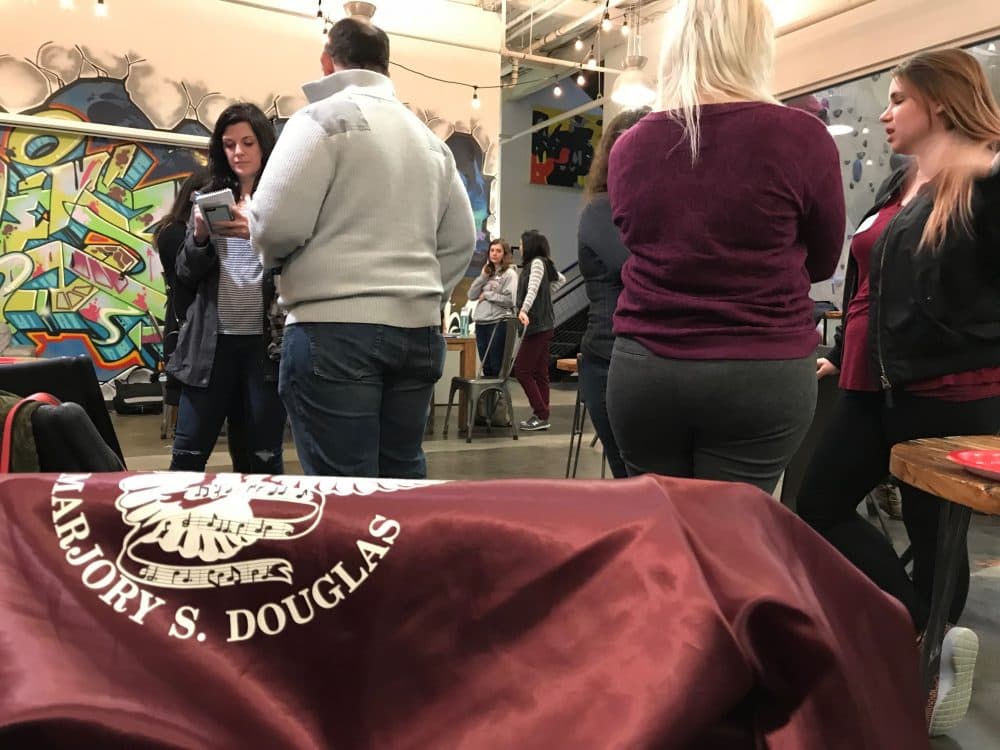 This article is more than 4 years old.
Alumni of the Marjory Stoneman Douglas High School in Parkland, Florida, say the tragedy strikes close to home, no matter what year they graduated.
While most of the energy behind the #NeverAgain movement was sparked by mourning students and survivors directly affected by the shooting, several groups have jumped in to help them keep the momentum going. Joining those ranks now are alumni of the school, including a contingent in New England.
"With everything we do we want to be behind the students themselves in the #NeverAgain movement," said Tasha Sandoval, a Somerville resident and 2009 graduate of Marjory Stoneman Douglas.
Sandoval said formal alumni organizing started shortly after the Feb. 14 mass shooting, when a graduate in the Washington, D.C., area took to Facebook to call former students to action through a group he called Mobilizing MSD Alumni. In less than two weeks, more than 11,000 people joined.
The New England chapter met for the first time Sunday in a community space at the Brooklyn Boulders climbing gym in Somerville. About 30 people attended.
"The goal is never again," said meeting organizer Erin Heim. She explained part of the three-hour meeting was spent checking in on where everyone was emotionally. But she she said most of the discussion was about how they can make an impact in the #NeverAgain movement both nationally and locally.
"We have different committees in place that are going to be focusing on different ways to make that happen," said Heim. "So different avenues of community engagement and different avenues of addressing policy."
Fundraising will also play a significant role in the group's activity. Heim said that initially they want to the money to cover travel costs for students hoping to join the March For Our Lives gathering in Washington, D.C., next month. They also plan to send money to the high school itself to support the cleanup process.
In the long term, members of the New England MSD Alumni Group want to focus on local policy, looking at where they can make inroads and where the region still needs some work when it comes to tightening gun regulation and stemming gun violence.
Overall, Sandoval says she wants current students to know they can rely on MSD graduates of all ages. And for fellow alumni, she hopes they know they can rely on each other.
"We can make this an opportunity to make lasting community while we're creating lasting change," she said.